I saw a disturbing statistic on a recent news broadcast – –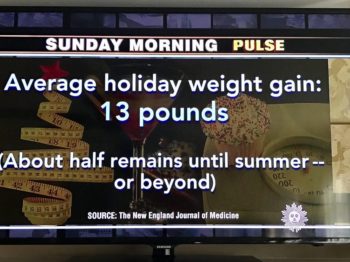 It startled me because I too, fell victim to a little holiday weight gain. Ordinarily, I can eat what I want if I'm eating whole, mostly unprocessed foods, but yes, even us Vegans are subject to weight-gain if we're not careful.
I'm not sure how much weight I've gained because getting on the scale is just not my thing anymore. I am however sure of this…
My skinny jeans are under catastrophic distress these days. In other words –  the thighs have no place to go. They must evacuate the building!
What does a little weight gain mean for me?
First, it means that I've overindulged with social drinking. Holiday family gatherings and parties galore means more glasses of my precocious friend – Merlot.
Secondly, with a full schedule, I tend to have less time to grocery shop and wind up eating more quick, convenience foods or Vegan junk food and less whole, unprocessed foods.
Third, I've worked tirelessly on my blog recipes and Vegan cookbook. Since I'm also of the "waste not, want not" generation, if I cook a sugary Vegan treat, then by all means I need to eat it—all.
This is just a minor setback. I refuse to let my recent habits and my choking thighs make me the victim of the second half of that statistic.
I just need a Vegan Reboot.
For me that means 3 things:
#1 I need to cork the

Merlot

for a while.

#2 I need to stay on track with my cookbook, but make a few minor adjustments. Instead of eating everything I create, I need to just taste my sugary recipes and then share the rest.

#3 I need to get back into my habit of doing my monthly inventory or makeover of my pantry.
Taking a pantry inventory involves making sure that my cupboards are filled with "the usual suspects." If I'm not equipped with the items that I frequently use in everyday, plant-based, whole foods cooking, I tend to reach for those convenience foods, which should only be eaten sparingly.
Now that it's a new year, maybe it's time for you to do a little pantry makeover.
Whether you don't know how to get started on a plant-based diet or you've already set your sights on "embracing the power of plants," taking a peek into my pantry will give you a jumpstart.
Eat Plants 4 Life's Pantry Staples is a list of items you will need to keep on hand. This is just a basic list of must-haves that represent your starting point if you are new to plant-based cooking. As you become more comfortable and adventurous in the kitchen, your inventory will become more custom and surely grow – especially your seasonings. I've only listed my most frequently used seasonings. My actual pantry has at least 50 more. Dried herbs and seasonings are your best friend when you're plant-based. What's not included on this list is the obvious – fresh fruits and veggies!
I'll store this list in "Essentials" of the menu section on this website for easy and frequent access. Sign up for the EP4L Newsletter and I'll send you a printable PDF copy.
Don't let this long list scare you. This is just a guide. A well-stocked pantry takes time and most of these items will last you at least a year.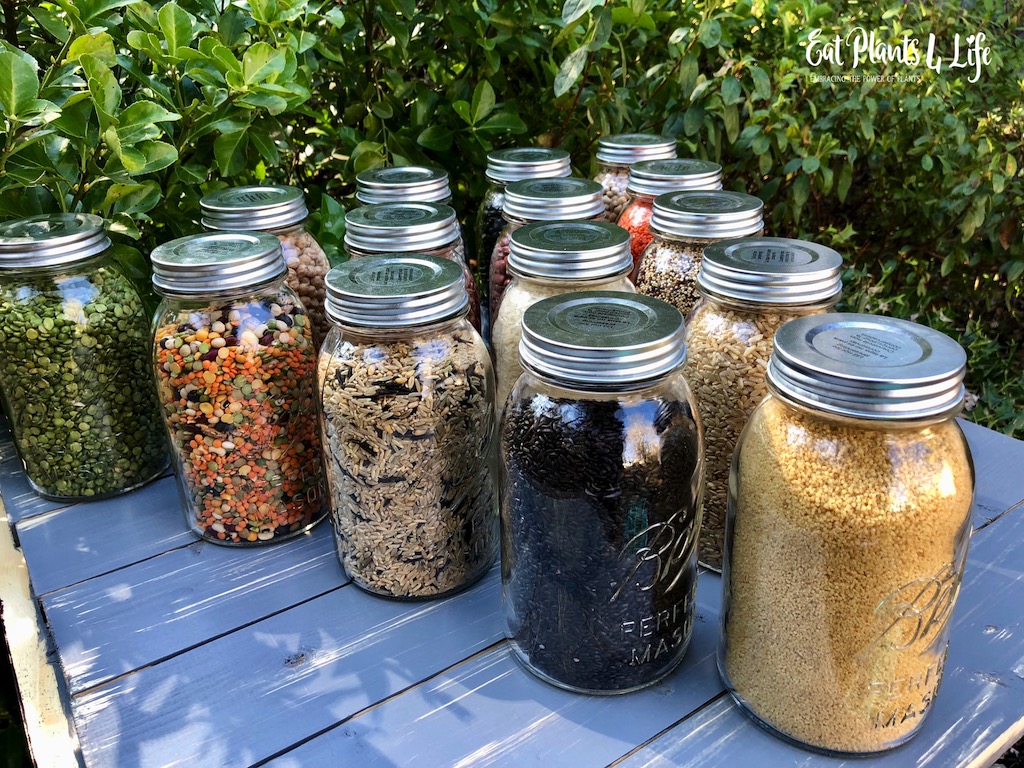 That being said, let's go shopping!                                                                                          
EP4L Pantry Staples
Seasonings/Spices/Flavor Enhancers:
Sea Salt and Ground Pepper
Ground Cumin
Italian Seasoning
Garlic Powder/Bulbs
Fresh Ginger bulb
Chili Pepper
Turmeric
Red Pepper Flakes
Nutritional Yeast (gives food a 'cheesy' flavor)
Oregano
Bay Leaf
Paprika/Smoked Paprika
Thyme
Curry Powder
Organic All-purpose Flour
Cocoa Powder
Liquid Smoke (for veggies, veggie burgers, beans, etc.)
Tahini (for hummus' etc.)
Favorite Nut Butter: almond, peanut, or cashew, etc.
Brown and Raw Sugars
Molasses
Apple Cider Vinegar
100% Pure Maple syrup (sweetener)
Agave (sweetener)
Vanilla Extract
Organic Vegetable Broth
Low-Sodium Organic Soy Sauce or Tamari (for stir-frys, marinades and dressings)
White Balsamic, Red Wine, and Rice Vinegars (for homemade salad dressings, sauces etc.)
Baking Soda and Aluminum-free Baking Powder (for sweet treats, pancakes, muffins, etc.)
Oils: Extra-Virgin Olive Oil, Safflower/Sunflower Oils, Toasted Sesame Oil, Avocado Oil, and Coconut Oil are my favs.
Organic Unsweetened Applesauce in the 6 pack 4-oz containers* – egg, oil replacer – great for baking
Almond Milk in individual 8-oz containers*
*
Dry Goods:
Rice (organic if possible): brown, wild, and basmati/jasmine, etc.
Pastas: short and long
Other Grains: farro, quinoa, barley, wheat berries
Dry Oats (for veggie burger filler, desserts, granola, etc.)
Organic Canned Beans/Legumes: black, kidney, green beans, lentils, black-eyed peas
Organic Canned Chickpeas/Garbazo Beans (for aquafaba or juice of the beans) It's a terrific egg replacement!
Organic Dry Beans – same variety as above
Organic Can Diced Tomatoes
Can Organic Pumpkin Puree (great filler, base for sauces, egg replacer, etc.)
Panko Bread Crumbs (for breading)
Nuts/Seeds: chia, hemp, and pumpkin seeds, raw cashews, roasted peanuts, sliced almonds, raw pine nuts, raw walnuts, and flax seeds (for snacking, smoothies, salad toppings, dips, spreads, pasta sauces, and a slew of others)
Dairy-free Chocolate Chips
Dried Cranberries or Cherries (great salad and oatmeal topping, grain and granola ingredient)
Grape Tomatoes
Sundried Tomatoes (from a jar packed in oil)
Potatoes: baking, fingerling, red and sweet potato varieties
Organic Corn Tortilla Shells
*
Don't Forget About the Cold Stuff:
Frozen Veggies – including Organic Corn and Stir-fry Veggies
Frozen Fruit (freeze your own)
Non-dairy, soy-free: Cream Cheese, Cheddar Shreds, and Mayo (for dips, creamy sauces, etc.)
Non-GMO, Organic Extra Firm Tofu (egg/meat replacer, casserole filler, dessert ingredient, etc.)
Earth Balance Buttery Spread (soy-free variety)
*I prefer to buy some things in individual containers although it may be more economically sound to buy a large carton of almond milk or jar of applesauce. Once you open a carton of almond milk, it has a shelf life of 7-10 days. It may go to waste if you're like me and don't use it daily.
*
"If You Absolutely Have To" List:
This is a list of items to keep on hand when life happens and you are absolutely short on time. Please remember to read the ingredients and try to buy organic whenever possible.
Can Soup (i.e. tomato, minestrone, vegetable, or black bean)
Can Vegetarian Chili
Marinara Sauce in a Jar
Salsa
Non-GMO, Egg-free Veggie Burger Patties (when you're in a pinch)
Dairy and Egg-free Salad Dressings
Taco/Chili Seasoning Packets (free of weird ingredients, of course)