Right now, I am crushin' hard on 3 Vegan cookbooks. They're my 2018 Top Vegan Cookbooks. I usually have a single fav each year, but because Veganism is becoming more mainstream (whoop, whoop), there are so many cookbook options coming out on the market that it's actually hard to make a single pick.  This year there are 3 that have me killin' it in the kitchen. I even have the hubby making dishes.  And well, we know that alone speaks volumes. Nothin' sexier than a man that wants to cook tofu for you.
Collectively, I like these Vegan cookbooks because the ingredients are simple and familiar. None of them require me to haul a@s to some gourmet shop tucked away in a strip-mall 40 miles from my house. I also like the added value of time consideration. The recipes don't take hours and hours of preparation. Who has time for that? Personally, recipes that require many steps usually don't get eaten right away if I'm making them.
Why?
Because I usually end up snacking on "other" things in the pantry that I happen to get my grubby little hands on in order to stave off hunger and while pulling out a multitude of recipe ingredients. By the time the stove timer beeps, I'm already full after stuffing my face full of Vegan Hippeas (chickpea puffs).
First on deck to make my 2018 Top Vegan Cookbook list comes from Dana Shultz aka The Minimalist Baker. If you're really geared towards creating quick meals (most of us are) with minimal ingredients (heck yeah), and taste delish (duh), this is the Vegan cookbook for you. Minimalist Baker's Everyday Cooking offers 101 plant-based, mostly gluten-free recipes using fresh ingredients. My favs are The Vegan Breakfast Burrito, Extra-Boozy Berry Mimosas, Pizza Stuffed Mushrooms, Cheddar Beer Soup, Spicy Braised Tofu Tostados, and Spicy BBQ Jackfruit Sandwiches with Grilled Pineapple, which my husband devoured in a New York minute!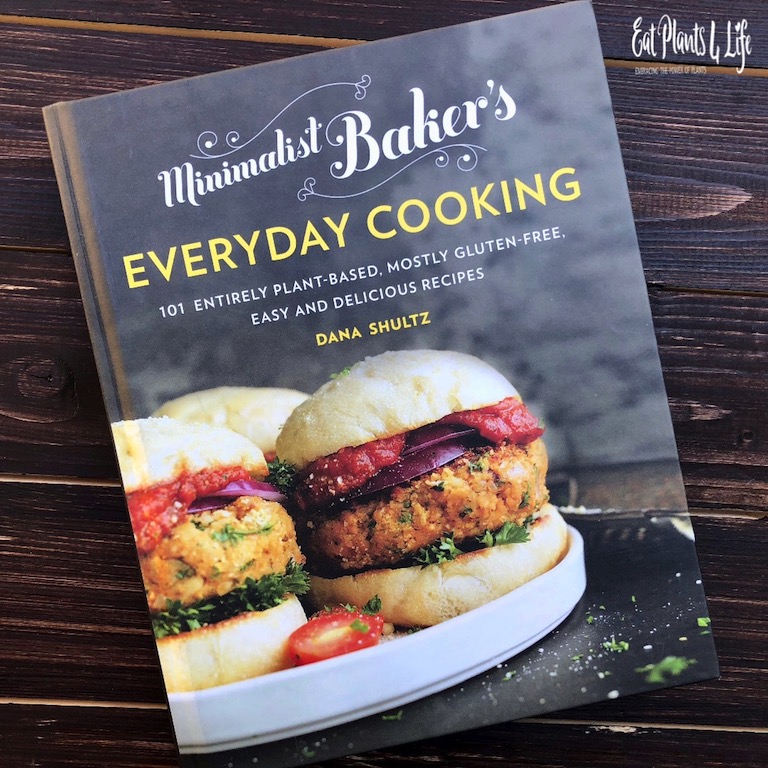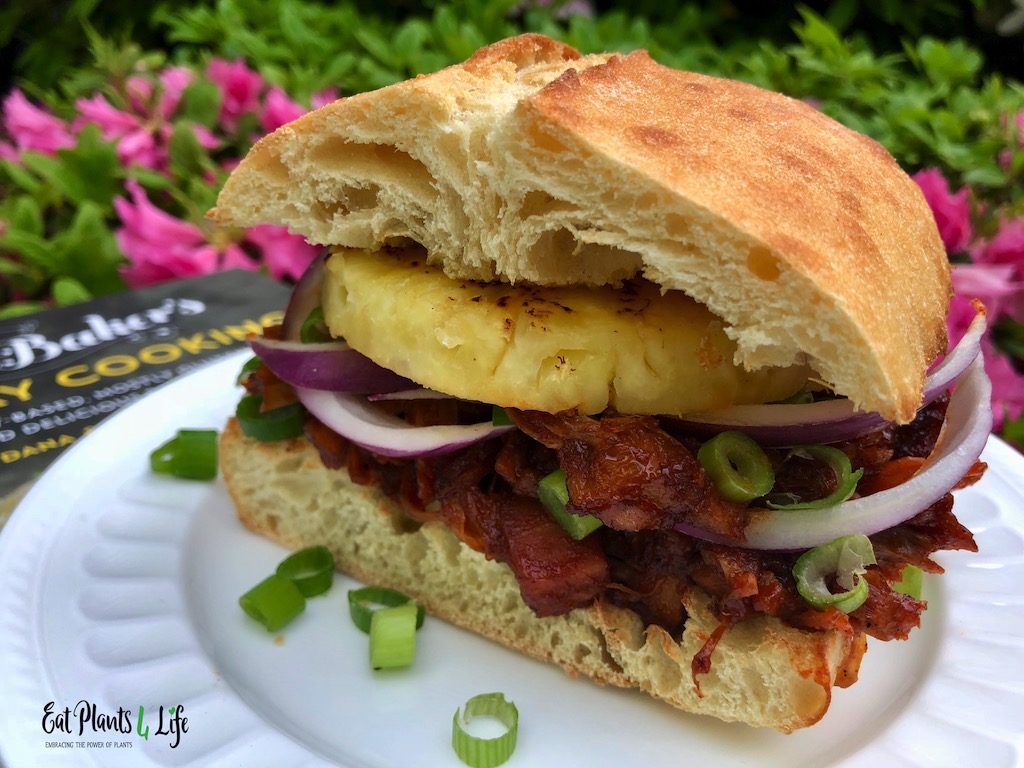 Now everybody wants to be a "thug in the kitchen (and in at least one other place in the house). I'm one of those people, especially when it comes to Vegan cuisine, because you always find yourself introducing Vegan to your dinner guests. My next 2018 Top Vegan Cookbooks inductee will definitely earn you some street-cred (or is it kitchen-cred?) and give you "gangsta" kitchen status. Thug Kitchen is like Vegan street-food. It reminds me of the food gems you would happen to find visiting an urban, plant-based food truck. Except the food truck owners would have tattoos galore, great hair (because they're Vegan) and wear fitted, black t-shirts that display a bunch of swear words and skull and crossbones.  
I do have one disclosure. The Thug Kitchen cookbook' s subtitle really sets the tone for the entire book. It reads "eat like you give a f@ck." If this type of language bothers you, this may not be the book for you. I, on the other hand can handle the lingo. I actually kinda enjoy it to be honest.  Not sure what that says about me, but whatever. It's funny as hell (and apparently has rubbed off on me). If I were to guess, I think the f-bomb gets dropped several hundred times throughout the cookbook, so you may want to keep this one from the kiddos.
With recipe category titles like: Carpe Fuc@king Diem for Breakfasts recipes, Shot Order Sh*t for Sandwiches and Salads, and Big-A@s Cup of Cozy for Stews and Soups, it's no wonder why just reading the book will make you blush. Enjoy recipes like: Vietnamese Rice Noodle Salad, Apple Baked Beans, Warm the Fu@k up Minestrone, Mango Curry, and my personal favorite, Roasted Beer & Lime Cauliflower Tacos. In a word? Yum!!! I could just skip the tortillas and eat the filling all by itself…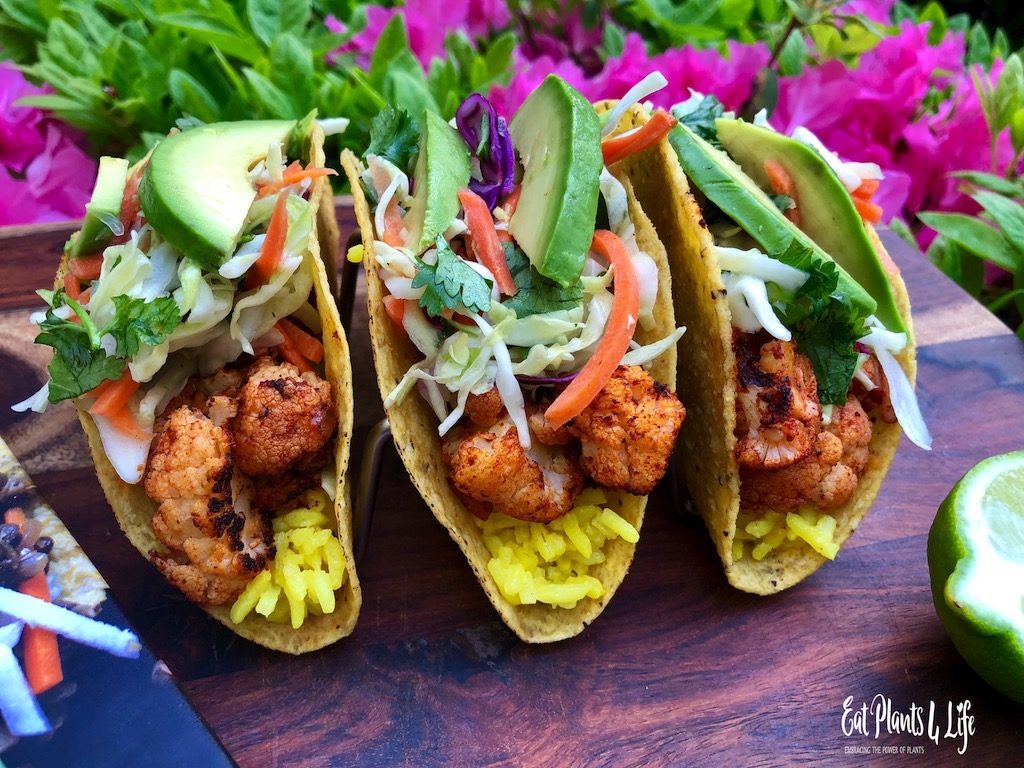 Last, but certainly not least, the third inductee into my 2018 Top Vegan Cookbooks is one of my faaaaaaaavorite Vegan chefs, Isa Chandra Moskowitz. I was first captivated by her bestseller cookbook, which she co-authored, Veganomicon: The Ultimate Vegan Cookbook (click the title to get it on Amazon). It was an awesome book when I was a Vegan newbie. One of her latest, Isa Does It, is a collection of easy, flavorful, plant-based recipe showstoppers!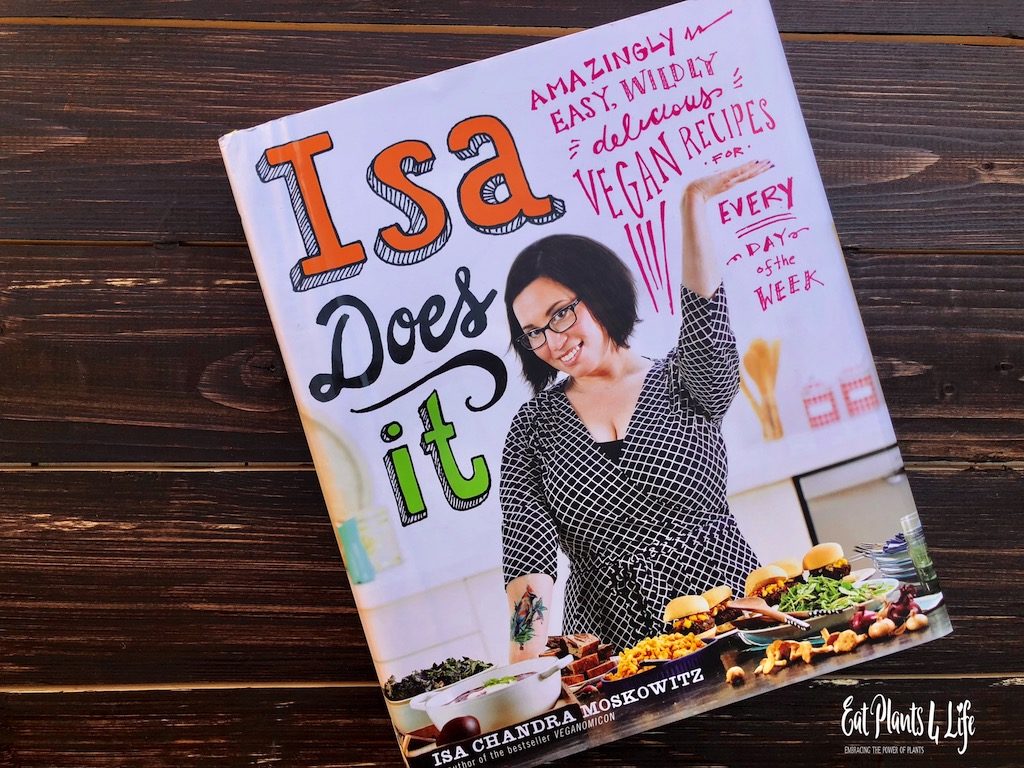 I've dog-eared so many pages in this book. Truth. With recipes lik: New England Glam Chowder, Goddess Noodles, Sunflower Mac, Chipotle Sausage Hash, Nirvana Enchilada Casserole, Okra Gumbo, and Dragon Noodle Salad, Isa's cookbook and writing style is like punk-rock meets Top Chef California. Not only will you get swept up by great recipes, she also provides cooking tips and techniques and ways to modify the recipes if you're gluten or nut-free.
In this post, I'm sharing one of my favorites from Isa Does It: Cast-Iron Stir-fry with Avocado, Basil & Peanuts…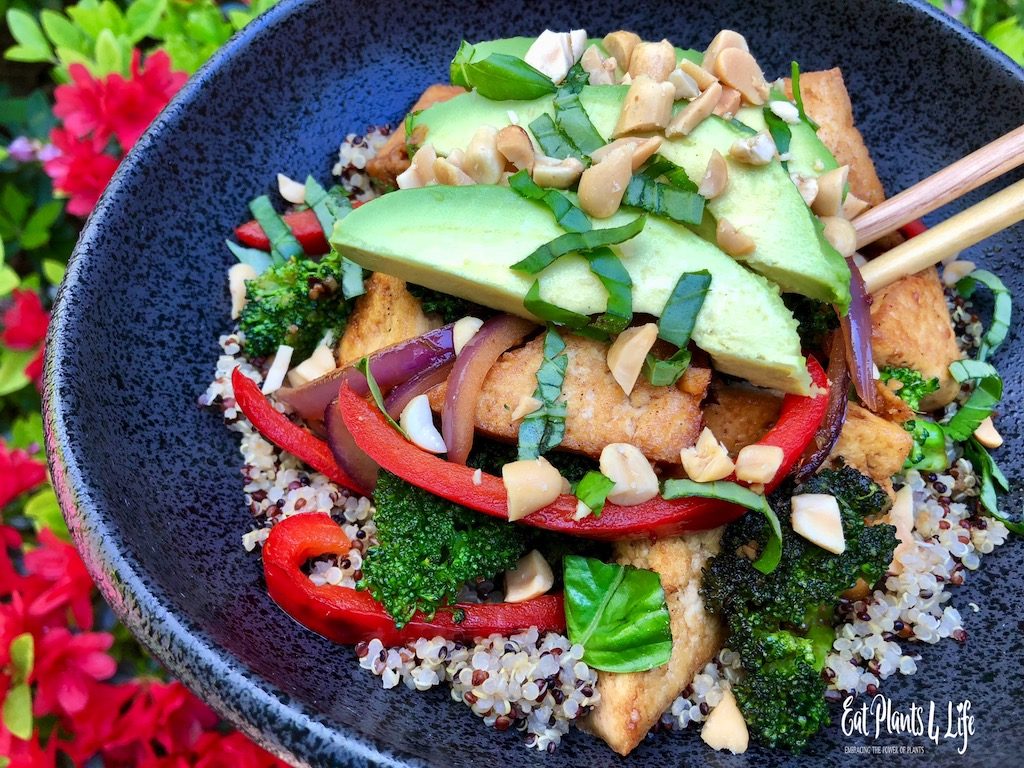 One pot. Healthy ingredients. Loads of protein. Loads of flavor. Check out the recipe video, then click the title links to get your copy of Isa Does It! , Minimalist Baker's Everyday Cooking and Thug Kitchen.
Whether you want to be a minimalist Vegan cook, a punk-rock chef, or a gangsta maestro with hella-kitchen cred, you won't be disappointed with any of these 2018 Top Vegan Cookbooks! Enjoy!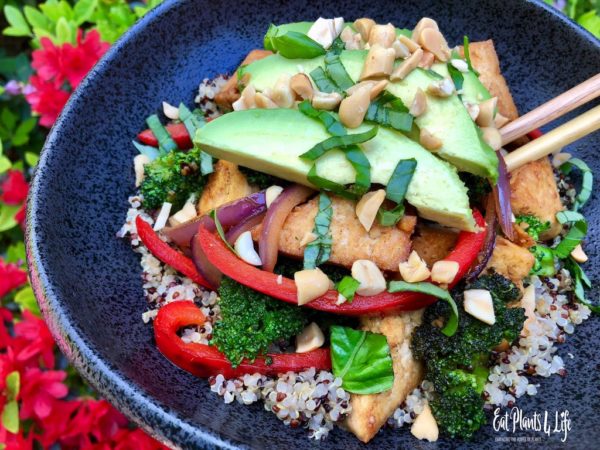 Instructions
Preheat a cast-iron pan over high heat. Mix together all of the sauce ingredients and set aside.

Have a baking pan or large ready to hold the ingredients as they finish cooking. A 9 x 13" is perfect to spread the ingredients out.

Once the cast-iron pan is hot, add 2 teaspoons of sesame oil. Add tofu and sprinkle with 1/4 tsp. of salt and some black pepper. Make sure ingredients are sizzling in the pan. Cook for about 7 minutes, tossing often. Spray with cooking spray to avoid sticking, if needed. Cook until tofu is browned. Transfer to the baking pan.

Add 2 teaspoons of sesame oil to the empty cast-iron pan. Toss in broccoli, add 1/4 teaspoon of salt and some black pepper. Cook until broccoli is charred and bright green, about 5 minutes. Cover the pan between tosses so that it cooks faster. Transfer to the baking pan alongside the tofu.

Add remaining sesame oil to the empty cast-iron pan. Toss in onion and bell pepper. Add remaining salt and some black pepper. Cook for about 3 minutes. They will be charred but crisp. Transfer to baking pan alongside tofu and broccoli.

Add garlic, ginger, and crushed red pepper to the empty cast-iron pan. Sauté until fragrant (about a minute). Do not burn (add more oil if necessary). Add the sauce and mix together until heated through and bubbly (abut 2 minutes).

Add back all of the cooked veggies and the tofu and toss to coat. Taste for seasoning.

Serve over quinoa or brown rice. Top with avocado, peanuts and basil. Serve hot.

Enjoy!
Recipe Notes
* if you can't find "mirin," substitute with dry white wine with a pinch of Vegan sugar.
** prep tofu: press it if you have the time in order to remove the excess water; otherwise just blot with a pepper towel to remove moisture