Is your tortilla chip looking tired and lifeless?
Or is that tomato salsa causing you to skip the chip altogether?
Join the club.  Every once in a while, I crave a sweeter, less acidic version of this plant-based dip.
Store-bought tomato-based salsas have come a long way. They offer different heat levels, textures (even pico de gallo), and organic varieties. However, I haven't found a non-tomato-based salsa with the right texture. I've seen the mango or pineapple twist on tomato-based varieties, but to me they fail in the area of texture. They taste okay, but to be frank, they're a bit too goopy or watery. Sometimes you want something that will stick to that tortilla chip, sometimes you want something that will pair well with a baked potato, and sometimes you just want something that won't drip out of your taco or lettuce wrap.
That something can be found in my Tropical Salsa. I call it "the sweeter side of salsa."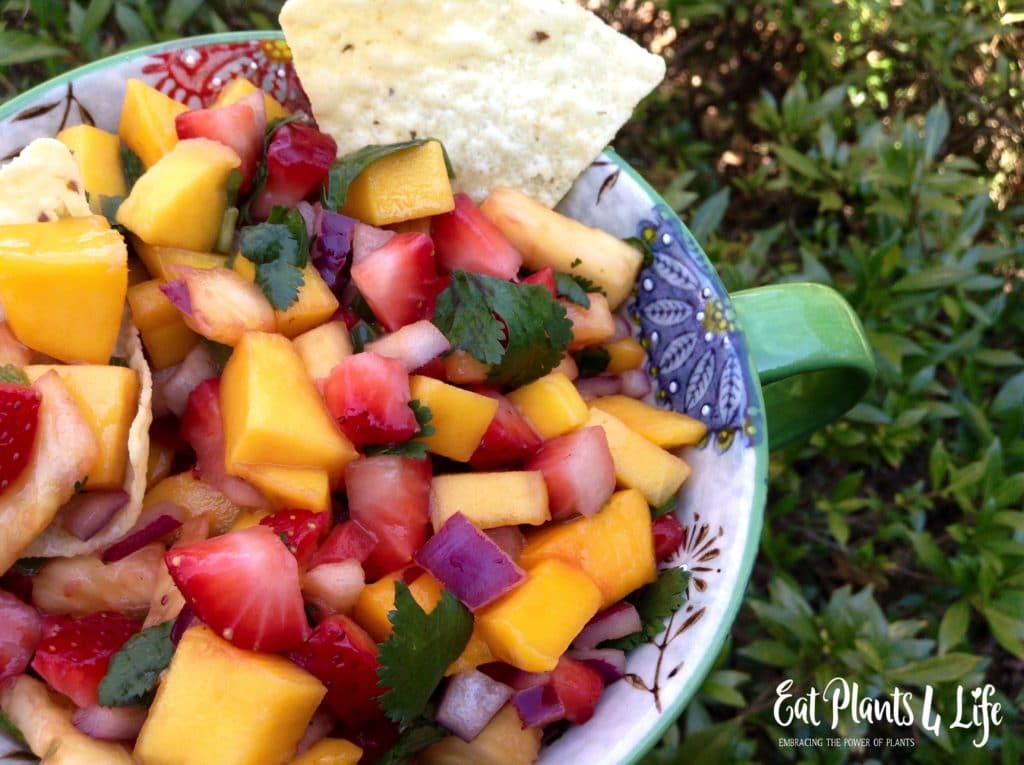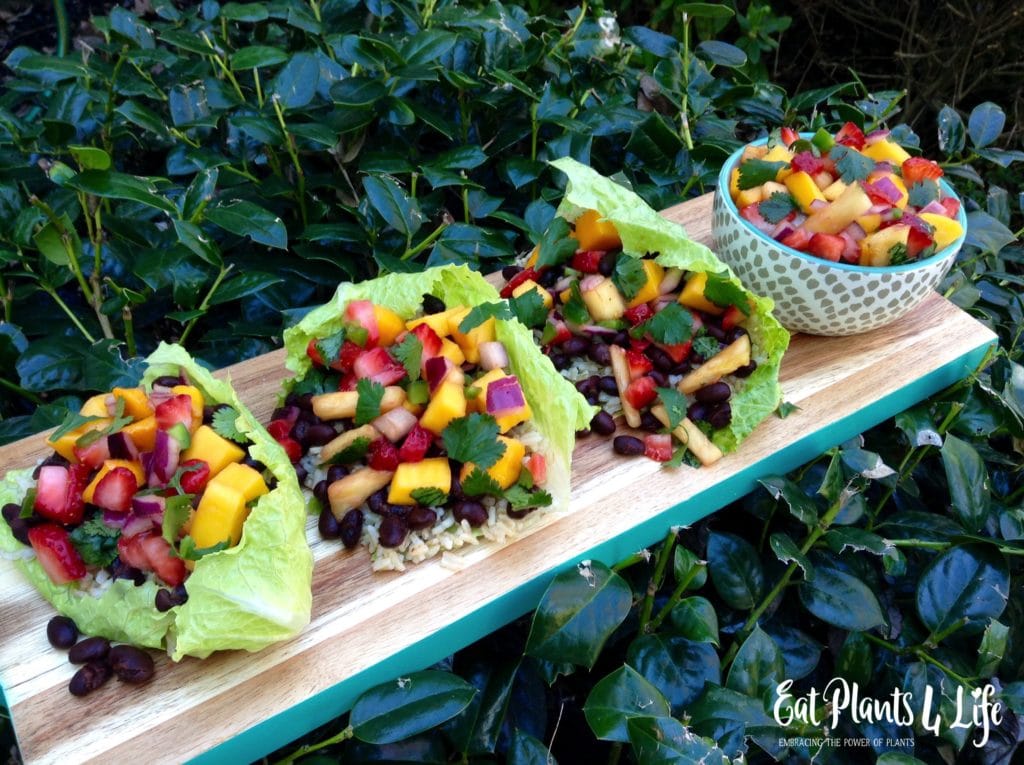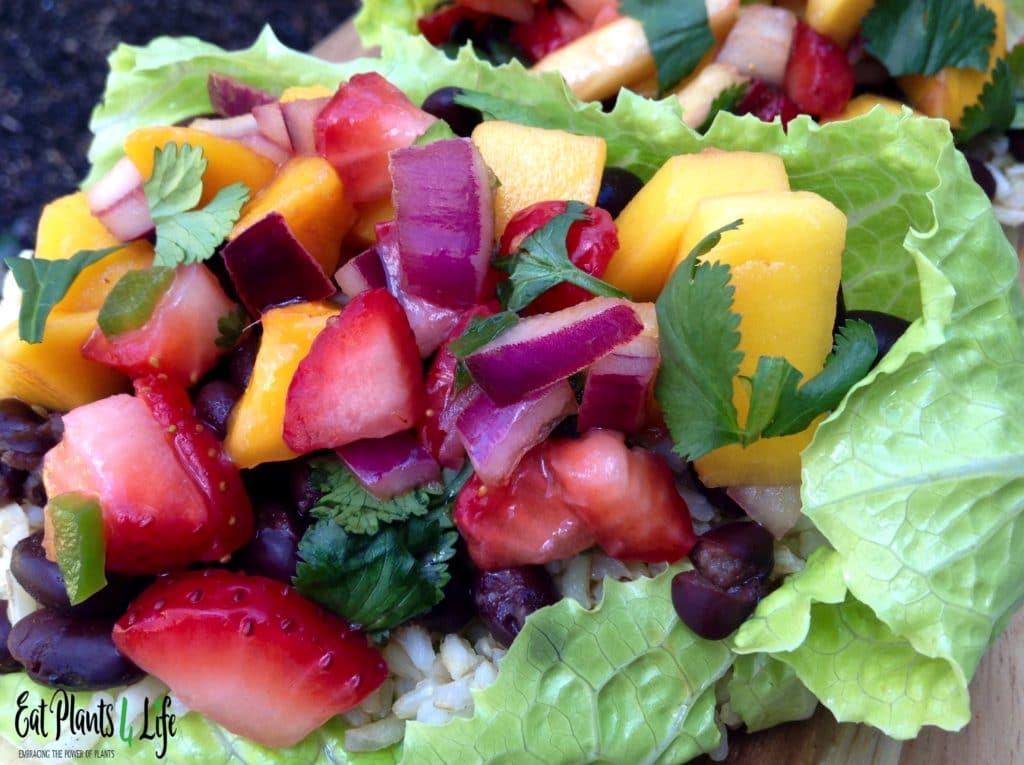 I keep this Tropical Salsa on rotation in my house and it doesn't last at parties. It pairs well with just about everything. Add beans to the mix and you can turn a condiment into a main meal. Whether you want to dress up a baked potato, liven up a wrap, burrito, taco, or lettuce cups, or just serve it as a dip – this recipe is a hit!
With just a touch of salt (unlike the store-bought stuff with as much as of 400mg of sodium per ¼ cup serving), a hint of balsamic vinegar, and jalapeño that can be adjusted to meet desired heat level, it's easy to get hooked on "the sweeter side of salsa."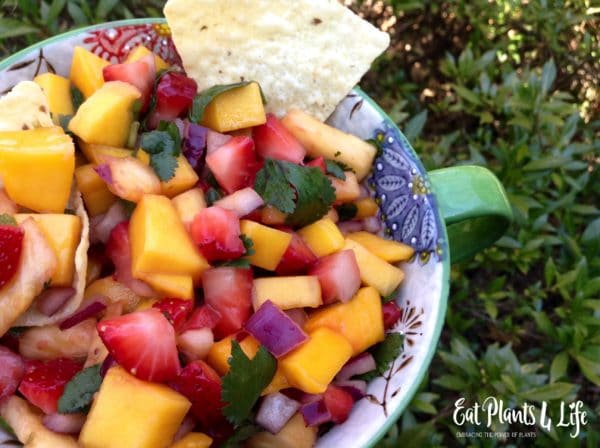 | | |
| --- | --- |
| | |
Instructions
Combine all ingredients. Stir well. Cover. Refrigerate 30 minutes before serving.

Serve in your tacos/fajitas or as a dip…

Serve as a baked potato topper with black beans …

Or serve in lettuce cups over a bed of black beans and brown rice…

As a side salad along side any dish...

Enjoy!
Happy Cinco de Mayo!