First-time dating might be a strain for a Vegan and Meat-eater couple that's getting to know each other, unless the meat-eater is open-minded and adventurous. However, if you're a staunch Vegan (you wouldn't even entertain the thought of touching meat) then cooking for your meat-eater companion would result in exclusively Vegan cuisine. That may be a deal breaker for some meat lovers. But, if you consider that there is a kaleidoscope of Vegan dishes and recipes today that are quite pleasing to the palate, even for skeptical meat-eaters, I wouldn't necessarily consider it a deal breaker. Would you?
When I went totally Vegan in 2015, my husband jumped on board right away. There was no pressure, no declarations that I would not cook meat for him, and no guilt-trips involved. He's always been adventurous and figured that my decision had to have some relevance. After a few weeks and his own personal transformation, he knew that there was no going back.  This was a blessing for me. I have a Vegan buddy (one for all and all for one) and we continue to enjoy discovering a whole new culinary world together. Date night is fun and not a strain on either of us. Most importantIy, I NEVER give him a hard time when he has an occasional, non-Vegan dish (which usually involves 2 eggs over medium on vacation) because I know that trying to be a perfect Vegan is a ludicrous expectation, getting caught up in labels is a waste of time, and Veganism on any level is a personal choice and can only be defined by Y-O-U.
I recently learned that EP4L's next Real Veg Story couple, Drake and Lindsey had a similar story worth sharing. Not only did I relate to their journey as a Vegan couple, I discovered that we both have a common love for one of our favorite Vegan chefs, the Minimalist Baker. As a Vegan newbie, she was one of my go-to's because all of her recipes require a few ingredients and take 30 minutes or less to create. Her book, The Minimalist Baker's Everyday Cooking is one of my favorite cookbooks and gets put to use at least once a month.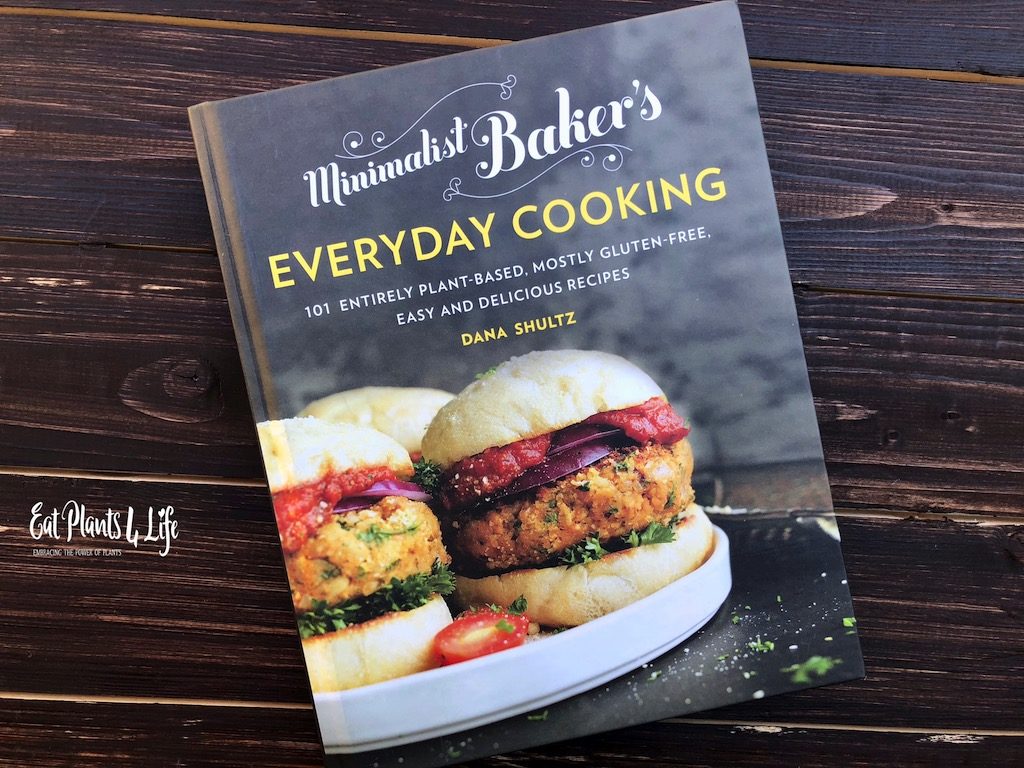 Her Garlic Chili Pasta & Roasted Cauliflower recipe (which is not in the cookbook, but featured below), is a fav of Drake and Lindsey's and after trying it myself, a #1 draft pick in my household. Even the kids love it!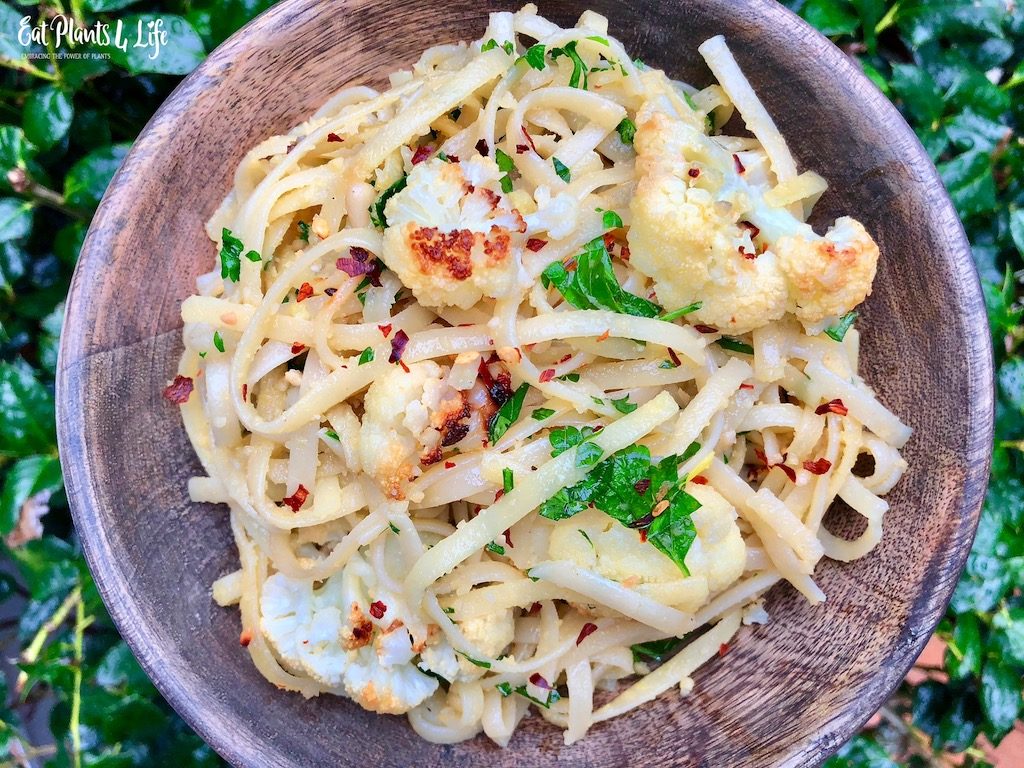 Check out Drake and Lindsey's Real Veg Story and try the Minimalist Baker's, addictive Garlic Chili Pasta & Roasted Cauliflower recipe below. Next, click the title link or photo to get your copy of her phenomenal cookbook, Minimalist Baker's Everyday Cooking .  You and even the meat-eaters in your life will be hooked, too.
EP4L: When and why did you both choose to go Vegan/Vegetarian?
Drake/Lindsey: My wife and I both attended the same college. In the spring of 2008, we both decided, on our own, to go vegetarian. We had cut out red meat and pork, just to try and eat healthier. I decided to go for environmental reasons. I've since researched and learned a ton on the health side of the argument. Lindsey went vegetarian for animal rights issues. Now, we do it for all 3 reasons. Of course, Vegetarians/Vegans are always confronted with the "Why?" and I always respond with the 3 main facets of Veganism. Lindsey still eats some cheese. I'd say she's 97% or so Vegan. I do all the cooking so our meals are Vegan.
Oddly enough, my mom was probably the catalyst for the change in our diets. She doesn't really know that, but she was trying out some new diet and had some success. A lot of it focused on more vegetables and cutting out pork and chicken. In college, we ate mostly on campus but still lived in apartments with full kitchens. I've wanted to be a chef since high school so I've always loved cooking and liked making meals for Lindsey and our friends. However, buying healthy items wasn't on my radar. I still remember that first frozen box of broccoli and Green Giant frozen vegetables with sauces. It wasn't until I had a project for a Kinesiology class when I started focusing on my servings of veggies. We had to record our diet for a week. It's really odd to remember this so specifically but I cooked up some dish with rice, peppers, and tomatoes, and this kind of kick-started my creativity in the kitchen with vegetarian food.
EP4L: Did you have a Vegan/Vegetarian wedding?
Drake/Lindsey: Our wedding was completely vegetarian (mostly Vegan). Our wedding was at Whitlock Inn in Marietta, GA and they catered our reception. We had veggie sushi which was a hit and our cupcakes were completely Vegan and made by Dulce Vegan Bakery in Atlanta (their cinnamon buns are the absolute best!). Our families didn't really ask about the food and everyone seemed to love it. We didn't tell them it was Vegan because I always feel like that automatically gives people a preconceived notion that it's going to be terrible.
EP4L: Do either of you miss anything non-Vegan? What was the hardest to let go?
Drake/Lindsey: Just the other day I told Lindsey that I really missed greasy cheese pizza, like from Domino's or some other place that you don't associate with good pizza. I would never eat it, but I think a lot of those cravings come from the memories associated with those types of foods.
EP4L: Who mentioned that you (Drake) make the majority of the household meals? What's your specialty/household favorite?
Drake/Lindsey: I do the cooking (Drake). Two of our favorite go-to meals are burrito bowls and tacos. It's so easy to microwave canned beans, sauté peppers and onions, and mash up avocados for guacamole. I've created most of our meals. Some of them are attempts to recreate things we've had at places and some are ones I've thrown together. One recently that we've been making almost once a week is this spicy, garlicky, cauliflower pasta (Minimalist's Baker's Garlic Chili Pasta with Roasted Cauliflower – see below). You can leave off the "parm" or just use nutritional yeast for a cheesy flavor. I cut down on the oil a bit, but it's amazing!
EP4L: What's your favorite date-night place to eat?
Drake/Lindsey: Peace, Love, Pizza or Mellow Mushroom for pizza. Not for a date-night, but Willy's is our favorite place to eat!
EP4L: Socially, what's your biggest challenge as a couple?
Drake/Lindsey: I'm not afraid to drop some health stats or tell a family member a little something. I also use humor to diffuse any tension that someone may have. I've found that it's the omnivores that are more offended by our lifestyles than the other way around. No one cared about my protein intake or what I was eating until I went Vegan. Lindsey always says that people use to force us to eat veggies as kids and when we finally start eating them as adults, they tell us that it's too much.
EP4L: Are you both strictly diet-based Vegans or do you adopt a Vegan lifestyle as well (i.e. no leather, Vegan-only products, etc.).
Drake/Lindsey: We do our best to stay away from leather, or any ingredients in household items. We use a ton of natural cleaners and try to be as "clean" in all aspects.
EP4L: Where do you do most of your food shopping?
Drake/Lindsey: Typically, Kroger. They tend to have the lowest prices and carry a ton of Vegan products. Kroger actually will label their store brand stuff Vegan. We just got a Whole Foods in Kennesaw so it's where we get specific things or when we want something from their hot bar. We also love Trader Joes for their Vegan items and wine!
EP4L: What is each of your favorite Vegan food items. Least favorite?
Drake/Lindsey: Lindsey HATES asparagus. I don't love raw cauliflower, but if it's the only thing at a party on the veggie tray, I'll eat it. I love tempeh, but Lindsey doesn't like that texture as much as seitan or tofu.
EP4L: What's your best advice/tip to give to a new Vegan couple to help them navigate this lifestyle/diet?
Drake/Lindsey: We plan our meals weekly. It not only helps save money, but alleviates the stress of figuring out dinner each night. We typically have a really quick meal every week for that night when you don't want to do anything but sit on the couch. We just got an Instant Pot, and it lives up to the hype. (Click the title link to get your own Instant Pot). It also helps to get 10 or so meals that you just rotate through so you're not always searching for ideas. For guys, look up the Rich Roll Podcast or John Joseph. Both have very different perspectives, but may help a guy who is weary of this whole Vegan thing.
EP4L: What advice can you give someone "on the fence" about going Vegan?
Drake/Lindsey: Take it slow, do your research, and don't be too hard on yourself. Going Vegan can certainly improve your life, but just because you have a slip up doesn't mean you have to stop transitioning. I think we get too caught up in the label. I would also say to make sure to have thick skin. From my own experience, women are generally more accepting. Men have this idea that meat equals masculinity. I try my best to lead by example. I always make things for social gatherings so people can see how good this food can be. I'm also really active outdoors. I don't want people to think that just because you are Vegan, you can't push yourself to do some pretty crazy things. I'm in the beginning stages of training for a 50k race. It's not my sole reason, but I hope people that know me see that I'm not hindered by abstaining from meat and dairy.
Check out one of Drake and Lindsey's favorite recipes, Garlic Chili Pasta & Roasted Cauliflower, then get more just like it by clicking the Minimalist Baker's Every Cooking link! Enjoy!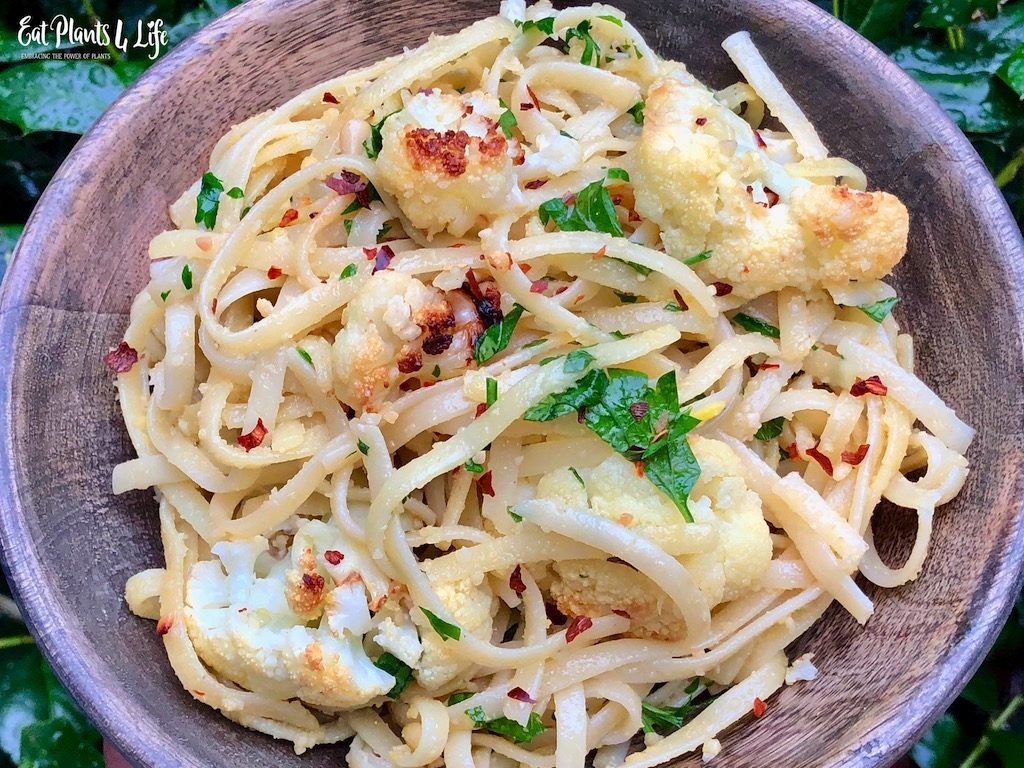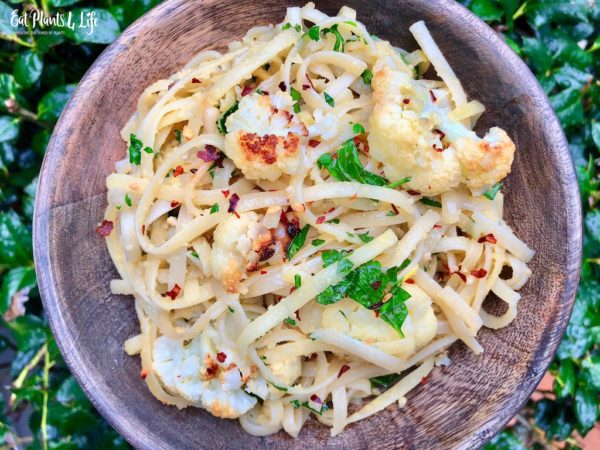 | | |
| --- | --- |
| | |
Preheat oven to 450 degrees F.

Add cauliflower florets to a mixing bowl with olive oil, minced garlic, red pepper flakes, and sea salt. Toss to coat. Then spread on a baking sheet and roast for 20 minutes, flipping/stirring once at the 15-minute mark to ensure even cooking. Set aside.

In the meantime, add vegetable broth (optional flavor booster) and about 4-5 cups of water to a large pot and bring to a boil. Season with salt and pepper and add pasta. Stir occasionally and cook until al dente (according to package directions) or 7-10 minutes. Drain and set aside.

Heat same pot over medium-low heat. Once hot, add 1/4 cup olive oil and 3 mashed (NOT minced) garlic cloves. Sauce for 1-2 minutes on both sides (flavoring the oil) or until garlic is fragrant and slightly golden brown. Remove garlic from pan and let cool slightly. Mince the cooled garlic. Set aside for serving.

Add red pepper flakes to infused oil for 1-2 minutes.

Add cooked pasta, parsley, pine nuts, cooled minced garlic, Vegan parmesan, and roasted cauliflower. Toss to coat.

Remove from heat. Taste. Adjust seasonings as desired, adding salt and pepper if needed. Serve with additional parsley, red pepper flakes (optional), toasted pine nuts, and Vegan Parmesan.