I've been on a new kick lately. I've been doing my research on the effects of refined oils and after significantly reducing my consumption of them over the last few months, I can finally see that the change was worth it.
Although I am still exploring what they call the "high-carb, low-fat (HCLF) diet," I've already noticed that my stomach is flatter and I am slowly letting go of those last few stingy pounds. Most importantly, I've noticed that as long as I'm animal-free and low-fat in my food choices, there are no limits on the amount of food I consume. In other words, as long as I follow the rule of eating until I'm full, I don't have to count calories and I don't have to give up sugar. This tells me that refined, processed fats make. you. fat.
I know what you may be thinking. "Well, geez you've already given up meat and dairy, now you're giving up fat?" No, not exactly. In essence, the "low-fat" change did not significantly change my diet. It just means that I receive the majority of my calories from whole foods – which we should all do anyway, right?
It means that when I eat roasted potatoes or other veggies, I'll roast them in the oven or air-fryer without the added oils. It means that I will limit processed "fake" meat to once or twice a week. It means that I will sauté my veggies in water or vegetable broth instead of EVOO. It means that I will use low-fat Vegan salad dressings (this happens to be the most difficult change for me).
If I do indulge in foods that have more fats in them, I try to keep it limited to natural fat sources. So, raw nuts, tofu, and avocados are still in my diet – just not in large amounts. Long gone are the days when I would mindlessly eat not one, not two, but three handfuls of raw almonds.
Now, I limit it to just one.
Adopting the 80/20 rule (following the lifestyle 80% of the time and allowing unhealthy/healthy fats 20% of time) seems to be the best fit for me, although I've read about some crusaders of HCFL that are 90/10 or 80/10/10 (80% raw, 10% cooked, 10% healthy fats). Personally, I use my 20% when I eat out with friends and family. I still like an occasional basket of French Fries and many Vegan-friendly restaurants carry some of my favorite brands which are not considered low-fat.
Interested in exploring this HCLF lifestyle? Start with The Starch Solution and its companion book, The McDougall Quick and Easy Cookbook: Over 300 Delicious Low-fat Recipes You Can Prepare in Fifteen Minutes or Less by Dr. John McDougall. Click the title links to get your copy. It's a good read and includes recipes that I've already added to my rotation. My favorites are: Golden Gravy, Broccoli Bisque, Baked Macaroni with Creamy Cashew Sauce, and Baked Penne Florentine. My kids even like some of Dr. McDougal's recipes. Everything is quick and easy to make and you're using a lot of the same ingredients, so it is very kind to your grocery budget.
Luckily, many of EP4L's already delicious recipes can be adjusted to swap out the oils with veggie broth or water or by simply using a non-stick pan. This trick I learned from Dr. McDougall. I'm so convinced that a low-fat Vegan diet is the perfect lifestyle that I'm taking it a step further. Over the course of the next few months, I am updating all EP4L recipes to include the option to ditch the oil and substitute with healthier options. It's easier to do than you think, but the results are immeasurable.
Because eggplants are in abundance this time of year, I decided to take advantage of this seasonal purple-hued fruit (yes, fruit) and expand on my new quest to eat a diet with minimal refined oils by posting a recipe this week and next week that is oil-free, yet flavorful.
EP4L's Vegan Eggplant Meatballs is a new family favorite. Eggplant is the perfect meatless meatball choice because it holds a lot of moisture – making it easy to mold into a ball. Whole-wheat flour, whole-wheat bread crumbs, and hash browns to serve as the glue for these yummy, healthy plant-based balls.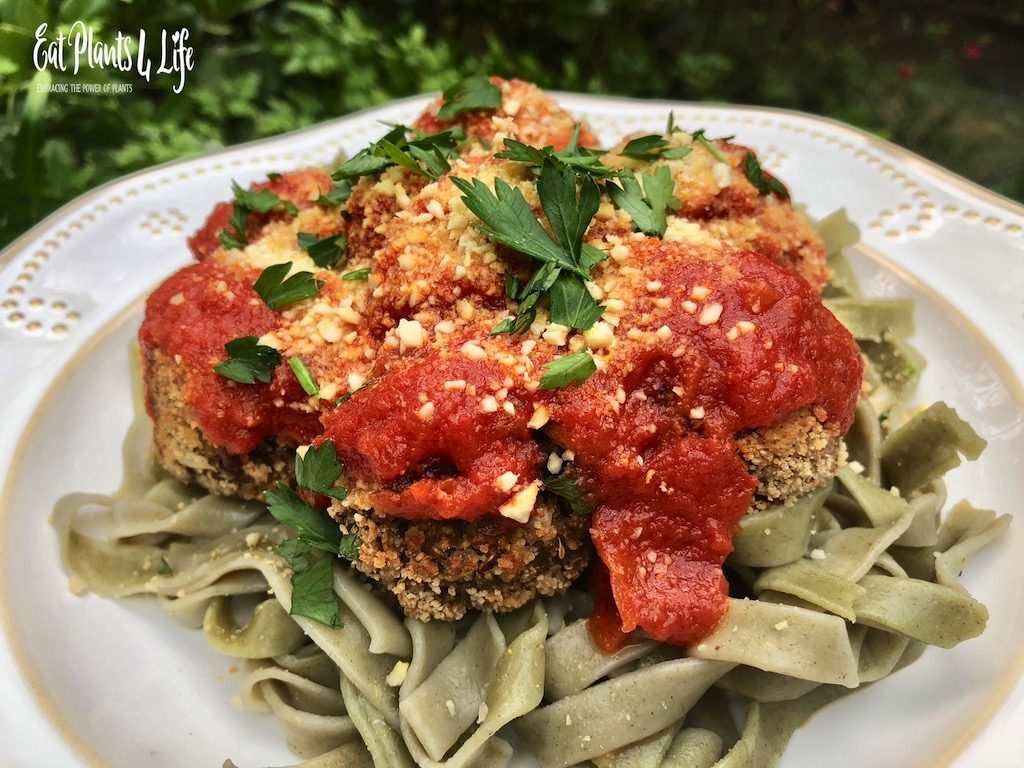 Dried Italian herbs, garlic, and onions (which also provide moisture) are added for flavor. Vegan Eggplant Meatballs can be sautéed in oil, but I prefer to eat them baked. They're heavenly.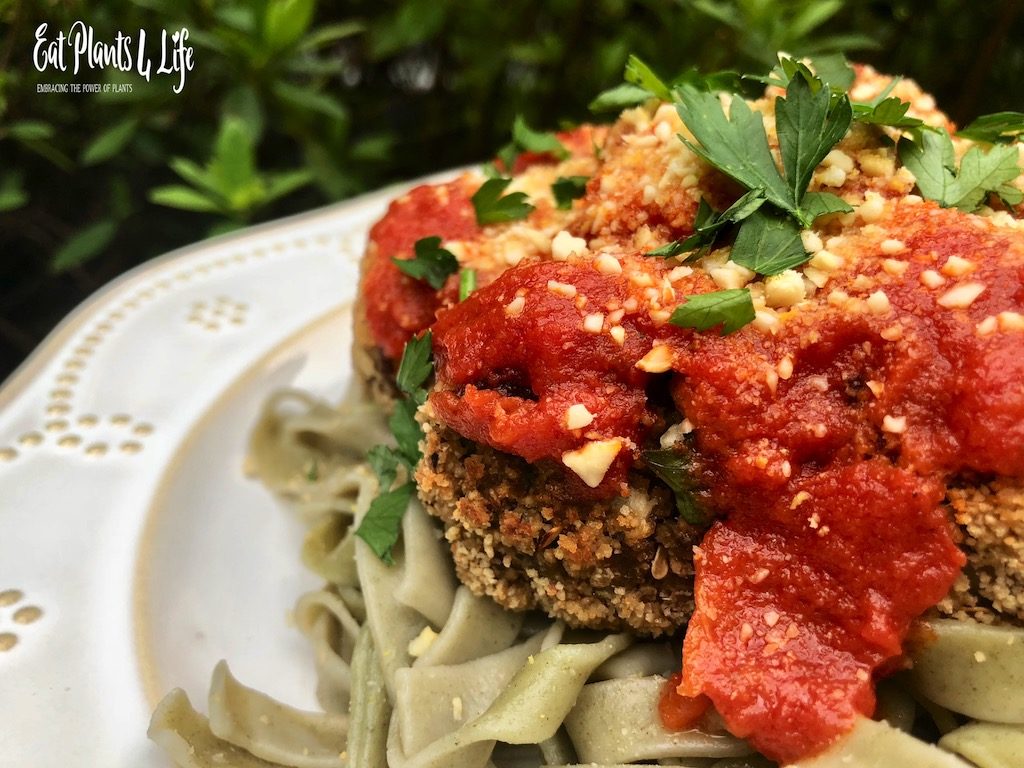 Serve Vegan Eggplant Meatballs topped with your favorite marinara sauce and along with the pasta of your choice or as the star in a meatless meatball sub. They also taste great all by themselves.
Check out the YouTube video for Vegan Eggplant Meatballs: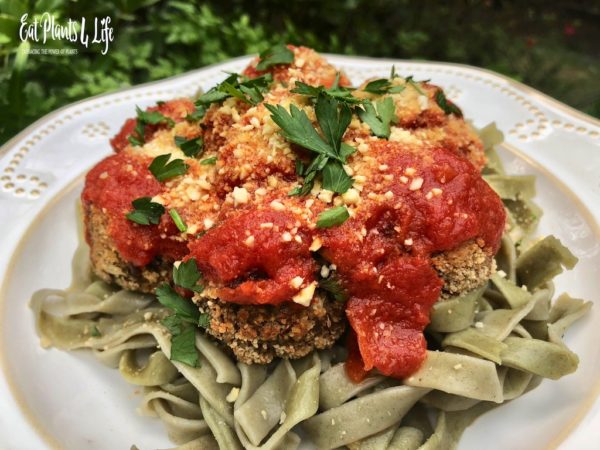 | | |
| --- | --- |
| Servings | medium-sized meatless meatballs |
| | |
| --- | --- |
| Servings | medium-sized meatless meatballs |
Place chopped eggplant in a food processor. Add diced onion, garlic cloves, oregano, basil, salt and pepper. Pulse just a few times until mixture is loosely ground. Don't use the "blend" button on your processor. Mixture will be too mushy.

Spray a medium non-stick pan with cooking spray and heat to medium-high. Add eggplant mixture. Sauté for about 8 minutes. Splash with water if mixture appears to dry out.

Pour warm mixture into a large mixing bowl. Add frozen hash browns (hash browns will thaw as you mix it up). Add breadcrumbs, flour, breadcrumbs, and parsley. Mix until well combined.

Cover and refrigerate for 30 minutes.

Preheat oven to 400 degrees F. Spray a baking sheet with cooking spray.

Pour ½ cup of whole wheat breadcrumbs onto a plate.

Using a spoon or mini ice cream scooper, scoop eggplant mixture into hands and roll into balls. *Dredge balls in bread crumbs and place on baking sheet (see alternative cooking method in recipe notes). Repeat process until all the meatballs are formed, dredged in breadcrumbs, and placed on baking sheet.

Bake in oven for about 30 minutes or until golden (turning the meatballs over halfway through baking).

Enjoy meatballs covered in your favorite marinara sauce and on top of pasta.
If you prefer, meatballs can also be fried in oil. Instead of dredging in ½ cup whole wheat bread crumbs (step 4), dredge in ½ cup of whole wheat flour and fry in oil until golden.
Optional addition: Add 2 tbsp. nutritional yeast in step 3, for a slightly cheesier flavor.