Monday, June 12th is International Falafel Day!
I have to be totally honest. Before Veganism, I had no idea what a Falafel was. I had never experienced the flavor or learned of its origin prior to my new phase of dieting.
One great thing about a plant-based diet is that as you close the door on animal and animal-by product proteins, you open another door that exposes you to cultural cuisines that you would not have otherwise introduced to your taste buds. Because we Veganites rely heavily on beans and legumes to supply the iron and protein our bodies need, the idea of a new and delicious way to enjoy chickpeas sparked my interest.
Falafels are just that – chickpeas on steroid-flavor! This Middle Eastern delicacy is a matrimony of mashed chickpeas and an aromatic mix of herbs and spices. And did I mention that Falafels are typically deep-fried? I'm a Southern girl with "deep-fried" roots. "Deep-fried" is tattooed on my back (no, not really but it should be).
My very first Falafel reminded me of a crunchy, well-seasoned hushpuppy. They're crispy, fragrant, textured, and very addictive.
My recipe for Vegan Falafels & Avocado Aioli is my take on this old, international favorite.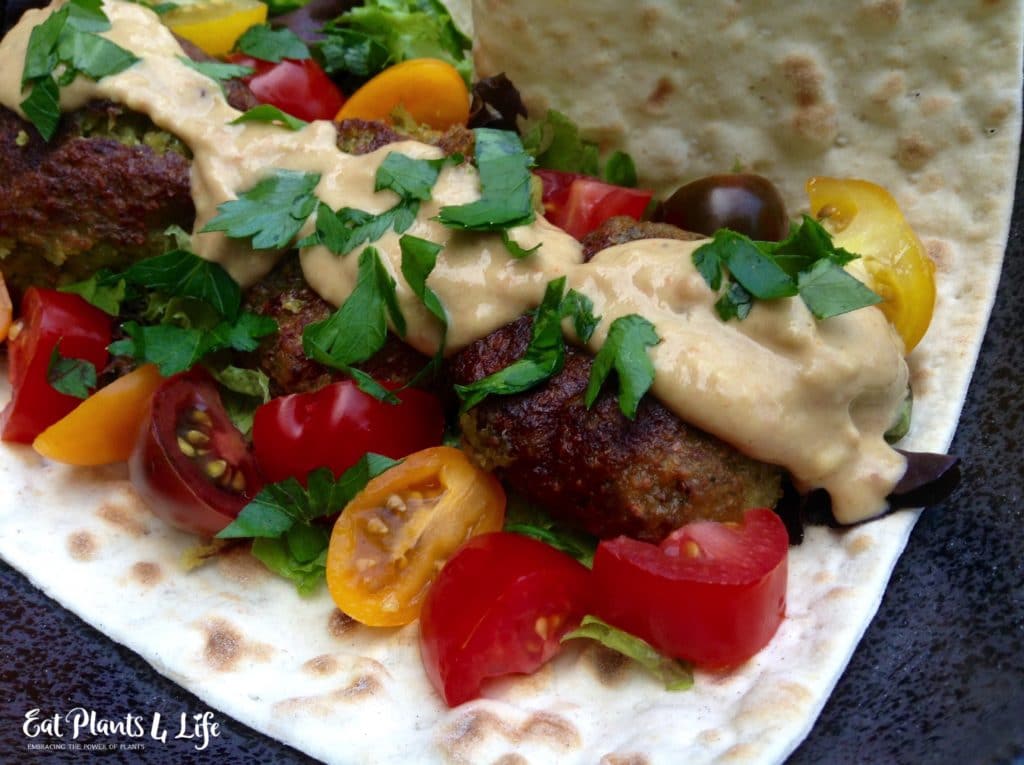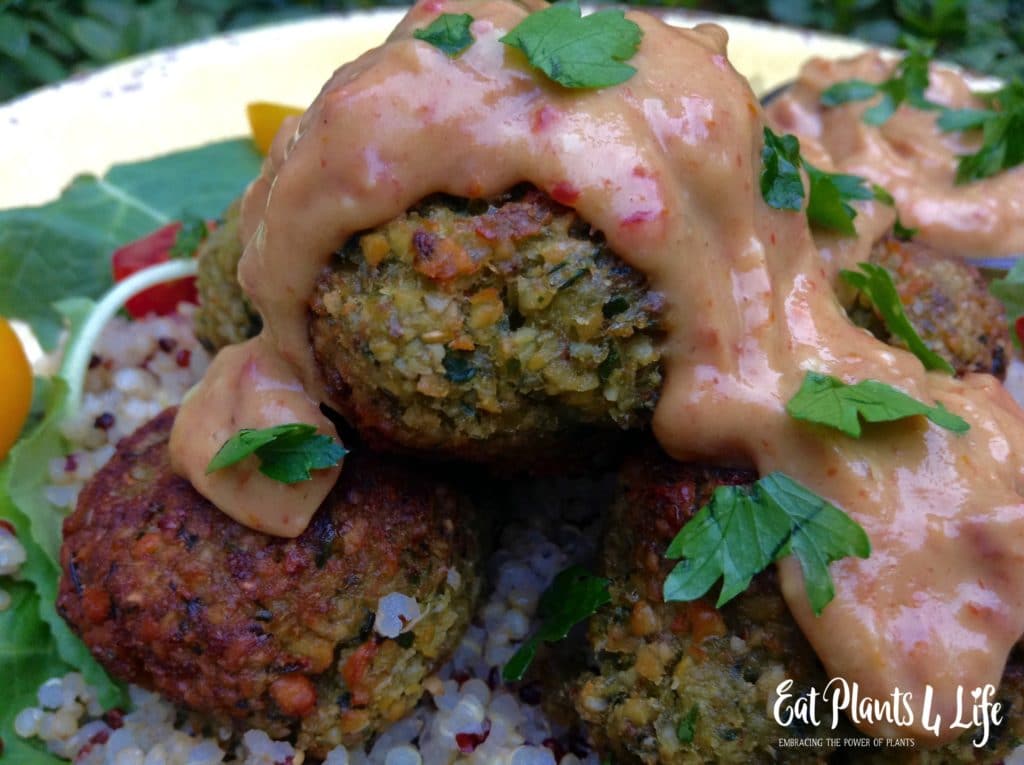 I've made different varieties of this dish but this recipe is my best creation. The use of fresh (not canned) chickpeas makes all the difference. Patience in preparation is key.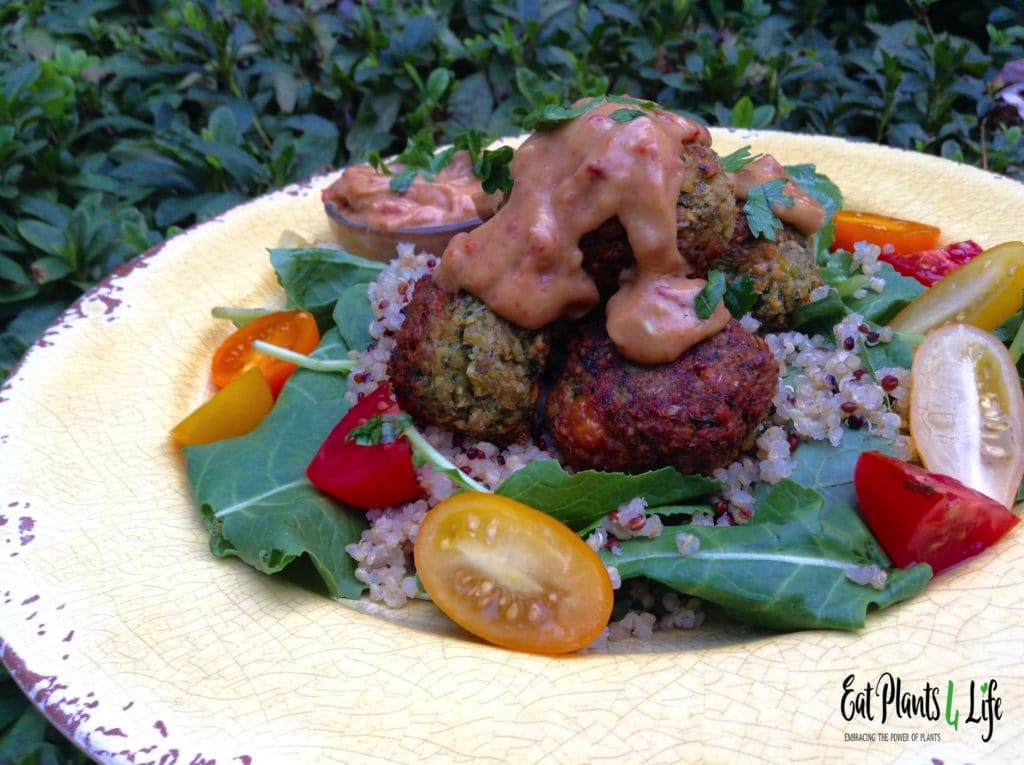 I've incorporated chia seeds in the recipe to add even more fiber and protein. My plant-based falafels have a little flavor kick with the addition of a little heat.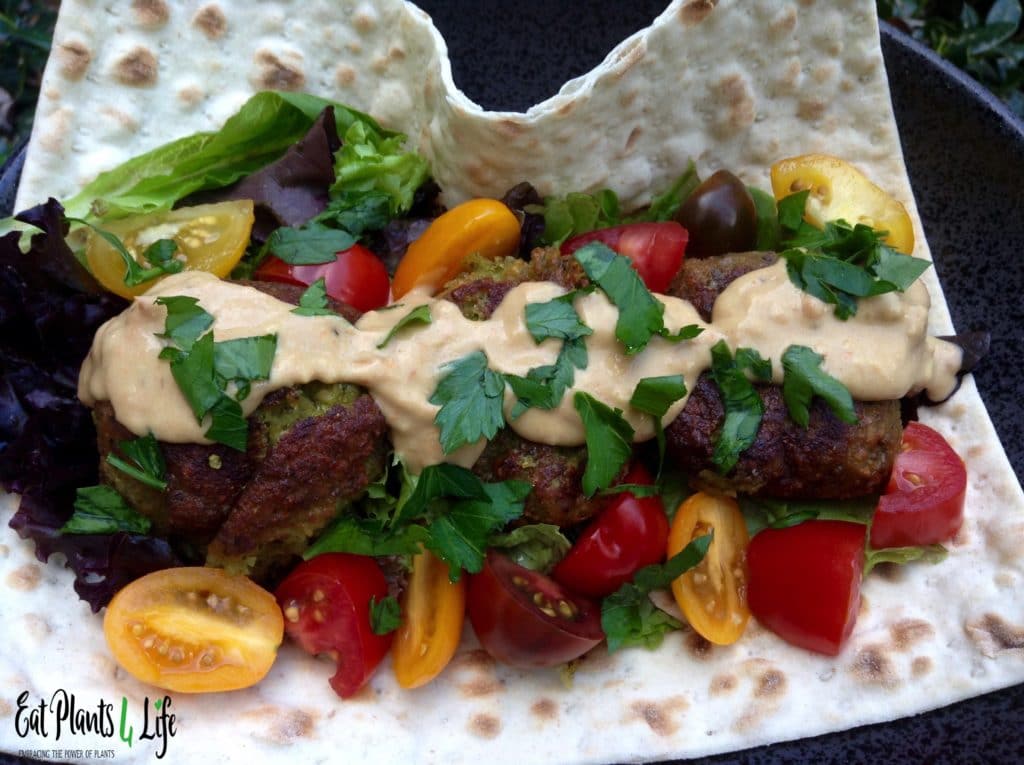 My creamy, tangy Avocado Aioli topping is perfect for dipping or using as the spread in a vegan falafel wrap and adds another layer of heat.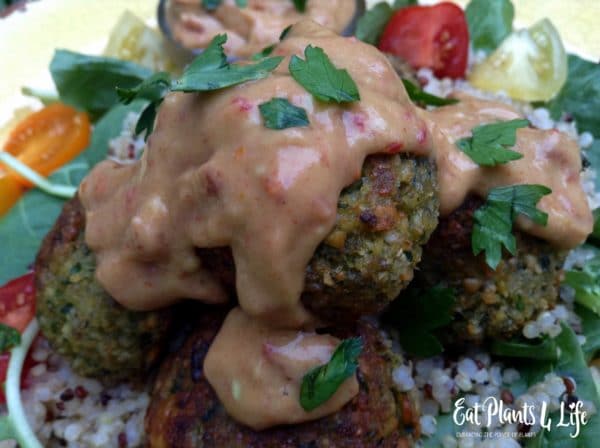 Avocado Aioli Ingredients:
| | |
| --- | --- |
| Avocado Aioli Ingredients: | |
The night before, soak dry chickpeas in water and baking soda. Make sure the water is at least 2 inches above chickpeas, as these will expand. The next day, drain the chickpeas. Or, if you're pressed for time, place uncooked chickpeas in a large pot and cover with cold water. Add an additional 3-4 inches of water because chickpeas double in size. If any peas float, please discard these. Bring to a boil, reduce heat and simmer for 1-½ hours. Check to make sure water does not totally evaporate. Add additional water to pot if so. Once cooked, allow chickpeas to cool.

Add chickpeas to a food processor along with parsley, onions, lemon juice and zest, garlic, Sriracha sauce, coriander, cumin, 2 tbsp. of almond meal or breadcrumbs, chia seeds, water, and salt. Process by pulsing until ingredients are well combined. Do no over process.

Place is a bowl, cover, and allow mixture to chill for at least 30 minutes. Rinse out your food processor and make avocado aioli while falafel mixture is chilling.

Form falafels into golf-ball size balls (about the size of a golf ball). You can also form into small patties if you prefer.

Place ½ cup of breadcrumbs or almond meal on a plate.

Roll balls in plate, evenly coating the falafels. If patties were formed instead of balls, gently press breadcrumbs into both sides of patties.

Heat oil (just enough for sautéing, not deep frying) in a large skillet. Add falafels and cook on medium-high heat, making sure to brown on all sides until golden.

Serve topped with Avocado Aioli in a wrap...

or over mixed greens or grains
Make sauce by opening avocado, removing the pit, scooping out the flesh and adding it to processor along with remaining avocado sauce ingredients (except water). Process mixture until smooth. Add desired amount of water to thin out sauce to desired consistency. Set aside.
*do not substitute with canned chickpeas. Canned chickpeas will not deliver quite the same success in taste and texture.
Want to save on the fat in sautéing? Preheat oven to 400 degrees. Spray a metal cooling rack with cooking spray. Place Falafels on the cooling rack, then place on a baking sheet. Spray the Falafels with cooking spray. Bake in the oven until Falafels are golden brown (about 35 minutes).