'Tis the season when several things happen in my household without fail…
I binge watch Hallmark movies even though I can predict the inevitable, happily-ever after ending. It will either involve a little girl or boy getting their

Christmas

wish of finding a partner for their single parent or a career-driven woman will find her romantic match in snowy, small-town America.
I stress out about getting Christmas gifts. Then when I get them all, I stress about successfully hiding them from my kids. Then when I find hiding spots that I "think" they haven't discovered, I stress about not being able to find all of them because I forgot where I placed some of them.
I cry over every. single.

Publix holiday commercial

because it reminds me of those who have passed or some nostalgic childhood memory.

I bake, bake and then bake some more. Perhaps it's because I am so stressed out about #2 or crying all the time from those sappy commercials.
The last two inspired me this year to create Vegan Gingerbread Cake with Spiced Glaze.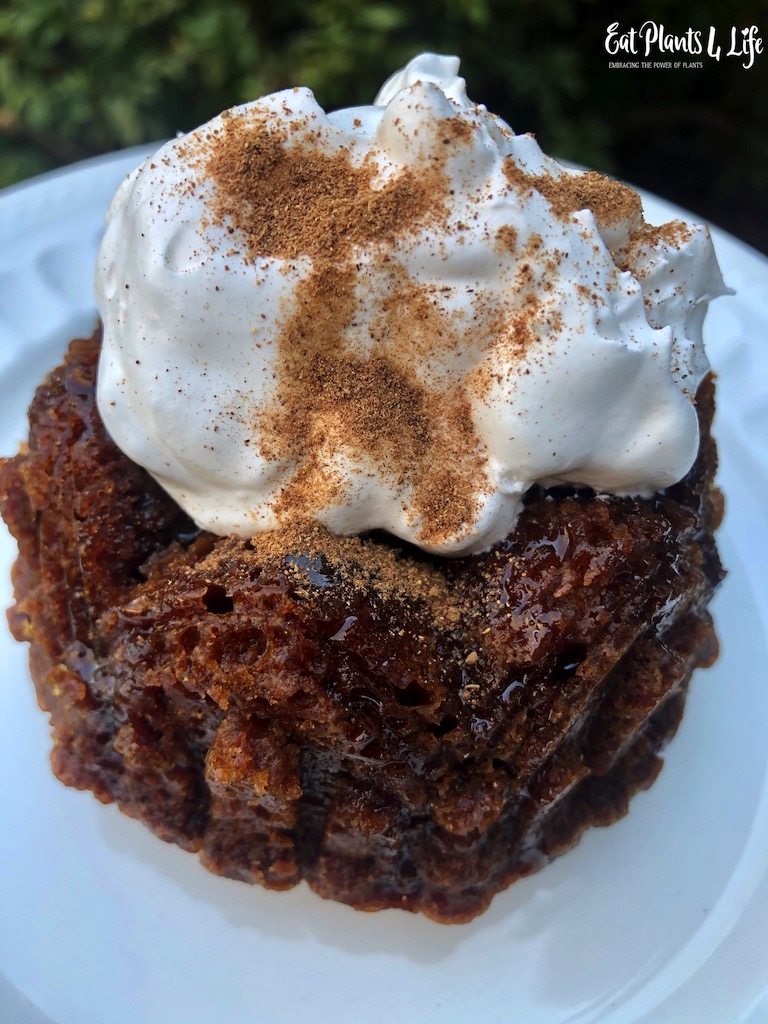 The story behind this creation involved my holiday baking obsession and this year's infamous sappy commercial. This year, the Publix commercial that made me weep is called Christmas Morning (click the title to check it out). It's the one of the little girl who gets up way too early on Christmas morning only to be spotted by her adoring grandmother. The grandmother says, "You're up early. I have an idea" and they retreat to the kitchen to bake something yummy as they wait for the rest of the family to wake up to open their Christmas gifts. After effortlessly whipping up some sort of raspberry pastry that looks like something only a grandma can do, the matriarch places a coffee mug in front of the little girl. The girl takes a sip while admiring the cooling breakfast treat. Fast forward – the girl grows up and is thinking about that special memory as she quietly sips from the same exact coffee mug on Christmas morning (I'm tearing up as I type this part).
You know what happens next. It's classic. A little boy comes into the kitchen – too early of course and she says to him the same exact thing that her grandmother (who obviously has passed) said to her – "You're up early. I have an idea." And so goes the tradition.
It reminded me of my grandmother and her baking traditions – one in particular inspired me to create Vegan Gingerbread Cake with Spiced Glaze.  Grandma called her recipe Molasses Bread. It was aromatic, moist and delicious. She made it from a boxed gingerbread cake (I remember the orange box) but added her own special touch. To a warm cake, she added what she called "goo." This made the treat even more moist and aromatic.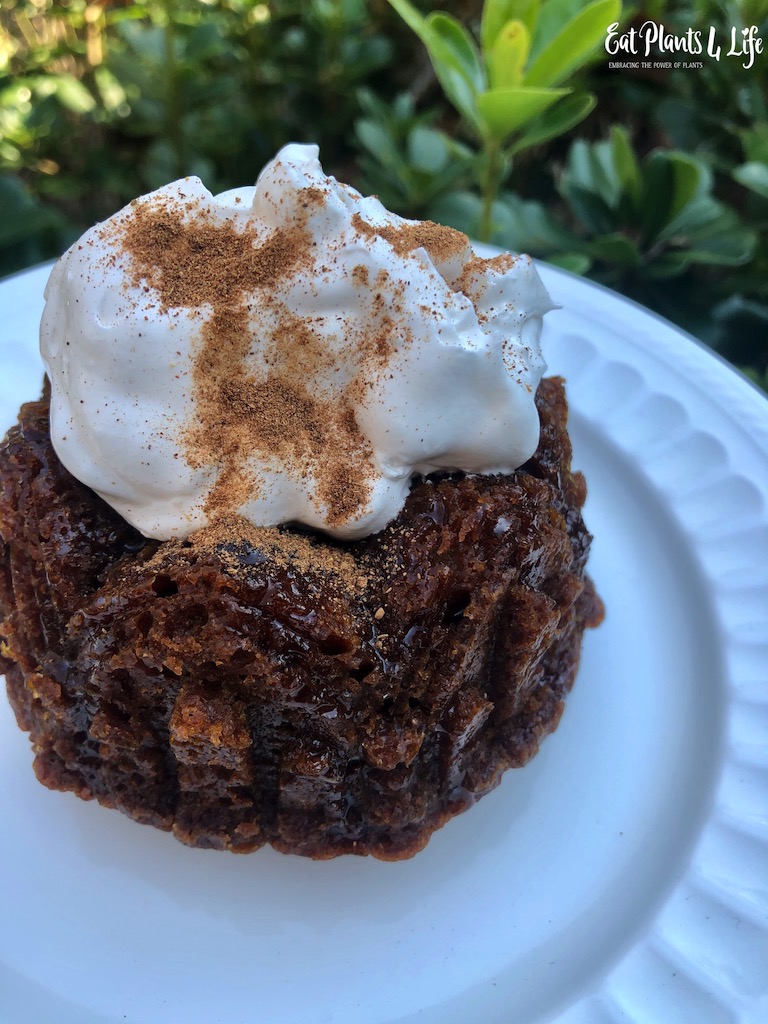 Later, I found out that her "goo" was nothing more than a simple syrup that had been flavored with aromatic spices. "Goo" does sound so much better than simple syrup.
EP4L's Vegan Gingerbread Cake with Spiced Glaze is a part of my family's holiday baking traditions. Instead of using a boxed Gingerbread Cake, I created a homemade recipe that is oh-so simple to make. It's butter free and egg-free – thanks to canned pumpkin and applesauce. You could probably even omit the oil by adding additional applesauce.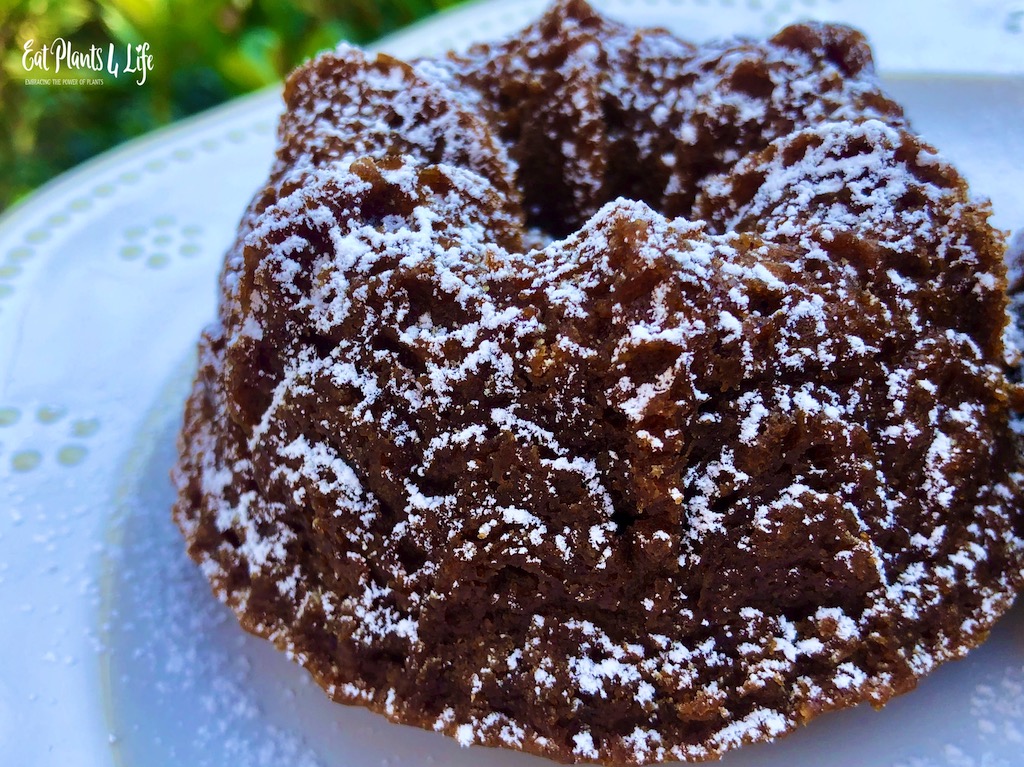 She would bake it in a loaf pan, but I decided to use this cute Mini Bundt Cake or Fluted Cake Pan.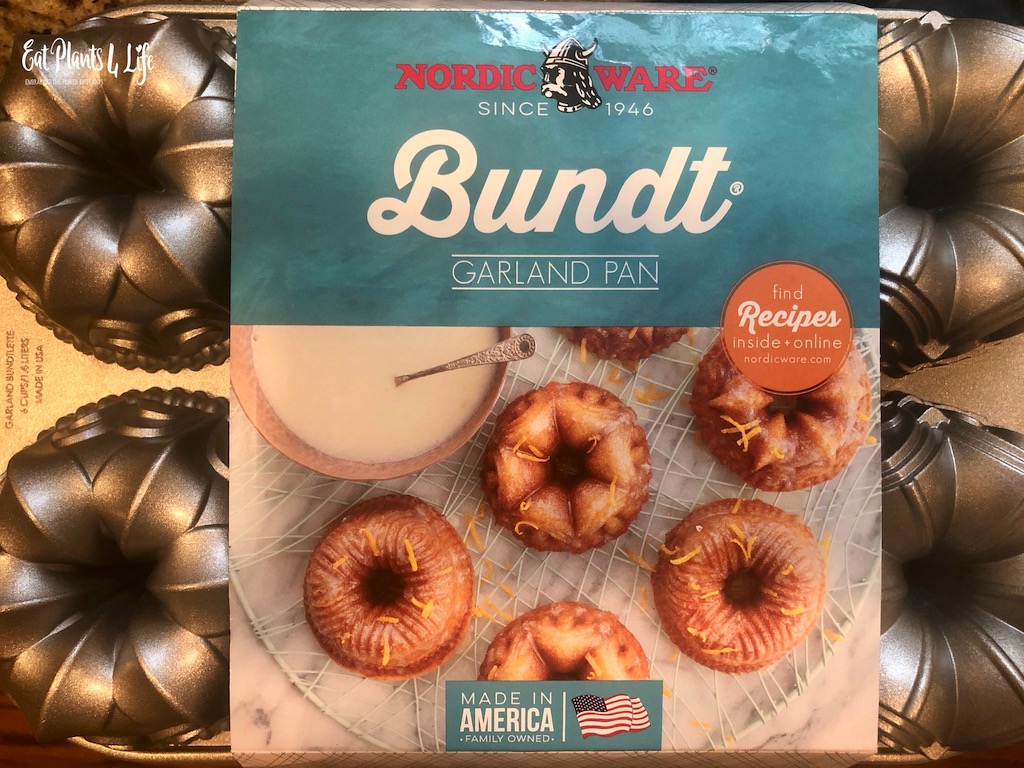 Just like my grandmother, I poke holes into the cake when it has cooled and drizzle it generously with a spiced simple syrup glaze. You can of course eliminate this step, drizzle a little or a lot. You can also add a dollop of vegan whipped cream sprinkled with cinnamon or pumpkin spice. Even vegan powdered sugar works well with this versatile recipe.
Vegan Gingerbread Cake with Spiced Glaze is my homage to a classy Southern lady whom I miss dearly and whose traditions find their way into our holiday household year after year.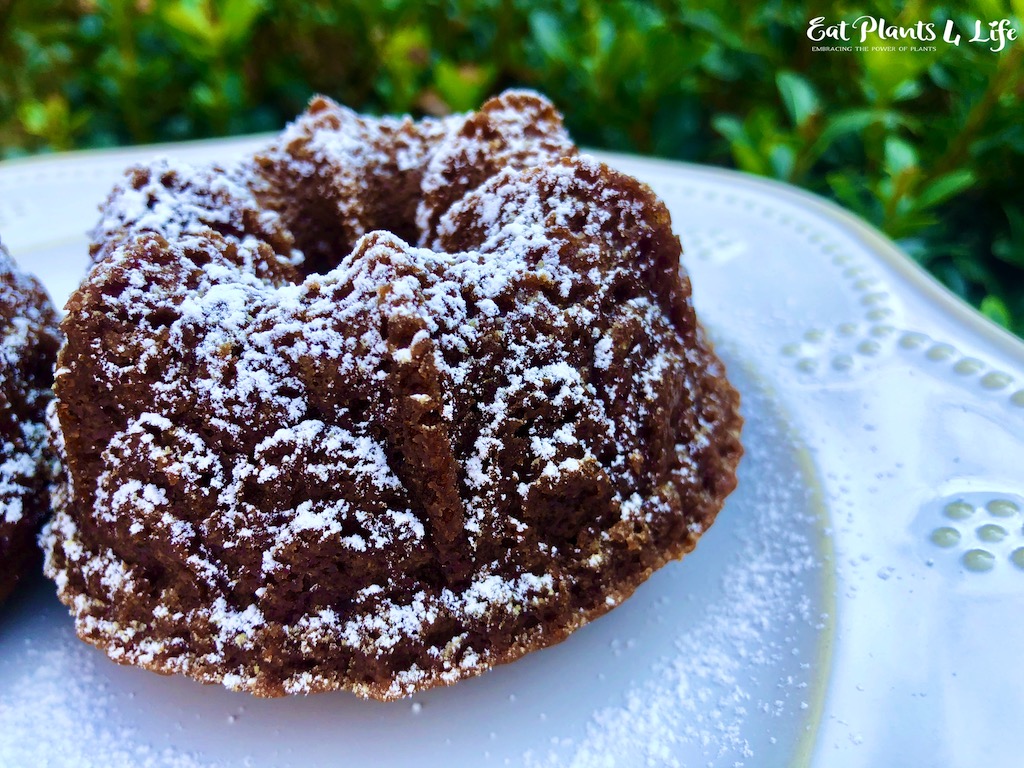 My kids love it and hopefully their kids will one day enjoy it, too! May your holiday season bring you peace, joy, and traditions – both old and new. Merry Christmas!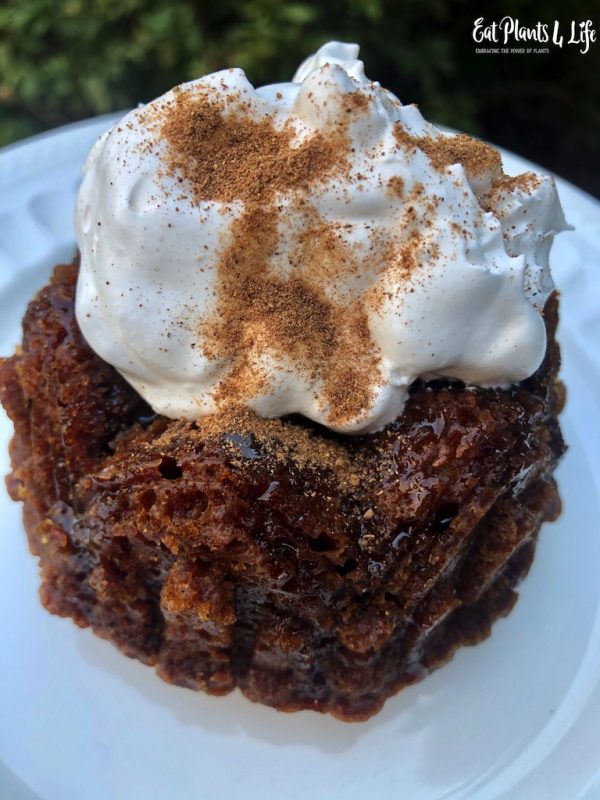 Instructions
Gingerbread Cake:
Preheat oven at 350 degrees. Spray an 8-inch square pan or mini Bundt or fluted cake pan with cooking spray. Set aside.

In a large bowl or mixer bowl, beat first 3 ingredients on medium speed until well combined. Add applesauce and molasses, mixing well.

In a separate bowl, add next 5 ingredients and whisk together. Add to wet ingredients alternating with hot water, beginning and ending with flour mixture. Mix after each addition. Pour batter into a greased 8-inch pan square, or mini Bundt or fluted cake pan.

Remove from oven and allow to cool on a baking rack. While cake is cooling, make Spiced Glaze (below). Invert Bundt or fluted cake pan and allow to completely cool on cooling rack.

When cake cools, using a wooden toothpick, poke several holes in the gingerbread. If using mini Bundt or fluted cakes, poke at least 12 holes into inverted cakes. If using an 8-inch square pan, poke at least 40 holes.

Using a small spoon, spoon desired amount of warm syrup over gingerbread.

Optional Garnish option #1: Add a dollop of vegan whipped cream to gingerbread. Sprinkle with cinnamon or pumpkin spice.

Optional Garnish option #2: Dust with vegan powdered sugar.

Enjoy!
Spiced Glaze:
Place a small saucepan over medium-high heat. Add water. Once water starts to boil, add remaining ingredients whisking constantly until well combined. Bring back to a boil, remove from heat. Sauce will thicken as it cools slightly.
Recipe Notes
*can substitute pumpkin spice with a dash of nutmeg, ginger, and allspice
Storage tip: Store for one day in airtight container. Refrigerate after 24 hours.
Like the mini Bundt cake pan? Get it or a similar one here: Nordic Ware Bundtlette Pan