I'm a big snacker. I've always got the munchies. I envy those that have to "remind" themselves to eat. I mean, really? I have to "remind" myself NOT to eat. I'm not always thinking about food, but even when I'm busy and on the go, I always make time to shove something into my mouth. Perhaps this is merely out of habit. For a time and when I first adopted a vegan diet, I'd decided to always have a stash of vegan snacks on hand just in case I find myself in a social situation where I was nutritionally S.O.L.
Regardless of what brought to life my need to nosh or graze all day, I do have a few rules – these are the rules that keep the weight in check. I don't eat after 7:00 pm (unless it's date night or a girl's night out). I also don't snack on anything but fruit before lunch. This pretty much leaves the door open for grazing from 12 -7. Since I do eat lunch and dinner, between the hours of 3pm and 5pm is my snacking primetime.
My next rule deals with my portions. I try to avoid mindlessly eating. As a vegan, I do have my fair share of nuts, seeds and dried fruit, but because these healthy snack items tend to be high in calories, I like to ward off the tendency to mindlessly eat them by doing a little preparation.
That preparation comes in the form of my absolute favorite snack – my Vegan Happy Trail Mix. I call it a "smart snack option." Just 2-4 oz is all I need to stay satiated until my next meal.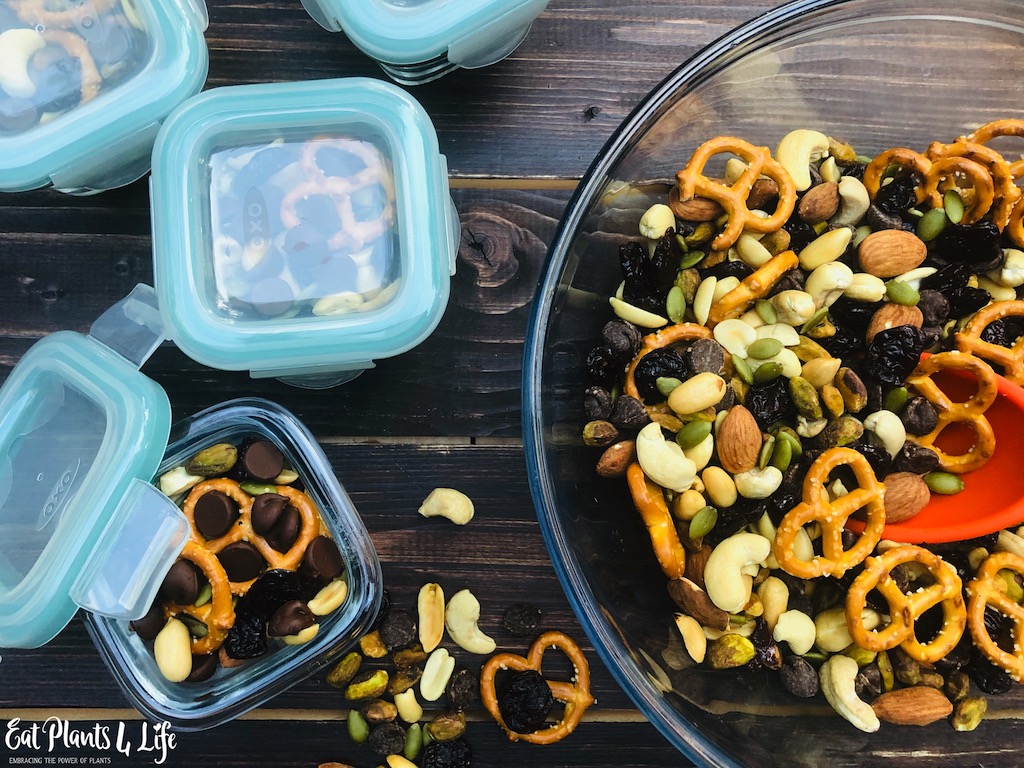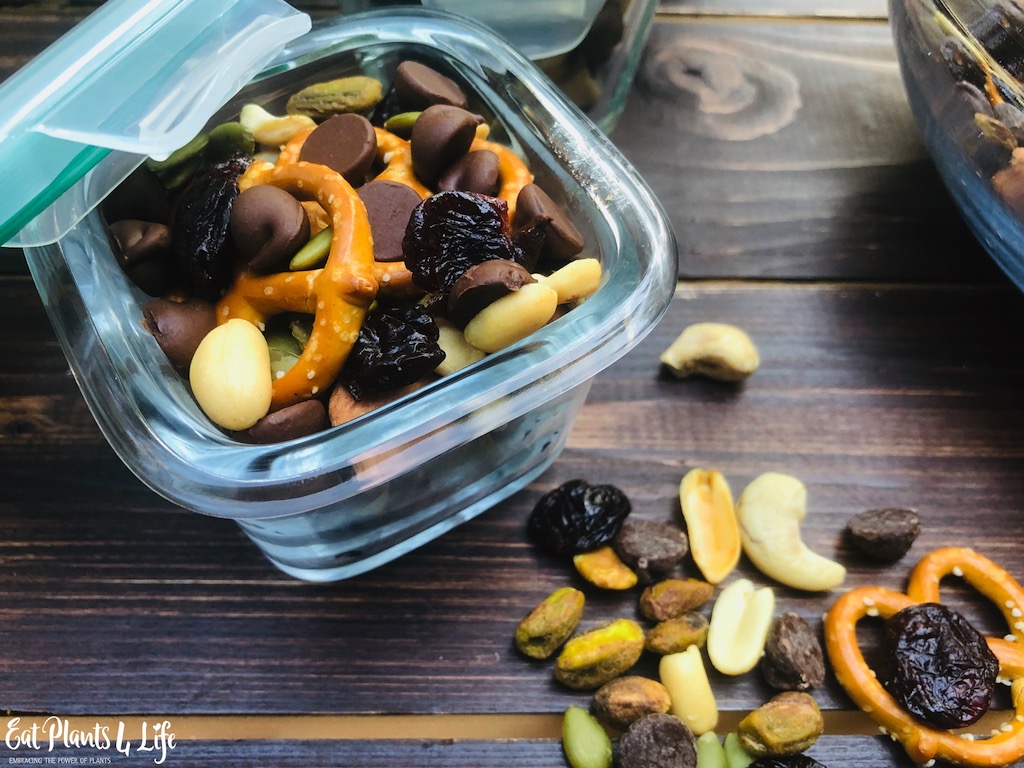 I will take a medium sized mixing bowl and add, ¼ cup of everything. My favorite Vegan Happy Trail Mix includes raw cashews, pumpkin seeds, and almonds, roasted pistachios, lightly salted peanuts, mini twisted pretzels, tart dried cherries, and the pièce de résistance on any given day – dark chocolate vegan chips. This combo meets the mark on covering most flavors/textures. It checks all of the boxes including sweet, crunchy, salty, hearty, and tart. You can sub in spicy nuts if you are looking to add a hint of heat to the list.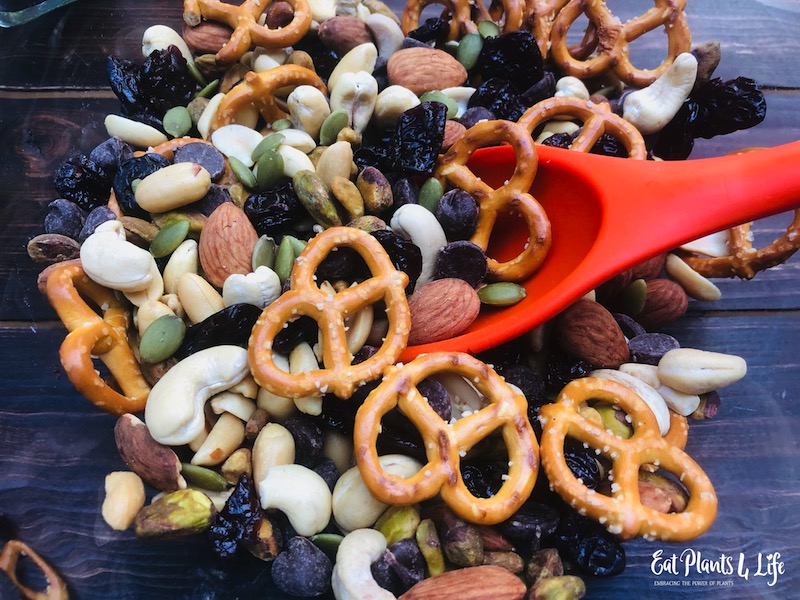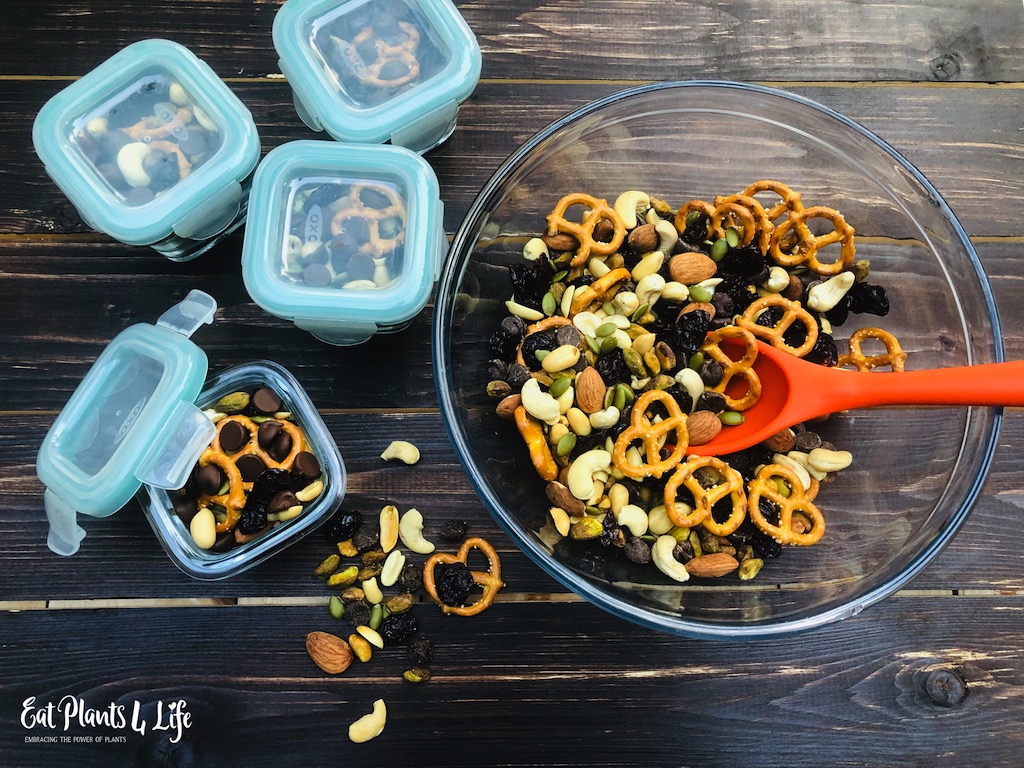 I place them in 4 oz. glass airtight containers (my favorite is from OXO – seen below) and stack them in a cool dry place. I will grab one in the morning, and pop it into my purse or lunchbox before heading off to work.
So instead of grabbing salty chips, a tired granola bar, or a sinful dessert – add Vegan Happy Trail Mix to your life and munch away!