Until recently, I had never tried monkey bread, but the name always intrigued me because I didn't know what a scrumptious looking dessert had to do with monkeys. Initially, I thought that the recipe must have bananas as its main ingredient. Wrong.
I'd come to find out that its origin is of Hungary. In Hungary, it's called arany galuska (golden dumpling) and was introduced to America when Hungarian immigrants opened bakeries here. Bless you, Hungarians!
In essence, Golden Dumpling is coffee cake.  This does not explain the origin of the term monkey bread, but learning that it's basically coffee cake is pretty much all I needed to know to convince me to create a Vegan version. A decadent pastry that pairs well with a cup of heaven is certainly a winner in my mind.
Monkey Bread is also known as "pinch-me cake" because you're pinching and pulling it free from its base, one deliciously, flakey piece at a time. But, I think the name also describes that feeling you get once you try it. It will have you saying, "pinch me, I'm in heaven."
So, the appeal for me is not just its reference to coffee but also the technique involved in devouring it. Pulling apart sweetened, gooey bread is fun and a kid's dream. Big kids like me, too. How novel it is to eat a cake that doesn't require silverware? Genius!
Expanding on that genius is EP4L's Vegan Monkey Bread.  It's my idea of a sweet and savory treat that is ideal for breakfast, brunch, or dessert.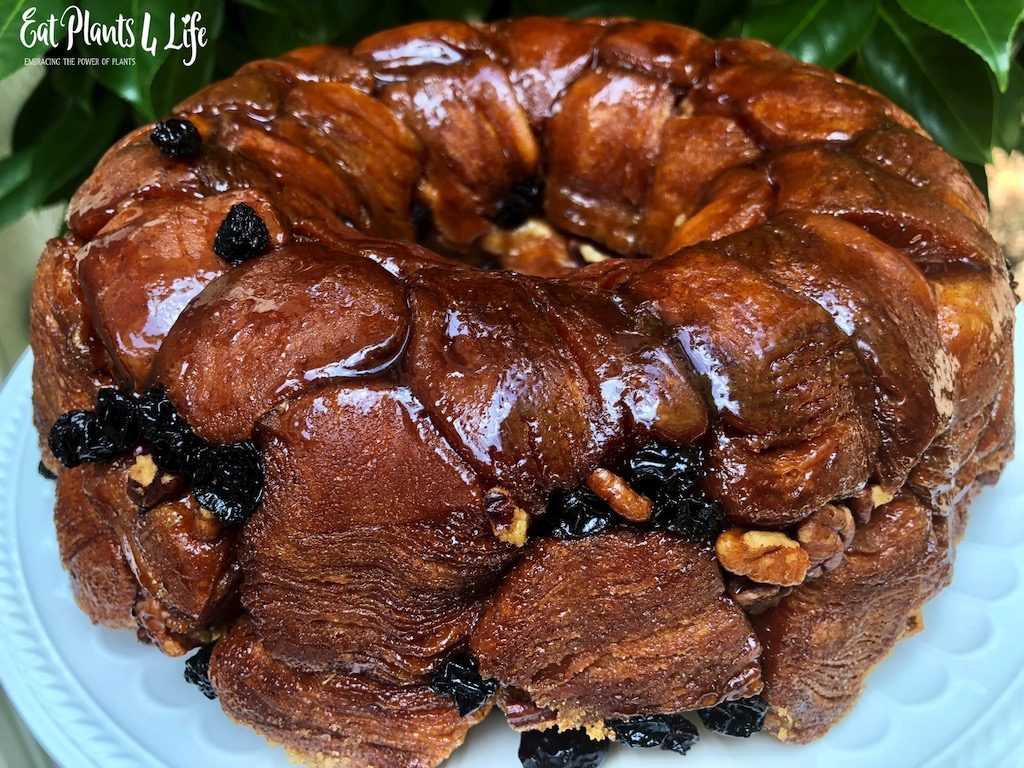 Stacks of quartered Vegan biscuits are dusted in earthy spices, piled into a Bundt-style pan alongside raisins and pecans, then soaked in sugared Vegan butter. No, Vegan Monkey Bread isn't ideal for the calorie-restricted or for those that are trying to avoid sugar altogether. This is the occasional indulgence or brunch party treat that will look gorgeous as it glistens on a serving plate. Glazed in sugary butter, it will definitely be pulled apart and devoured.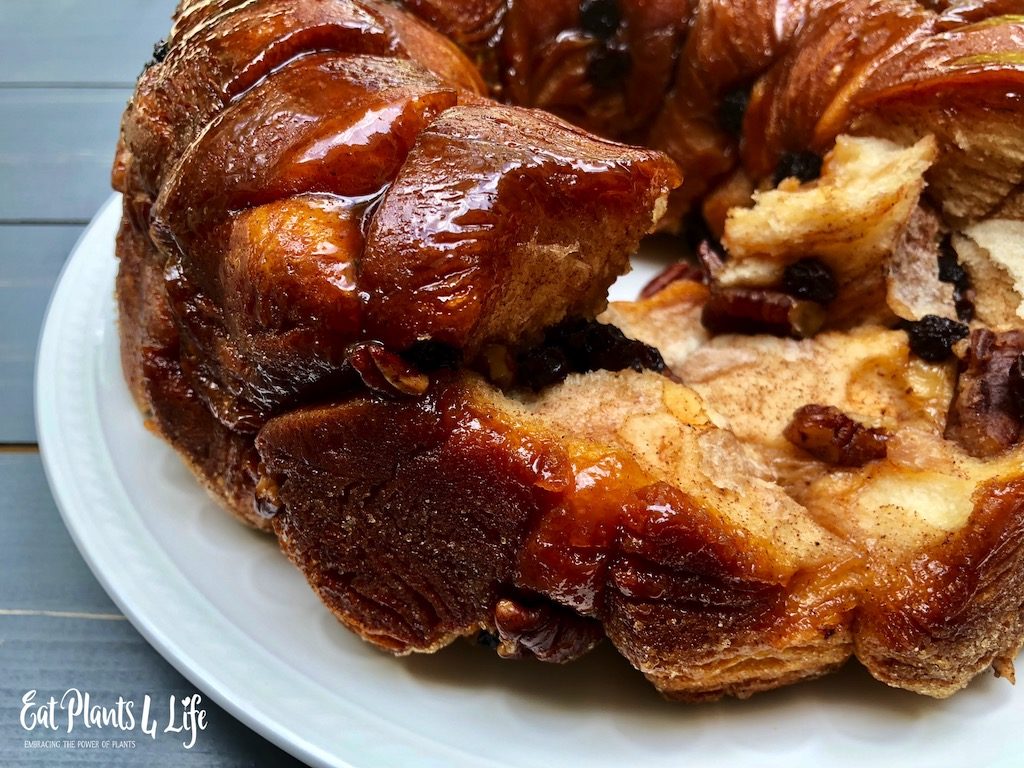 Vegan Monkey Bread is both fluffy and flaky with the right mix of fragrant spices: cardamom, ginger, allspice and cinnamon. The kitchen will smell like a bakery. The Hungarians were on to something when they created this one.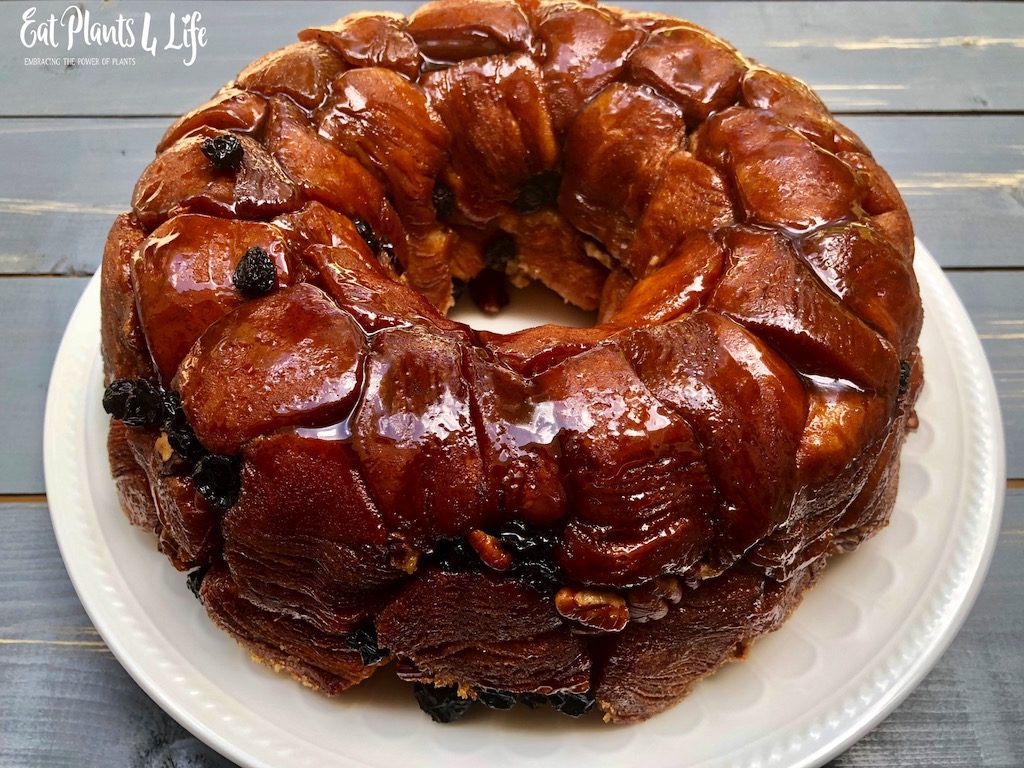 Hosting or attending a brunch? This is your "go to." Vegan Monkey Bread, in spite of its unusual and mysterious name, satisfies my sweet tooth, is virtually easy to make, and requires very little clean up. The results look like you slaved all day to create it. It'll earn you instant kitchen cred.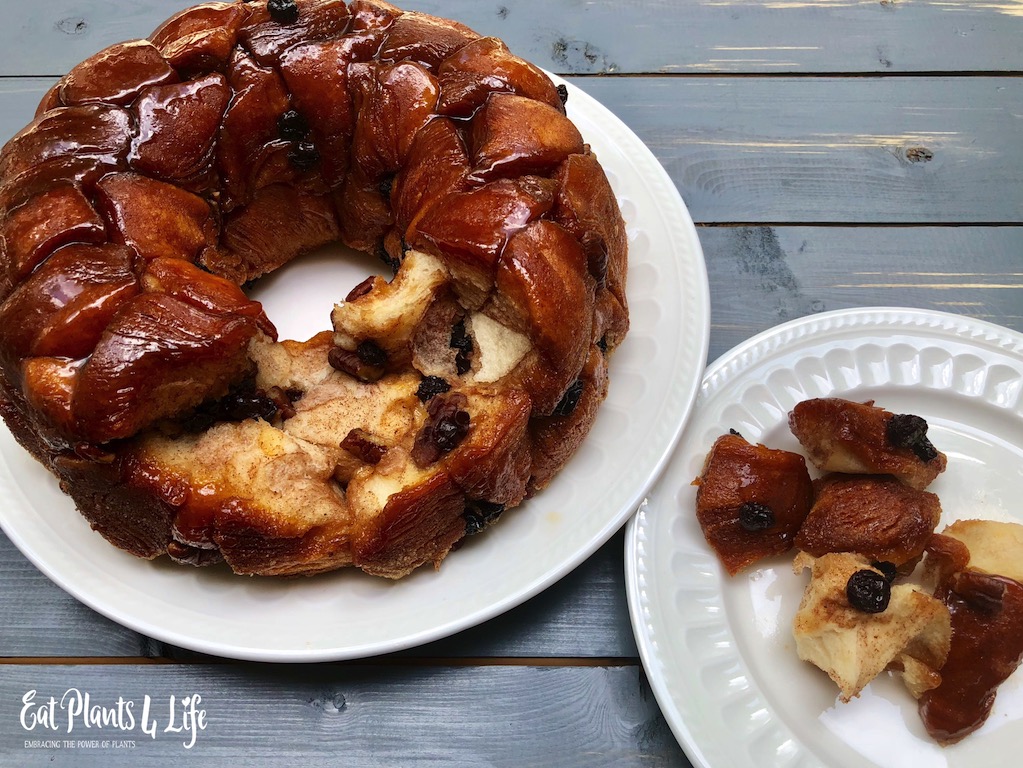 Check out his recipe video for Vegan Monkey Bread: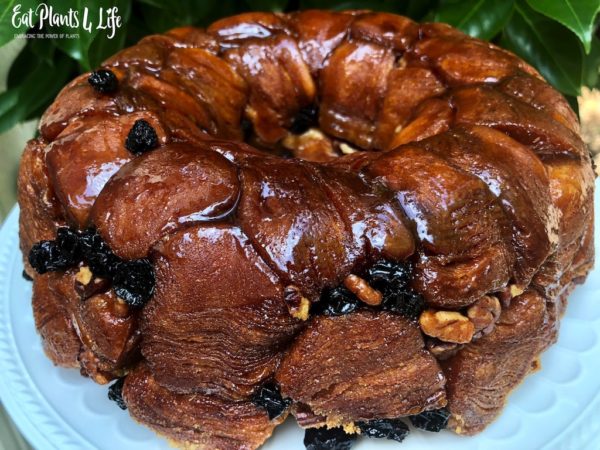 | | |
| --- | --- |
| | |
Preheat oven to 350 degrees. Spray a Bundt-style pan liberally with cooking spray. Set aside.

In a gallon-size Ziploc bag, combine first 5 ingredients. Seal bag and mix ingredients. Set aside.

Open canned biscuits, separate, and cut each into quarters.

Working in small batches, place quartered biscuits in the spice mixture. Shake until well coated. Arrange a layer of coated biscuit pieces (half of the batch) side-by-side in the greased Bundt-style pan. Pack tightly. Sprinkle with half of the raisins and half of the pecans. Add a second layer of the remaining coated biscuit pieces to pan. Add the second half of the raisins and pecan pieces, remembering to pack tightly.

In a separate bowl, melt the Vegan butter. Add brown sugar and whisk until combined. Pour combined mixture evenly over biscuit pieces.

Bake in oven 35-40 minutes or until golden brown and cooked through. Allow to cool or until pan is warm enough to touch.

Using your favorite serving plate, place plate over pan and invert (holding plate and pan securely while flipping). Slowly remove inverted pan.

Serve warm. Store uneaten portion in an airtight container for up to 3 days.
*use Vegan butter sticks, not the Vegan butter in the tub.