You just can't have a college football game day gathering without your traditional game day food. Whether you're sitting at home in your team spirit gear yelling at the flat screen TV or tailgating with friends and family at the stadium, there should always be a pot of chili in the vicinity.
It's a tradition – tried and true.
You can, however break some traditions. Brace yourself. Today, we're going to break a tradition.
What if I told you that chili doesn't have to be tomato-based?
Yup, you read it here – chili does not have to be tomato-based and still taste great.
I found an alternative chili that you will absolutely love. Promise.
In Gina Homolka's book, Skinnytaste, Fast and Slow is an awesome Pumpkin Chili that I of course, Veganized (or tweaked to make Vegan). Pumpkin Chili will make you second guess your love of traditional tomato-based chili.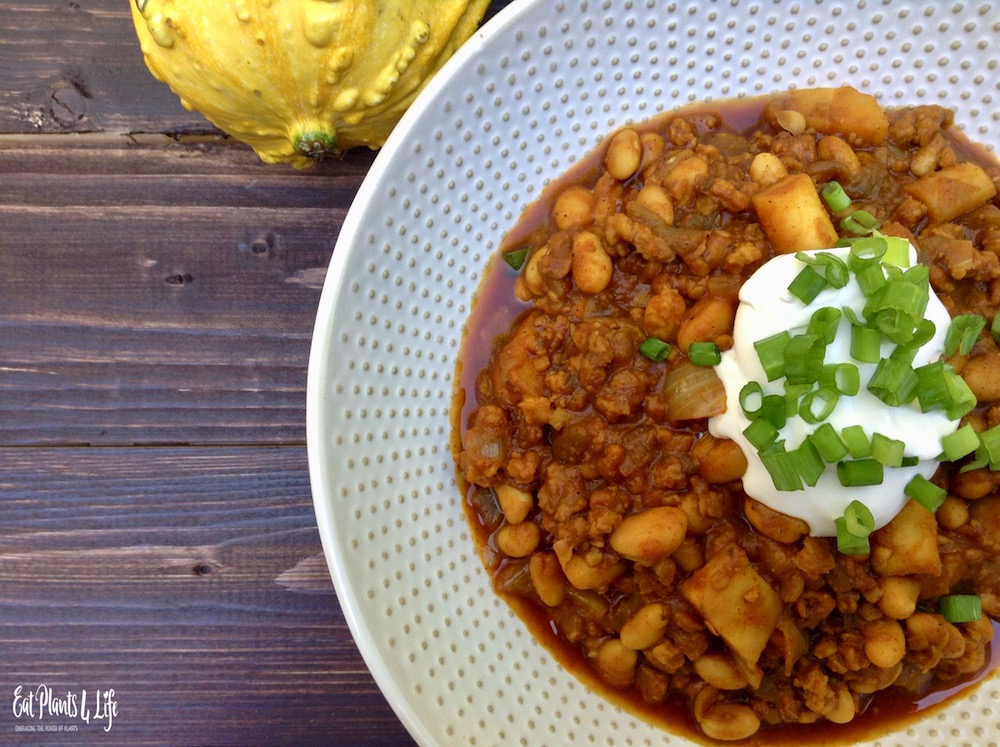 Vegan Pumpkin Chili uses can pumpkin puree in place of diced tomatoes. Parsnips (carrot's cousin), white beans, green chiles and a mix of traditional chili seasonings create a bowl worthy of applause.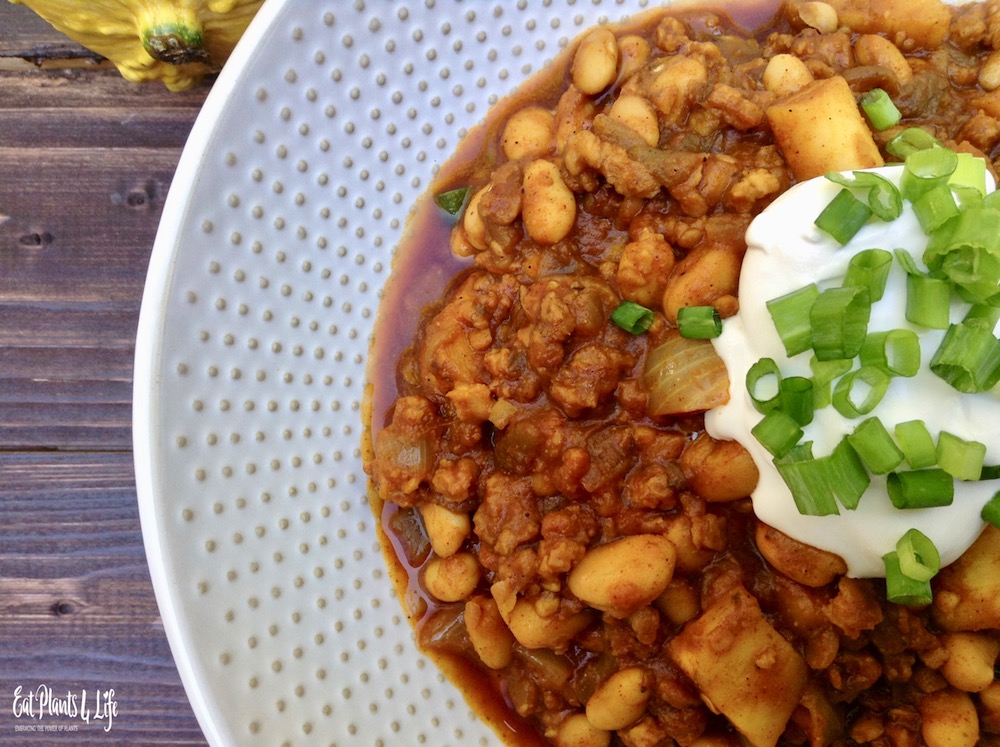 Adding optional veggie crumbles (like Beyond Meat or Gardein) adds a bit more protein and texture to the dish. Feel free to pump up the heat by adding extra chili powder or diced jalapeño peppers. I added turmeric to enhance the flavor and color and because I am always looking for ways to incorporate the anti-inflammatory spice.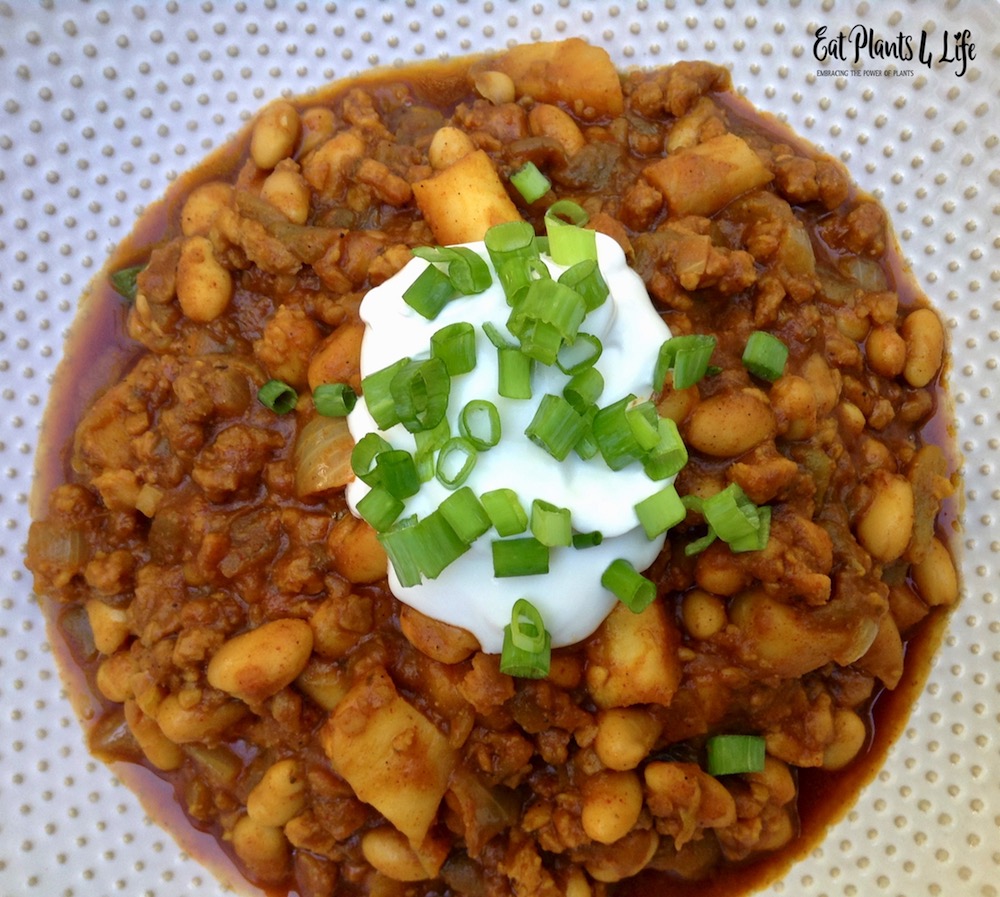 Vegan Pumpkin Chili is perfect topped with dairy-free sour cream, diced red onions, scallions (green onions), cilantro, Vegan cheese shreds, and/or crushed corn chips. Slow-cook your Vegan Pumpkin Chili in the crock-pot on the LOW setting for 6 hours the morning of or day before the big game or on HIGH setting for 3 hours if you're in a pinch. Get ready to think differently about your chili.
Check out the video for this easy, slow cooker recipe: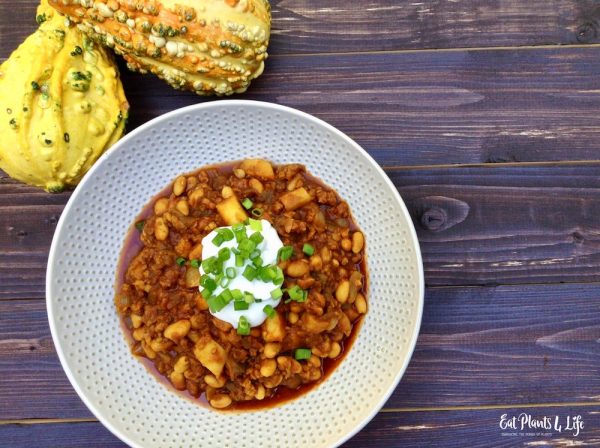 | | |
| --- | --- |
| | |
Instructions
Heat oil in a large saucepan over medium-high heat. Add onions, parsnips, and 1/2 tsp. salt. Cook until onions are translucent and parsnips are slightly tender (about 3-4 minutes).

Transfer to crockpot. Add remaining ingredients, except chili toppings and including the remaining teaspoon of salt. Stir to incorporate all the seasonings.

Cook for 6 hours in a crockpot on the LOW setting or 3 hours on HIGH.

Plate and add your favorite chili toppings.

Enjoy!
Recipe Notes
Recipe adapted from Gina Homolka's book, Skinnytaste, Fast and Slow, 2016.
If you can't get enough pumpkin and want to add to your pumpkin recipe collection, don't forget about this throwback — my Pumpkin-Collard Rolls. Here's another way to switch things up by replacing tomato sauce with pumpkin puree. Click the title link to view recipe and enjoy!