If I had a nickel for every time I heard someone say, "I want to have more of a plant-based diet, but the food prep is soooo time consuming," I'd have a nice chunk of change!
Trust me, I get it – and yes, it can be time-consuming, even if you're not Vegan but want to just eat cleaner.  But let's face it, anything worth having in your life (including a healthy diet) is an investment of your time. My theory is simply this:
"When it comes to good health, we have 2 choices – pay now or pay later."
Pay now by adding a few extra minutes to your day in preparing wholesome meals for you and your family (teaching your kids to do the same for their kids) OR the alternative is to pay later – with additional medical expenses, quality of time loss with aches, pains, and time spent in doctor's offices, missed opportunities because your joints hurt, less active time with your grandkids, and the added stress over those important numbers (blood pressure, glucose, and cholesterol). Those alone come with a slew of health issues. With that in mind, becoming more plant-based will actually eventually save you time (and money).
"When it comes to health, diet and exercise today, is an investment in your future."
I'm not preaching that adopting a Vegan diet will add years to your life (even if statistics say that it will). My Vegan choices are about quality of life, not quantity. I want to feel good for as long as I can and during the entire journey (no matter how long that is). Is that not worth it?
That being said, I can respect that there are only 16 waking hours in the day and a lot of that time is spent at work, sitting in traffic, tirelessly running errands, at your kid's sporting events, etc.
For that fact alone, EP4L is introducing a new recipe section called "Quick Vegan Meals" It will be in the "Browse Recipes" section with its own heading so that it's quick and easy to find! If you're not a current EP4L subscriber, you won't have access to the FREE recipes that we'll be adding each week. What makes "Quick Vegan Meals" special is that each recipe takes less than 30 minutes to create. We'll feature full meals, snacks, and desserts for the family. Each recipe will require a few ingredients and very little prep time, but taste deliciously Vegan.
First up? Vegan Pigs In A Blanket. With only 4 ingredients to gather, this is the perfect after-school snack, Game Day appetizer (i.e. Super Bowl 2018), lunch or dinner. Whip it up in less than 30 minutes and you're done.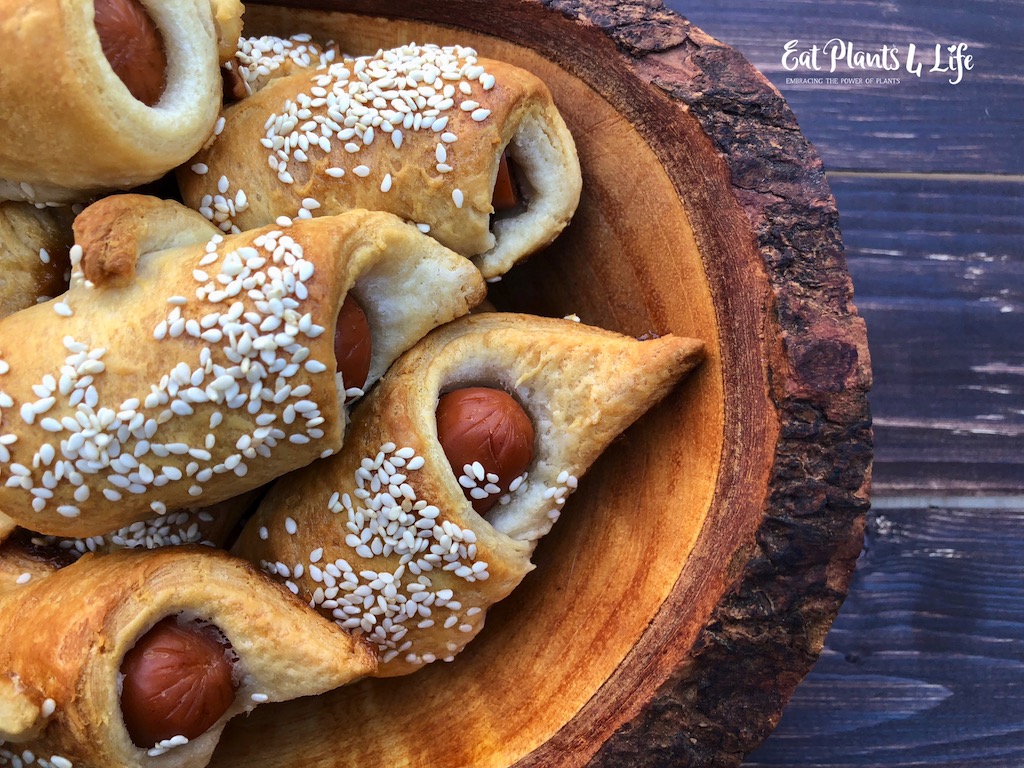 Vegan Pigs In A Blanket pairs well with EP4L's Spicy Maple Mustard, which also happens to be quick and easy – taking only seconds to whip up.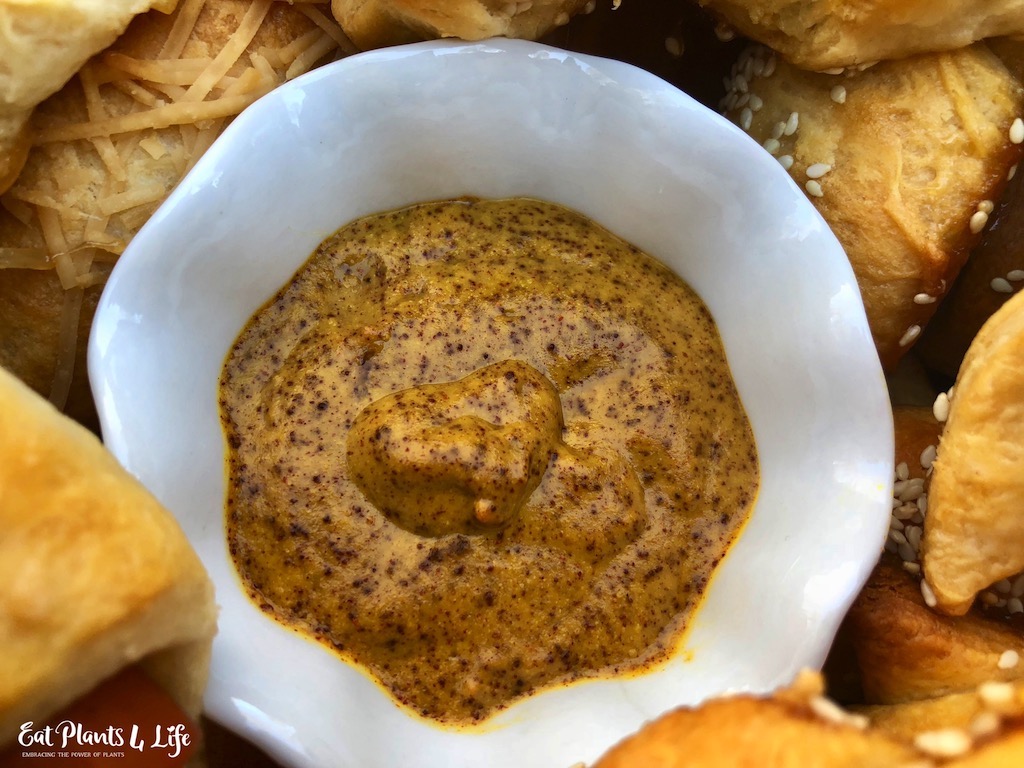 Top piglets with sesame seeds or Vegan parmesan shreds (i.e. Follow Your Heart brand). Sesame seeds are my favorite. It adds even more crunch as they toast in the oven. My husband loves these on Game Day, so I plan to whip up a batch for Super Bowl 2018. Serve alongside a salad or Vegan coleslaw for a complete meal.
Check out my YouTube Video to see this quick and easy recipe!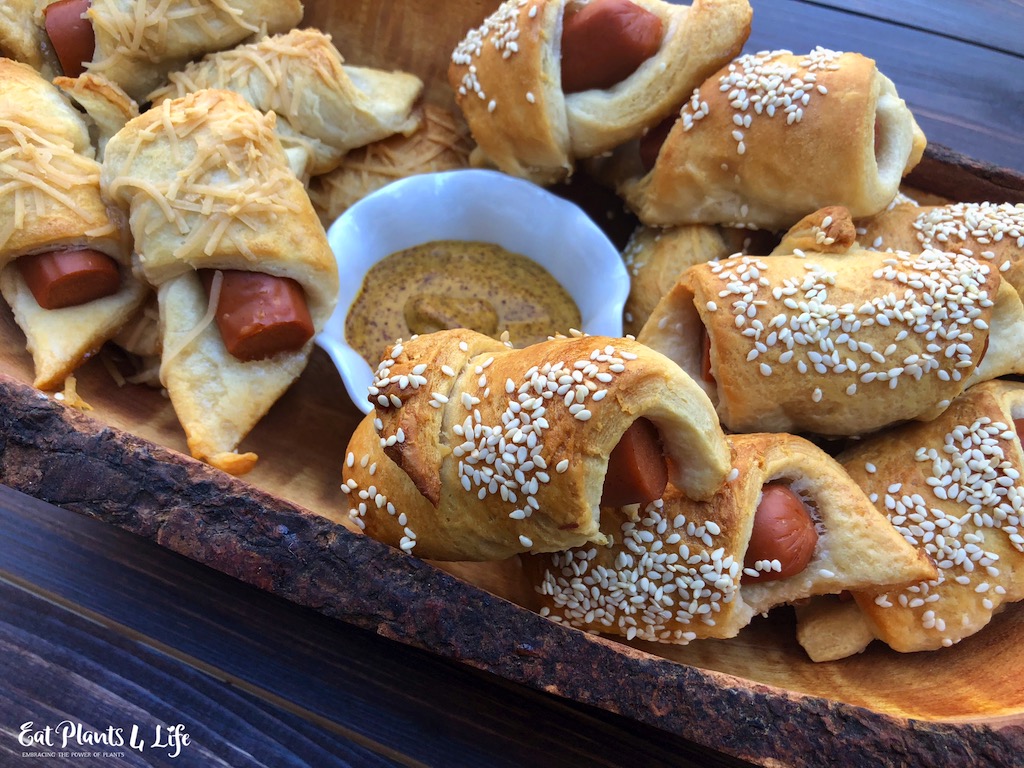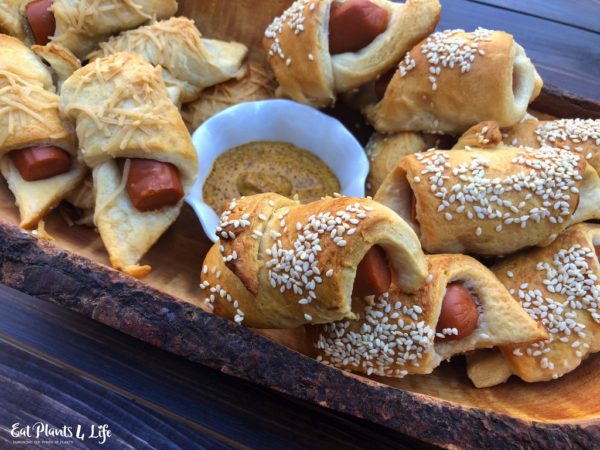 | | |
| --- | --- |
| | |
Preheat oven according to instructions on the can of crescent rolls. Spray a baking sheet with cooking spray or line with parchment paper.

Open and lay out individual crescent rolls on baking sheet. Place hot dog half on each crescent roll and roll up. Make sure the tips of the crescent roll lap over the veggie dog.

Drizzle each roll with maple syrup (about half a teaspoon each). Sprinkle with sesame seeds and/or Vegan parmesan cheese.

Bake in oven according to crescent roll instructions (about 17-20 minutes) or until golden.

Serve with EP4L's Sweet & Spicy Mustard.
**You can also use 1/2 cup Vegan parmesan shreds instead of sesame seeds. Sesame seeds are my personal fav.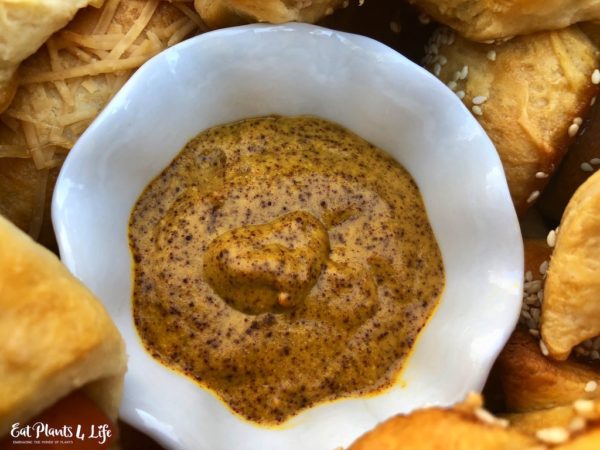 Mix ingredients. Serve. Enjoy!