As much as I am a fan of natural light, dining outdoors, and foliage, suggest that we "go camping," and be prepared for an unpleasant reaction. What I'm not a fan of are signs warning of bears or the idea of sleeping in close proximity to snakes and multi-eyed spiders. "Glamping" or what I've dubbed "hoity-toity camping with amenities," on the other hand, is more my speed. This girl has to have access to plumbing and would rather be in close proximity to a microwave, not snakes!
Despite my reservations about "roughing it" in the great outdoors, as a compromise, my daughters suggested that we spend the night in our backyard as a first step to campsite camping. My initial reaction was "what the what?"
Then that darn "girls can do anything" slogan that I'm always preaching to them about ricocheted in my head. It brought out my inner-Norma Rae. I couldn't disappoint my mini-me's, so challenge accepted!
Between myself, my husband, and my two daughters, anyone who knows me would unequivocally vote me "most likely to wuss out of this camping deal" which I obviously made as a result of my kid's clever strong-arm tactics.  My mom was even surprised when I told her about our plans. But before you judge, take a peek at my backyard…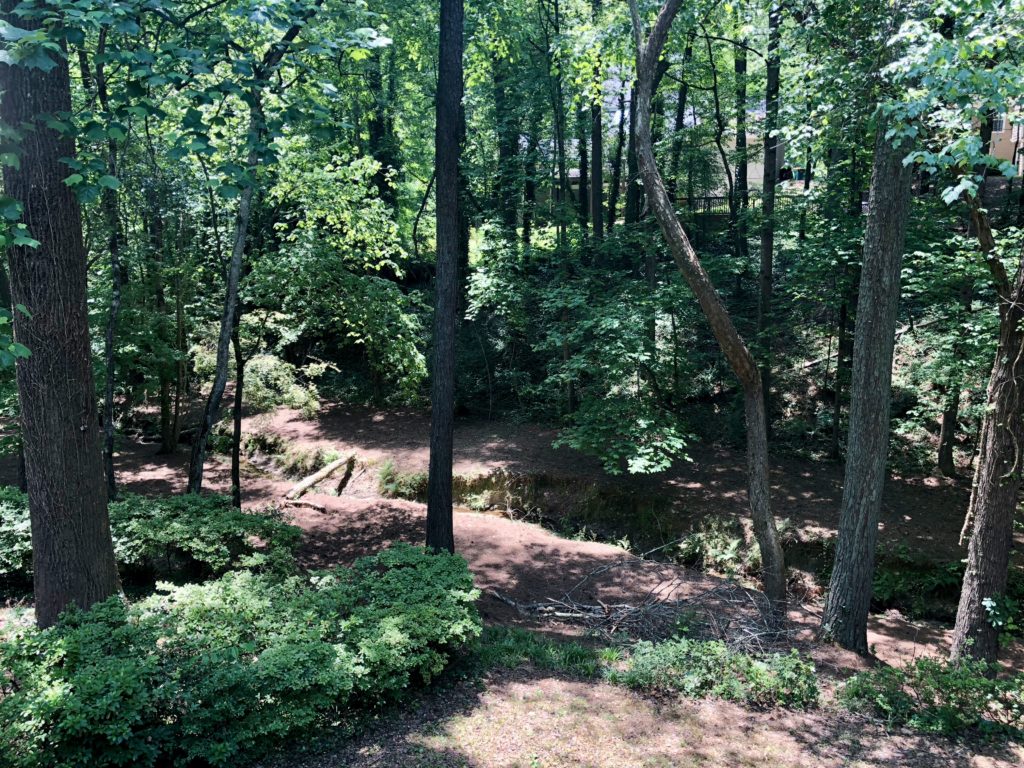 Now picture it completely dark…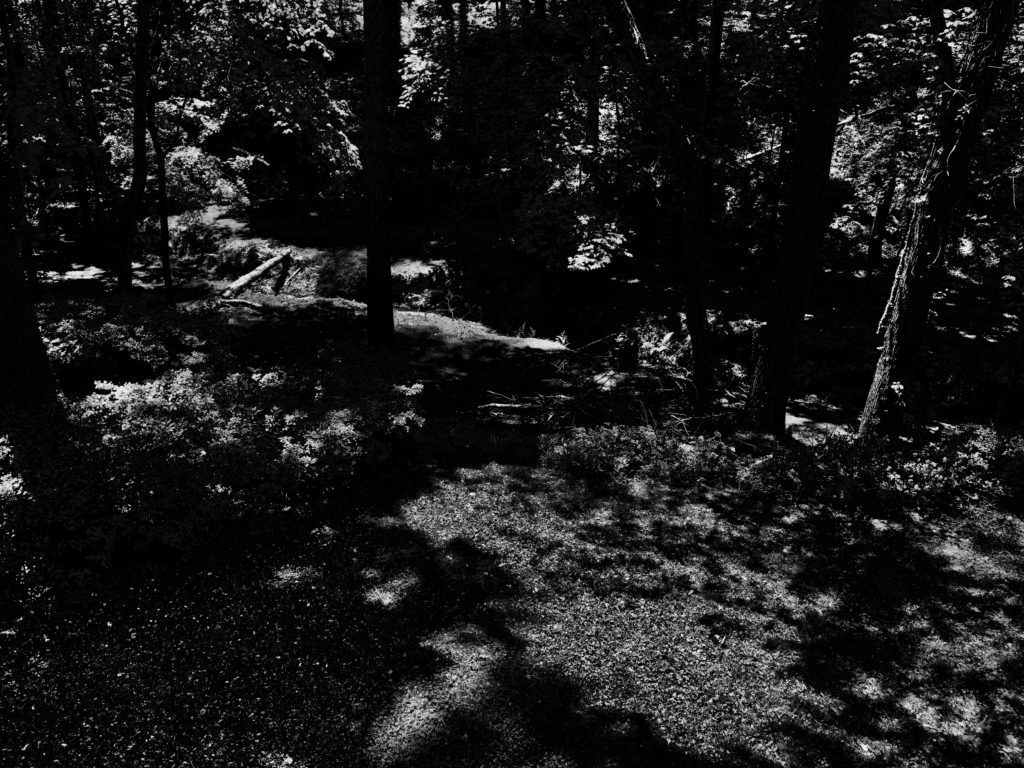 It's not fenced or well-manicured – – it's nothing short of a jungle minus the lions and wildebeests. Instead, we have fox, coyotes, large owls, bats, snakes, lizards, and let's not forget the multi-eyed spiders. And in order to return to the house in complete darkness, you have to walk across a mini bridge that overlooks a creek. As far as I was concerned, agreeing to do this put me up s#it's creek! I couldn't guarantee that I would make it out alive! And knowing what I know about my family and snakes, I knew that if there were any hissing sounds outside of that tent, it would be an "every man for himself" situation!
When D-day finally arrived, I was prepped, geared up, and strategically committed to banning ALL liquids within two hours of sunset, for obvious reasons (scroll back up to picture above).
Long story short, the girl voted most likely to "wuss out of camping," out-camped everyone else (whoop, whoop). I actually fell asleep and was awakened just a few hours in by an uncomfortable hubby and two hot and fussy daughters. So, the camping experience almost happened. I almost kicked camping's butt! And I even did it without a microwave!
Inspired by my almost camping experience, I've created a fun-to-make, easy, ooey-gooey, single-serve, Vegan S'mores Cake In A Mug recipe that may not officially make it to the campsite if you're roughing it, but will surely be a top "glamping" choice.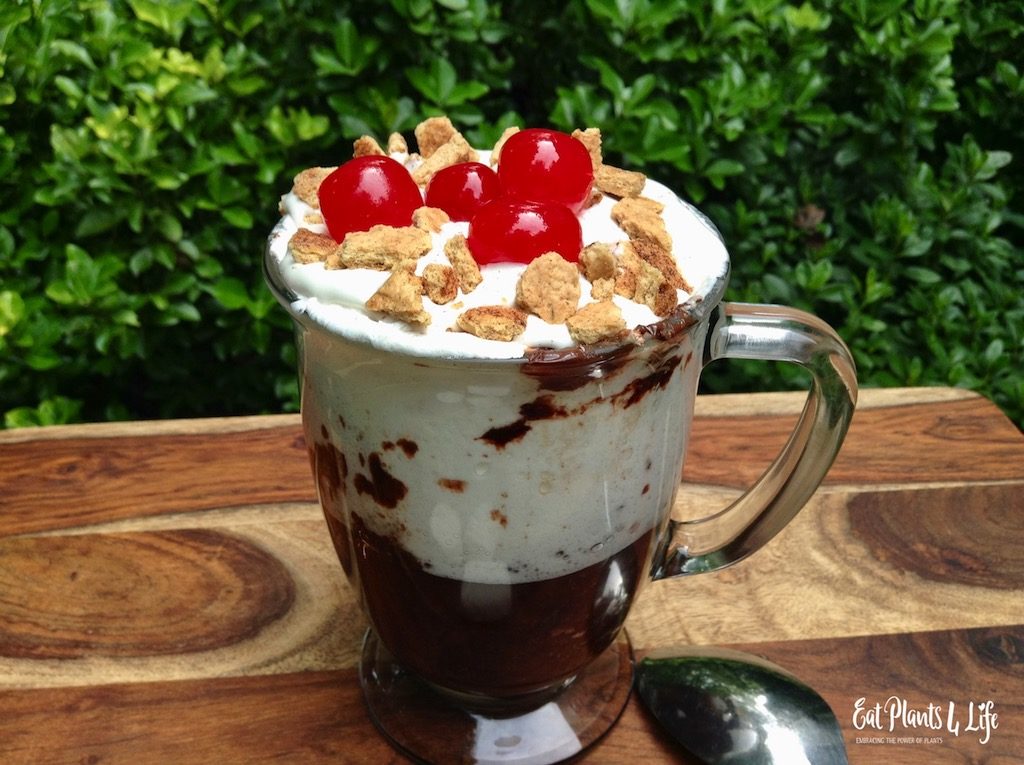 EP4L's Vegan S'mores Cake In A Mug, is rich, decadent, and not for the calorie-restricted or carb-sensitive type. Like traditional s'mores, it has chocolate (cake) that cloaks a fluffy marshmallow. It's topped with even more marshmallows (melted), Vegan whip cream, crushed graham crackers, and cherries. It's oil-free and delish!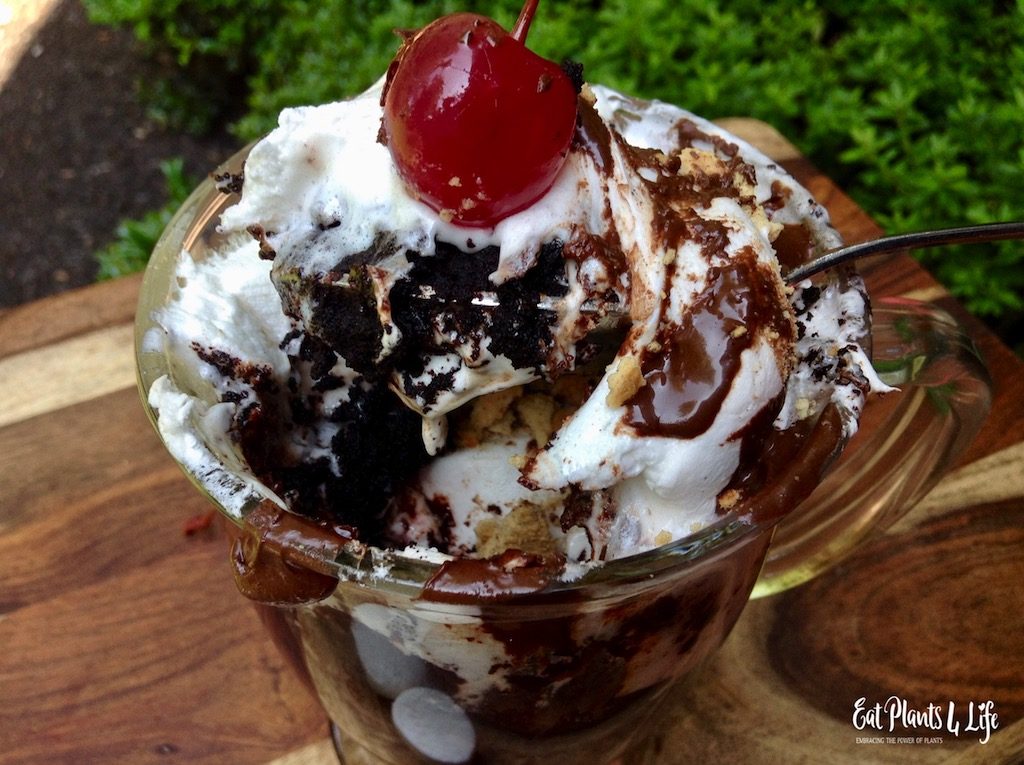 Vegan S'mores Cake In A Mug only takes few minutes to make and eliminates the fuss of cleaning a sink full of mixing bowls and baking pans. Enjoy!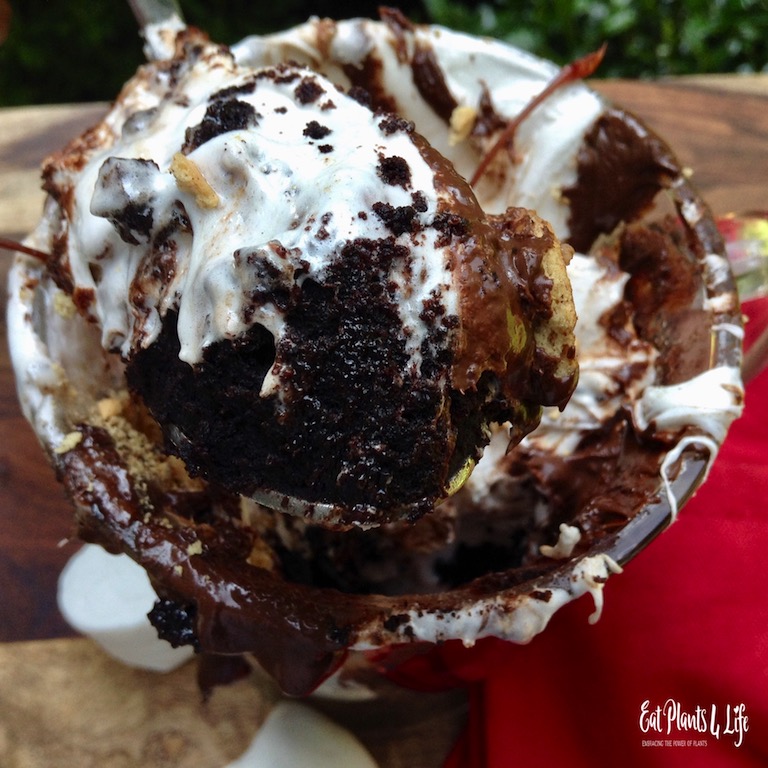 Vegan S'mores Cake In A Mug recipe requires a 16-oz microwaveable coffee mug with a handle for easy handling. Glass mugs are perfect. Click the pic below to check out these glass mugs…
An ooey, gooey, single-serve cake in a mug that is totally inspired by camping in the great outdoors and an all-time favorite - S'mores! A rich, decadent treat that will more than satisfy your sweet-tooth! **You will need a 16-oz, microwave-safe mug for this recipe. Glass mugs work great!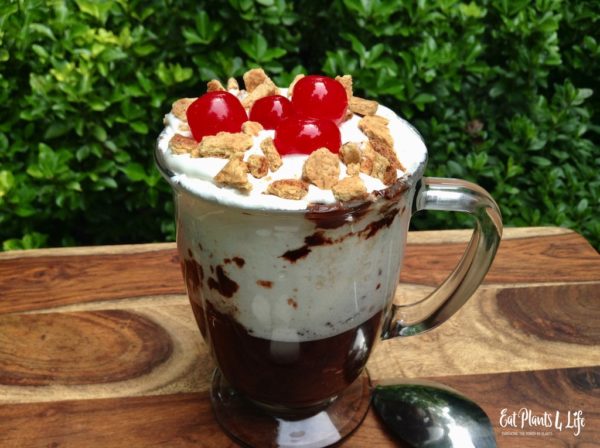 In a 16-oz microwavable mug** place "dry cake" ingredients in the mug. Stir until combined. Add "wet cake" ingredients. Stir with a mini whisk or fork until well combined.

Drop 1 marshmallow in the center of the cake batter and completely submerge it.

Microwave on HIGH for 60-90 seconds depending on your microwave's wattage. I cooked mine for about 75 seconds and I have a 1000W microwave. You want the batter to appear mostly but not completely dry on top. Cake will rise in the mug. You will have to watch closely and be prepared to stop the microwave to avoid spillage.

Allow to cool for a few minutes. Tightly pack remaining 5 marshmallows in the top of the mug.

Add mini chocolate chips.

Place mug back into the microwave on top of a paper towel. Cook on HIGH for about another minute or until marshmallows and chocolate chips melt and become ooey, gooey. Your mug will experience a little overflow as marshmallows expand in the mug (hence the paper towel), but once mug is removed from the microwave, it will deflate a little.

Add optional dairy-free whip cream, crushed graham crackers and cherries on top.
**You will a 16-oz, microwave-safe mug for this recipe. Glass mugs work great!