Most of us have a least one or two weird, brow-raising food combinations. For example, some may think it's strange that I enjoy banana and mayonnaise sandwiches or that I put black pepper on my cantaloupe.  
When I met my husband in high-school, however (yes, I married my high-school sweetheart), he raised the bar on the unusual when it came to the food on his plate. I thought he had a veeeery interesting palate. For starters, he enjoyed strange and quirky food combinations like Doritos with honeybuns and maple syrup sandwiches. I remember thinking, "is this dude for real?"
Then there was his condiment obsession with ketchup and Thousand Island salad dressing. He would add either condiment to e-ver-y-thing! You had to have a high tolerance for grossness in order to sit across from him at a dinner table.
Pizza dunked in Thousand Island dressing? Yep!
Steak bathed in ketchup?Why, of course.
Taco Salad slathered in Thousand Island dressing? Bingo!
Spaghetti & Marinara sauce doused in Thousand Island dressing? Abso-freakin-lutely!
You name it, he'd hose it down in either condiment. Eating with him was like an adventure in science.
As he aged, his taste buds matured (thank heavens) and sloshing everything in ketchup and Thousand Island dressing became a thing of the past. But his love of Thousand Island dressing lingered. It's still understandably his #1 salad dressing. I love it too – just not on my pasta!
When he decided to do the Vegan thing, it left him in a bit of a bind. We couldn't find a Vegan version on the market and for him, oil-based Vegan salad dressings/vinaigrettes were not quite the same as his creamy tangy favorite, so I decided to create a Vegan Thousand Island Dressing recipe just for him.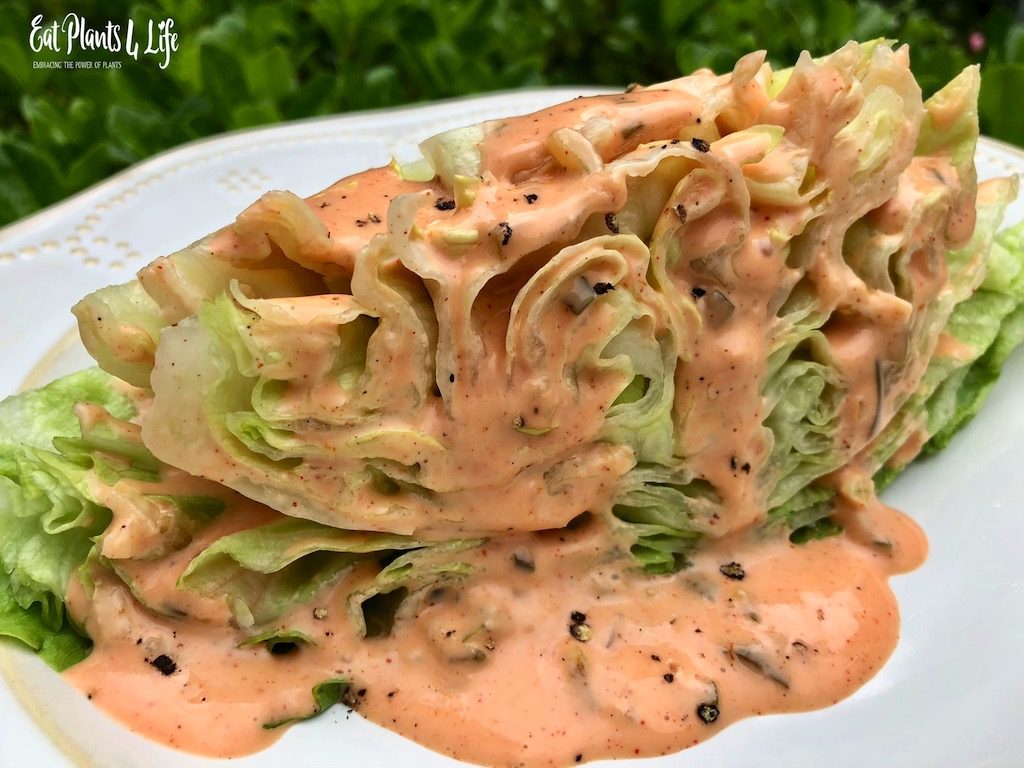 EP4L's Vegan Thousand Island Dressing is a creamy, plant-based rendition of his all-time favorite condiment. The secret weapon in my recipe is smoked paprika. It gives this recipe zing, along with the apple cider vinegar. Serve over your favorite salad greens or spaghetti and taco salad (or whatever – – no judgement here) but don't forget to add the fresh, course black pepper.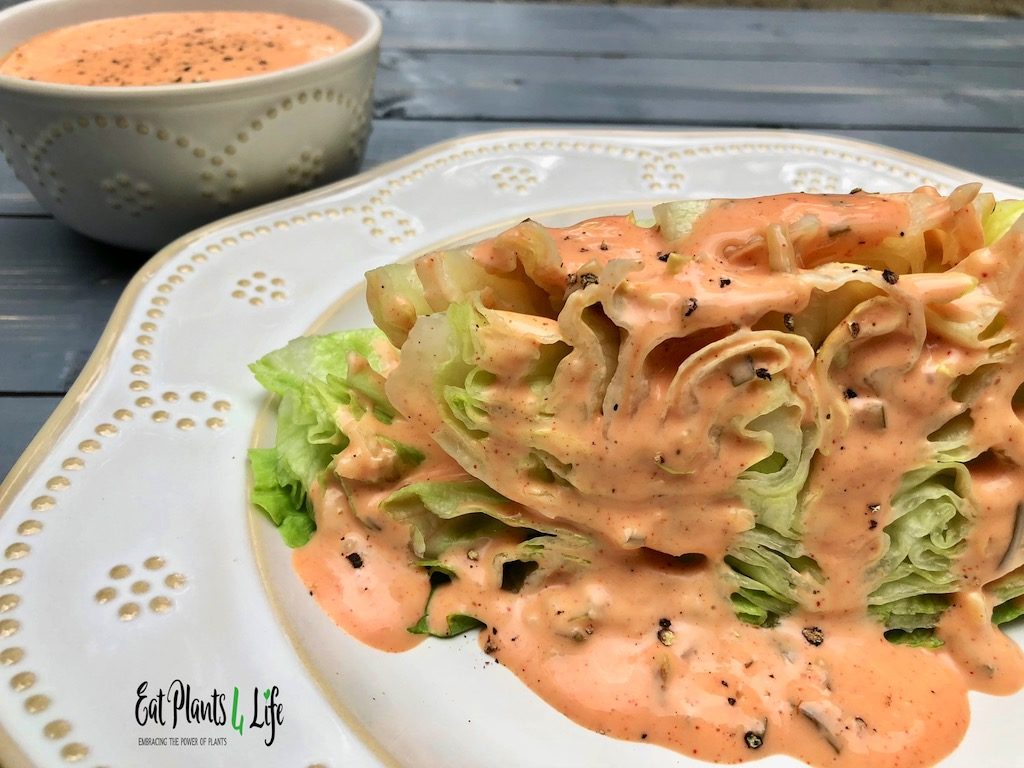 As my official taste tester and after several failed recipe attempts, the hubby gives this Vegan Thousand Island Dressing recipe 2-thumbs up!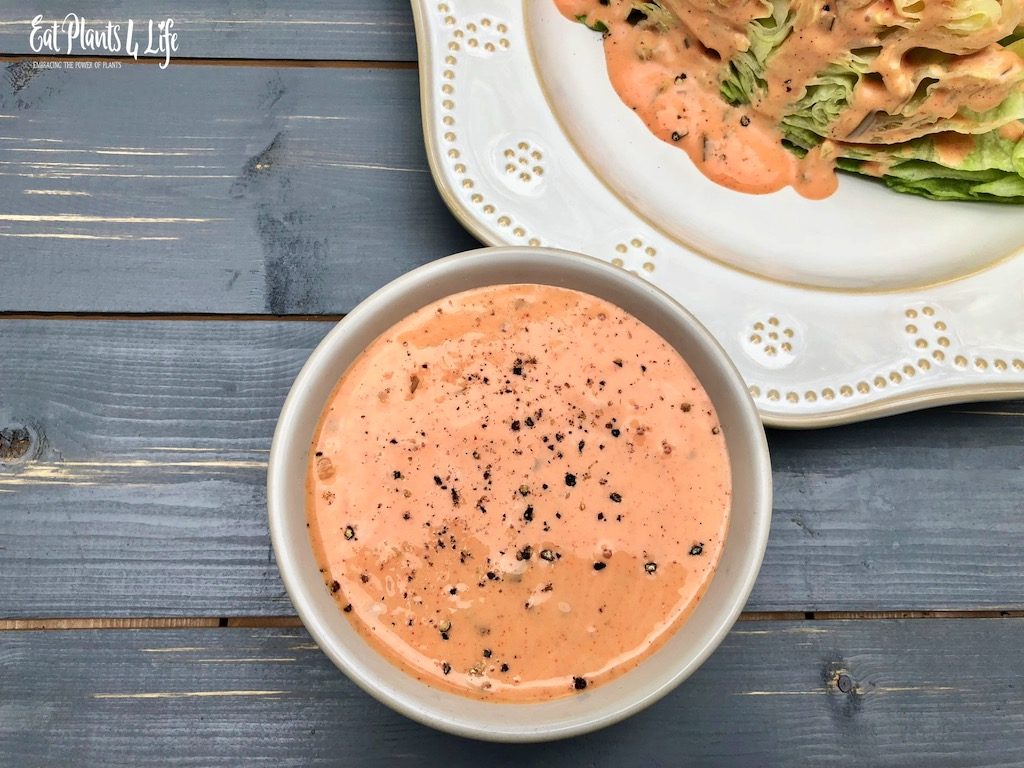 Check out my video for Vegan Thousand Island Dressing.  You can make it in just minutes! Enjoy!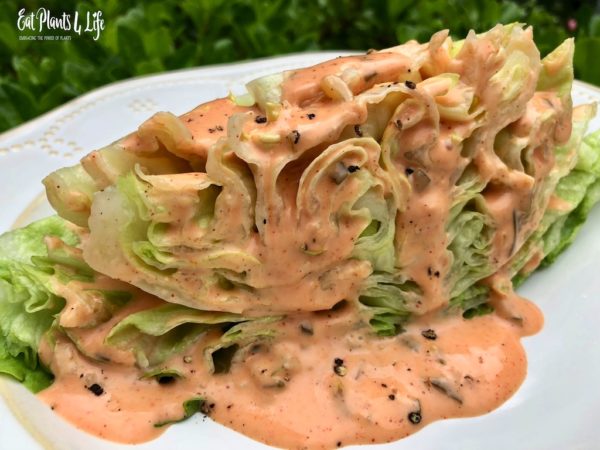 | | |
| --- | --- |
| | |
Instructions
Combine all ingredients (except black pepper) in a mixing bowl. Taste. Add additional salt, if needed.

Drizzle onto your favorite salad greens. Top with course black pepper. Serve. Transfer unused portion to a container with an airtight lid. Store in the refrigerator for up to a week.

Enjoy!