Scrolling through social media to get the latest and greatest in Vegan products, events, and tips frequently lands me on posts from very satisfied consumers of a highly popular Trader Joes food item that apparently is hard to keep in stock.
TJ's Vegan Tikka Masala has earned its social media street "cred"amongst fans. Although I try to limit consuming processed foods in my diet, and after seeing the rave reviews a few hundred times on my Instagram feed, I had to try it for myself to see if it warranted all the social media hype.
Strolling through my local Trader Joes one day, I noticed that it had just restocked this popular Vegan entrée, so what did I do? I blindly grabbed an armload of the purple cardboard boxes, as if there was an impending apocalypse and totally forgetting that I might not even like the stuff. 
Was buying out the store and having purple boxes hijack the lower half of my freezer worth it? Well, yes…yes it was. Bravo TJ. Bra-vo!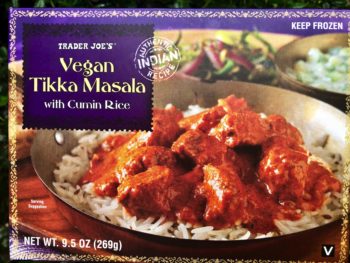 Will the TJ version of Vegan Tikka Masala revert me back to a life of too many Vegan processed foods? No, but when in a pinch, it will definitely be my "go to."
Inspired by the taste and popularity of this Vegan phenom, EatPlants4Life has created a less processed version that is so hearty in its portion size; you won't have to explain to your coworkers why you're eating 2 Trader Joes Vegan Tikka Masala entrees.  As much as I love it, one entrée never seems like enough. It could also be possible that I'm greedy. Yes, that sounds about right.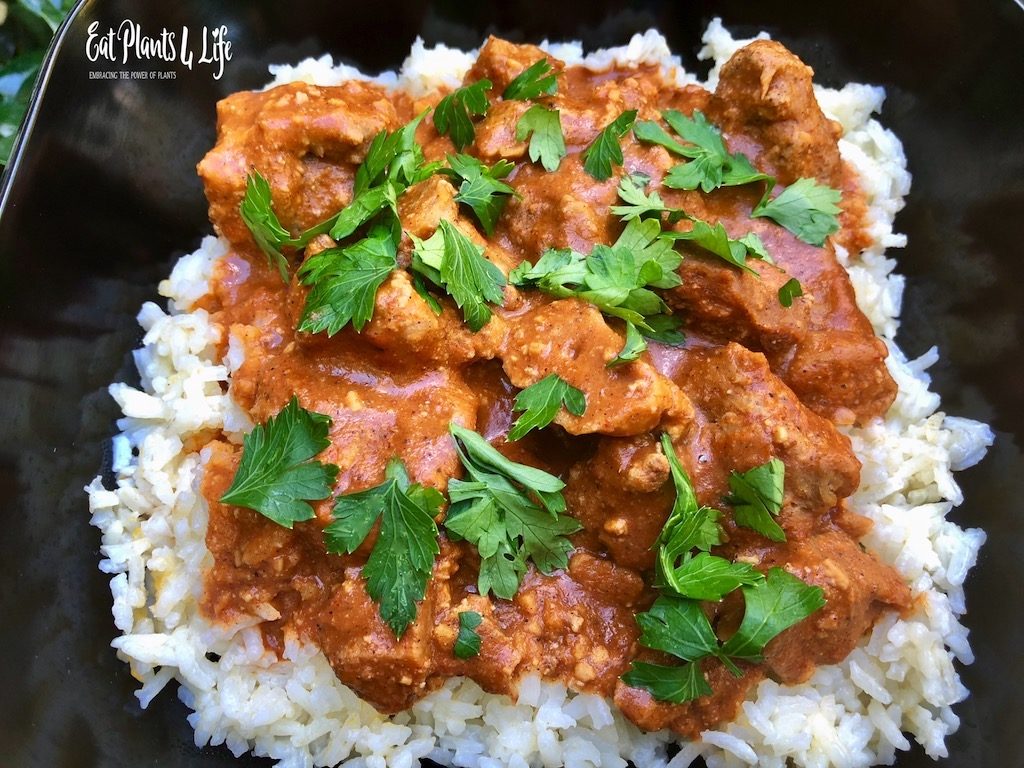 EP4L's Vegan Tikka Masala encompasses all of the flavors, aroma, texture, and elements of this traditional Indian cuisine often served as a Chicken Tikka Masala version in Indian restaurants and homes. Ours is chicken-free of course, but meat-eaters will enjoy it all the same.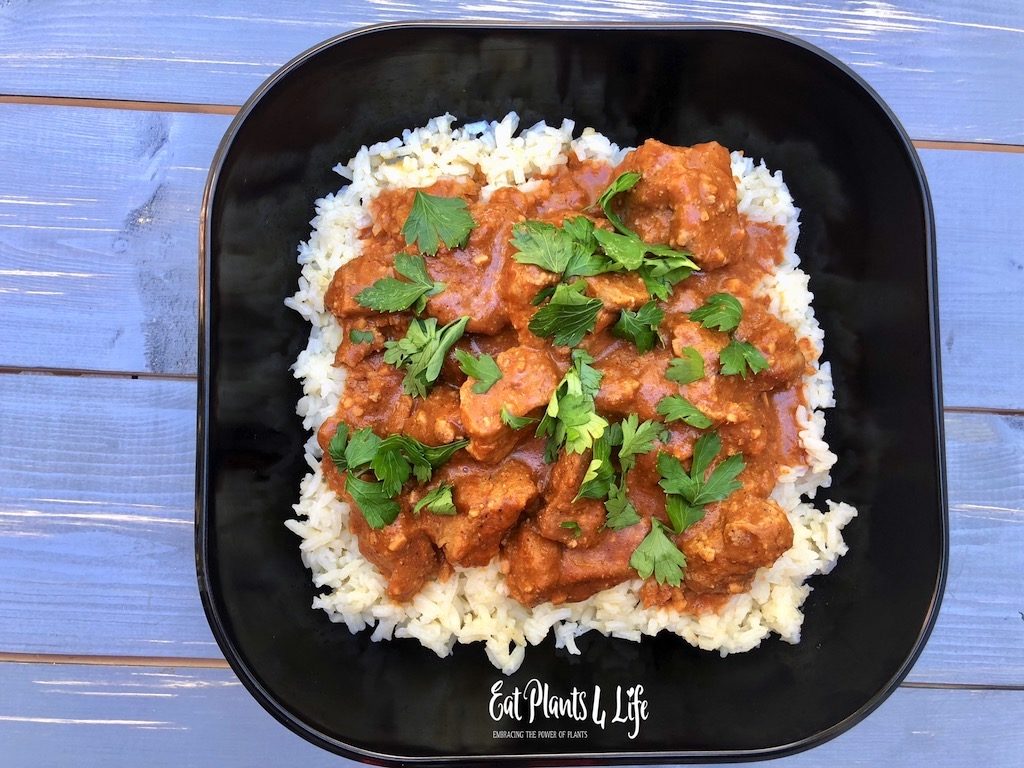 Marinating seitan overnight in a well-seasoned, dairy-free yogurt and then baking it is just the beginning. It ends with "the sauce."
In keeping with tradition, Vegan Tikka Masala's masala sauce is an eclectic blend of garam masala (an aromatic spice that deserves its own hashtag), sweet paprika, cumin, tomato paste, and a hint of ground cloves. Light coconut milk finishes it off and creates that rich and creaminess that is hands down "yummiliciousness."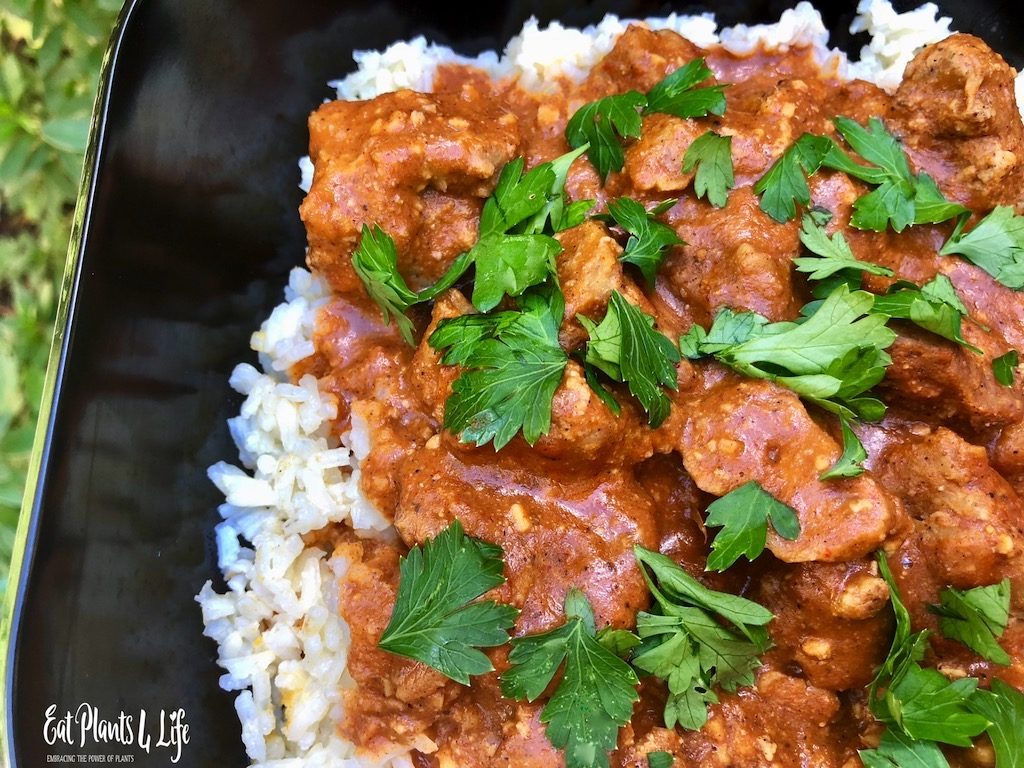 So, to all of you social media TJ followers (my hand is up, too) who crowd my feed with the #vegantikkamasala and a photo of the purple cardboard box, step it up a notch and try EP4L's version of generously proportioned Vegan Tikka Masala. It could very well be the next phenom, earning its own hashtag. Hummm… I could get use to #yummiliciousness –  it has a nice ring to it.
Check out our YouTube recipe video for Vegan Tikka Masala!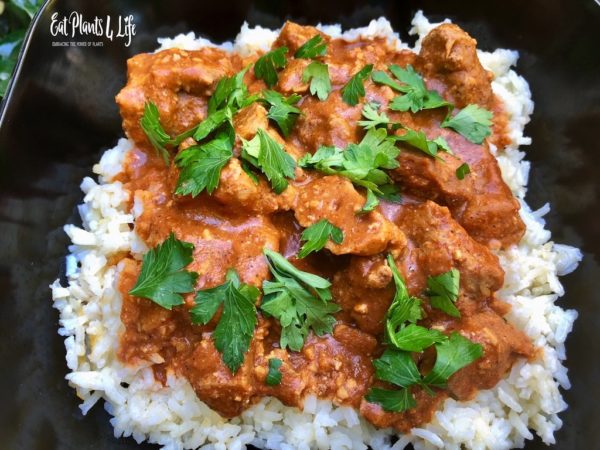 | | |
| --- | --- |
| | |
Place chopped seitan in a large bowl. Sprinkle with masala, garlic powder, onion powder, and sea salt. Mix. Add yogurt and stir until well combined. Cover and refrigerate 4 hours to overnight.
Preheat oven to 400 degrees. Spray a baking dish with cooking spray. Add seitan. Spread out evenly. Cover with foil and bake for 25 minutes.

Heat large saucepan over medium-high heat. Add oil or vegetable broth. Once heated, add garlic and grated ginger. Stir for 30 seconds. Add tomato sauce and ¼ cup of water to thin out. Whisk together, adding more water, by the tablespoon if needed to avoid sticking. Add masala, paprika, cumin, and coriander. Add additional water by the tablespoon if needed. Whisk in coconut milk. Add more paprika if a deeper red color is desirable. Once liquid in thoroughly combined, stir in seitan. Taste. Add additional salt, if needed. Simmer for 8 minutes.