There's nothing like coming across a new recipe with a gorgeous, scrumptious looking photo attached to it, only to discover that some of the ingredients are animal-based.
We've all been there. The first thought is to turn the page or swipe left. In most cases however, it's not necessary. Just because the recipe says Sweet and Sour Shrimp doesn't mean you have to skip it. Why not ditch the shrimp and replace it with tofu? If the recipe reads Beef Enchiladas, why not nix the beef and cheese and replace it with black beans or chopped mushrooms and Vegan cheese?
These days, there is no excuse not to be either exclusively plant-based or to simply reduce your meat consumption and eat more plants. If flavor and texture expectations are still being met in a recipe, meat is just not necessary.
I learned this very quickly when I switched to a Vegan diet. A Stuffed Peppers recipe that calls for meat and cheese does not mean that I have to buy ground beef in order to create a delicious meal. Chopped vegetables, tofu, beans, or ground Vegan crumbles and cashew cheese or veggie shreds will deliver the same or similar results.
Well, not exactly the same – the plant-based version will actually deliver a healthier and in my opinion, tastier result. Not only will it be healthier, you can get up from the table without experiencing that stuffed, sluggish, and bloated feeling you often get after consuming fatty meats and cheeses.
It's all a matter of Veganizing your recipe. Now, you can tear out and post on your refrigerator that Chocolate Cake magazine recipe, print out that online Beef Lasagna recipe or double-click (instead of swiping left) that Chicken Tetrazzini recipe.
The key to successfully executing a recipe that calls for meat, dairy or eggs and making it exclusively plant-based just requires a little ingenuity. All you have to do is simply swap out the animal products and replace them with plant-based substitutes. It's honestly so easy, my kids now do it! They actually think it's fun!
For those new to a plant-based diet, want to eat less meat and dairy, or for those who just want a recap, I've included a list of the usual suspects of animal-based food items and some substitutes. Some of them may surprise you, but they work.
EP4L's Non-Vegan Ingredient Swap Guide is a quick, guide that you can use to swap out animal-based ingredients for Vegan-friendly substitutions that will virtually taste the same and/or deliver a similar texture.
EP4L's Non-Vegan Ingredient Swap Guide:
Butter, Lard/Shortening, or Eggs– Vegan butter, coconut oil, vegetable oil, vegetable margarine (my least favorite), unsweetened applesauce, mashed ripe bananas, peanut butter, almond butter, avocado, chia or ground flax seeds soaked in a little water, silken tofu, mashed sweet potatoes, can pumpkin puree, Vegan mayo or sour cream, soy protein powder mixed with water.
Cheese – nutritional yeast, soaked pureed cashews, Vegan cream cheese, Vegan cheese spreads, slices or shreds.
Milk- nut milks, rice milks, soymilk, coconut milk, oat milk, hemp milk.
Honey/non-Vegan Sugars- Agave, maple syrup, molasses, turbinado or raw sugar.
Meat- tofu, extra veggies (i.e. mushrooms), beans, nuts, legumes, tempeh, seitan, grains.
Keep in mind that replacing an egg with applesauce in a pancake recipe is very different than replacing an egg in a Mac n' Cheese recipe. Applesauce would not work as it is naturally sweet. It works well in a sweet recipe like pancakes. A savory, non-sweet dish will call for a non-sweet egg substitute (binder) like silken tofu or mashed sweet potatoes.
To celebrate July 11th's National Blueberry Muffin Day, I took a non-Vegan blueberry muffin recipe that my daughter wanted to make and Veganized it in order to create Veganized Blueberry Muffins using the above EP4L's Non-Vegan Ingredient Swap Guide. In the recipe, I've included the original non-Vegan ingredient, in order to demonstrate just as easy it really is.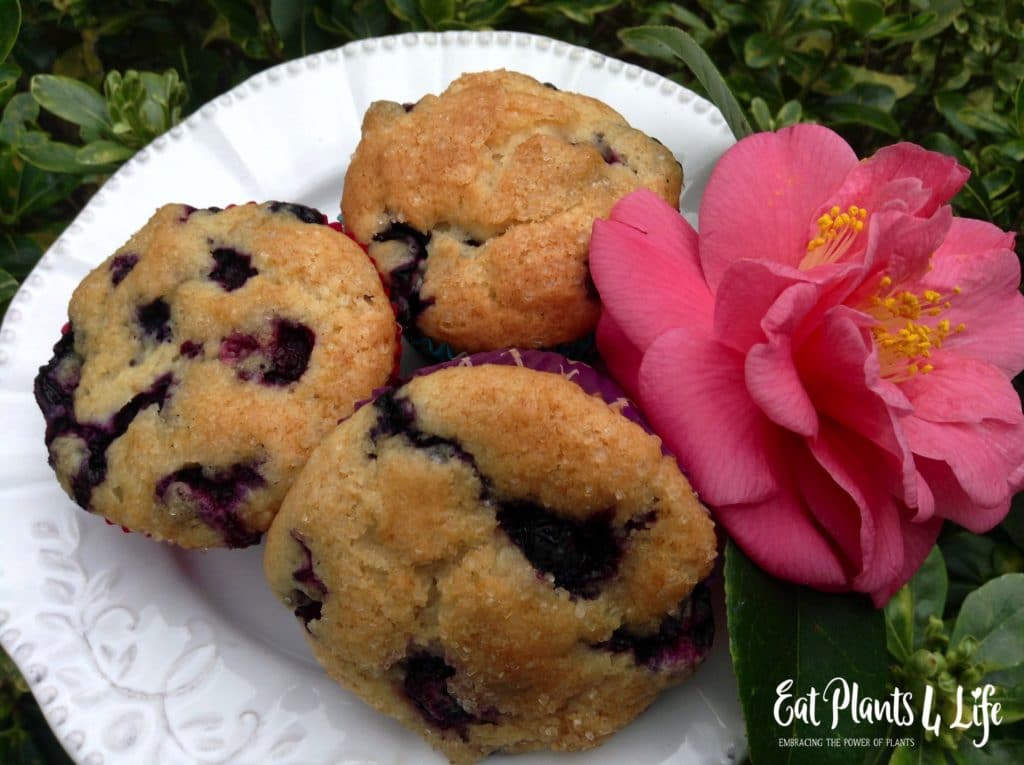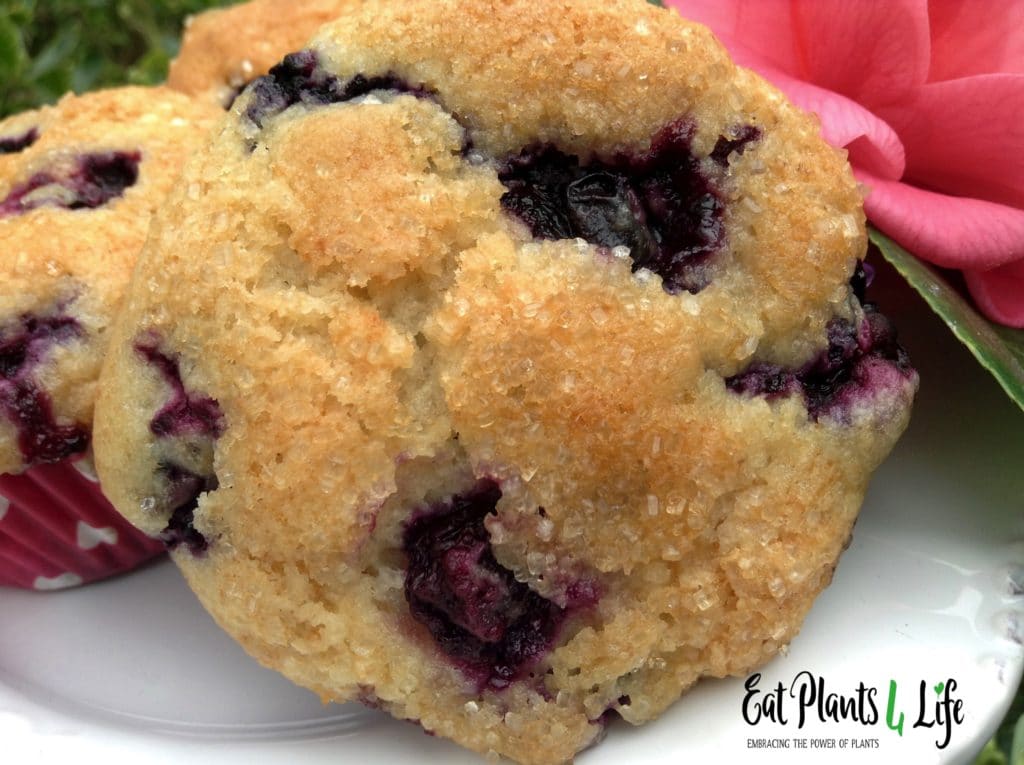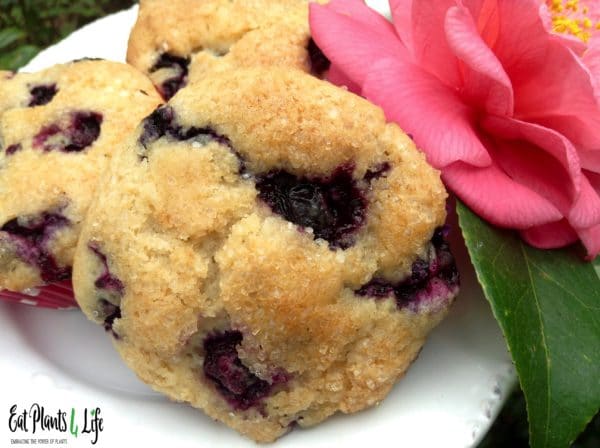 | | |
| --- | --- |
| | |
Preheat oven to 375 degrees. Line a 12-count muffin tin with paper liners or spray a muffin tin with cooking spray.

In a medium bowl, whisk flour, baking powder, and salt together. Set aside.

In a mixer bowl, beat butter and 1 cup of sugar. Add applesauce and continue mixing for 2 minutes. Be sure to scrape down the sides. Add both extracts and mix until fully incorporated.

Gradually add the flour mixture, alternating with almond milk.

Fold berries into batter gently with a spatula until evenly distributed. Do not over mix.

Scoop batter into prepared muffin tins. I like to use an ice cream scooper. Batter will fill the tin. Sprinkle the top of each muffin with raw sugar topping.

Bake in preheated oven for about 30 minutes or until an inserted toothpick comes out clean. Allow to cool.
Easy, right? Most non-Vegan recipes can be transformed and reconfigured. It just takes a little thought, creativity, patience, and EP4L's Non-Vegan Ingredient Swap Guide.