Parents who have a child that participates in Track & Field know all too well that a Saturday track meet means 2 things – –
Sweltering heat (because it takes place in the heart of summer) and loooooong days.
A typical track meet starts in the wee hours of the morning and ends around dinnertime. If you have a youngster that participates in multiple events, you will find your hot, sticky self plopped under a tent (hopefully) trying to cheer, avoid the blazing sun, and stay hydrated.
My 11-year old is one of those USTFA participants. I enjoy watching her sprint, but I do have to think of ways to keep her hydrated between events. One solution that has me pole vaulting to the store and seems go the distance is watermelon.  Because the word encompasses the key ingredient needed to stay hydrated and help us stride over the finish line, watermelon is always in first place in our cooler.
Not only is it mostly water, watermelon will have your athlete hurdle over muscle cramps thanks to its potassium content. It's a good source of vitamin C and B6, which is a great way to spike your immune system. Watermelon is a great aging stopwatch for your skin, thanks to vitamin A. It's also a cancer-fighting antioxidant and will curb your appetite.
You can find more info about healthy watermelon by sprinting over to watermelon.org.
Most watermelon lovers enjoy it as is. But there are thousands of online recipes that make this healthy fruit even more appealing and versatile. 
To embrace National Watermelon Day on August 3rd, EP4L has created 2 recipes that will add another dimension to the flavor watermelon has to offer and have you racing for more.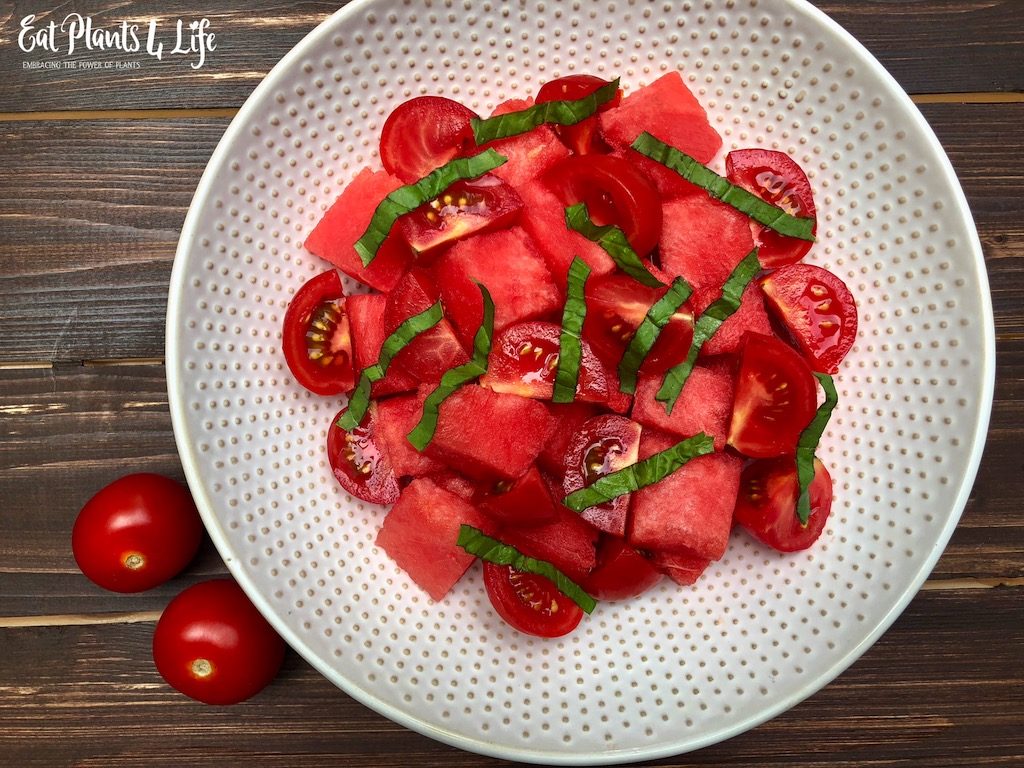 In the first heat is my Watermelon Tomato Bliss.  Speed through this easy recipe which will high jump your antioxidants and accelerate your water intake. Campari tomatoes relays with watermelon chunks, fresh basil leaves, and a dash of white balsamic vinegar and will have your taste buds bounding.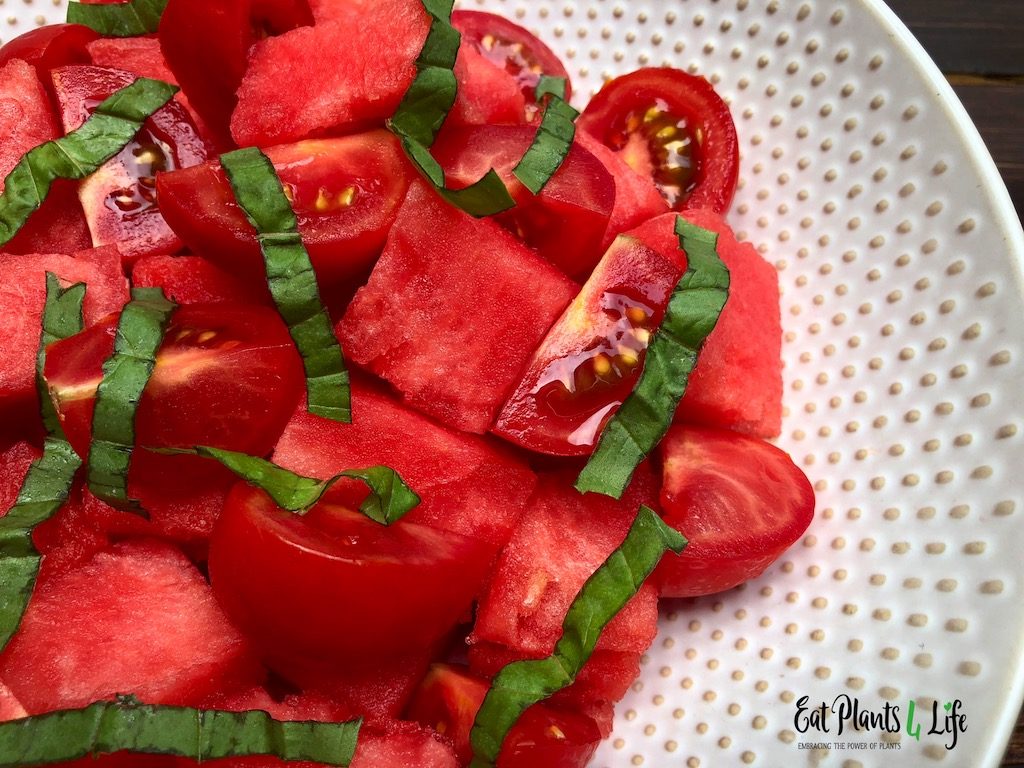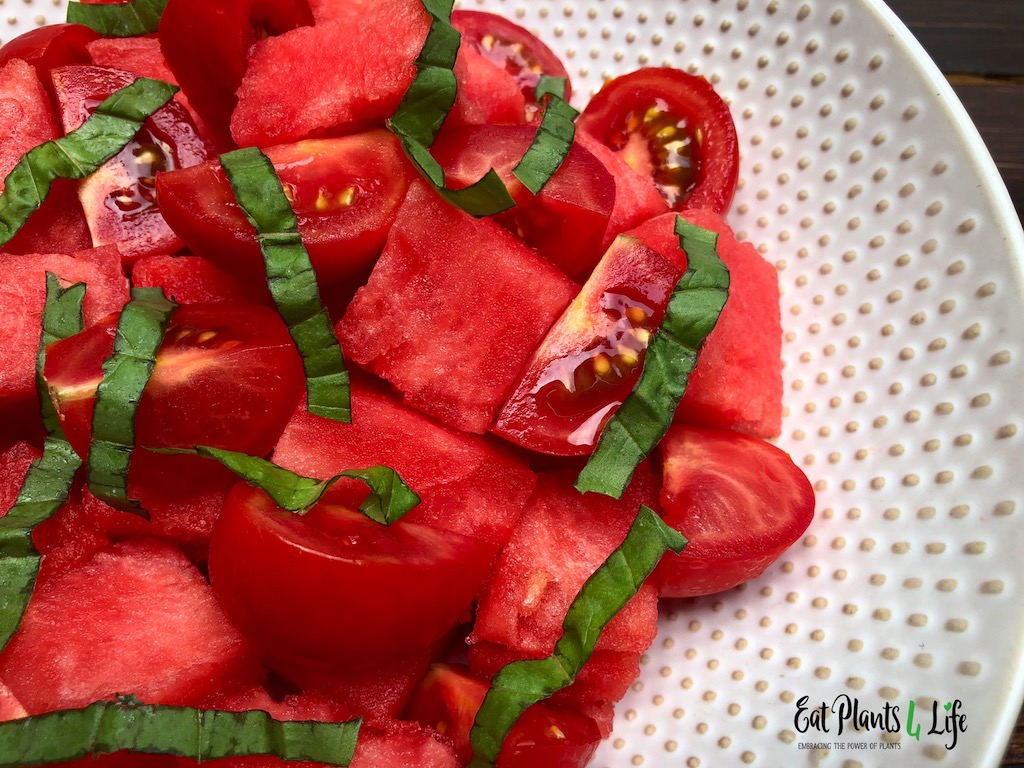 Check out this quick and easy recipe video:
In lane 2 is EP4L's Watermelon Cucumber Bruschetta. It's a simple, unique twist on traditional bruschetta and will be a major event at your next party.
Get on your mark with a healthy team of, what else – diced watermelon and cucumbers, which are piled on top of mashed avocado and toasted baguette rounds, then garnished with a little mint. Get set with this light, warm weather appetizer or snack that will have you running laps. If you're not a mint fan (it's an acquired taste), just pass the baton and go without!
Thanks for reading through all of my Track and Field references. I do tend to get a little carried away. Hopefully it won't disqualify me (hee hee). Enjoy!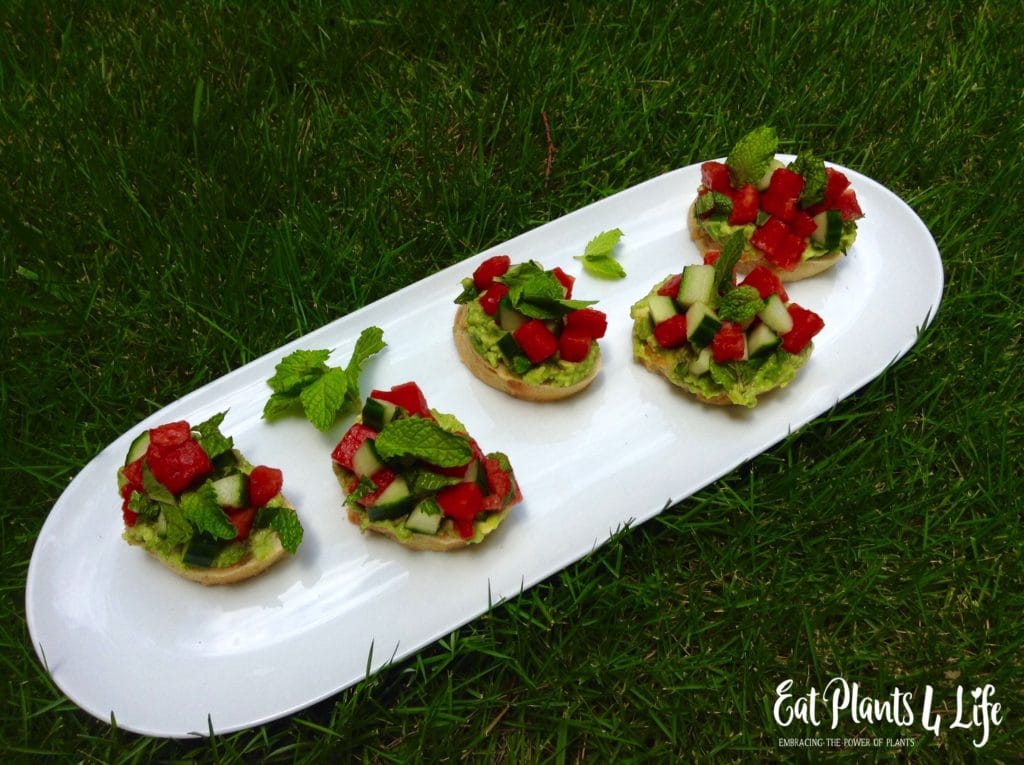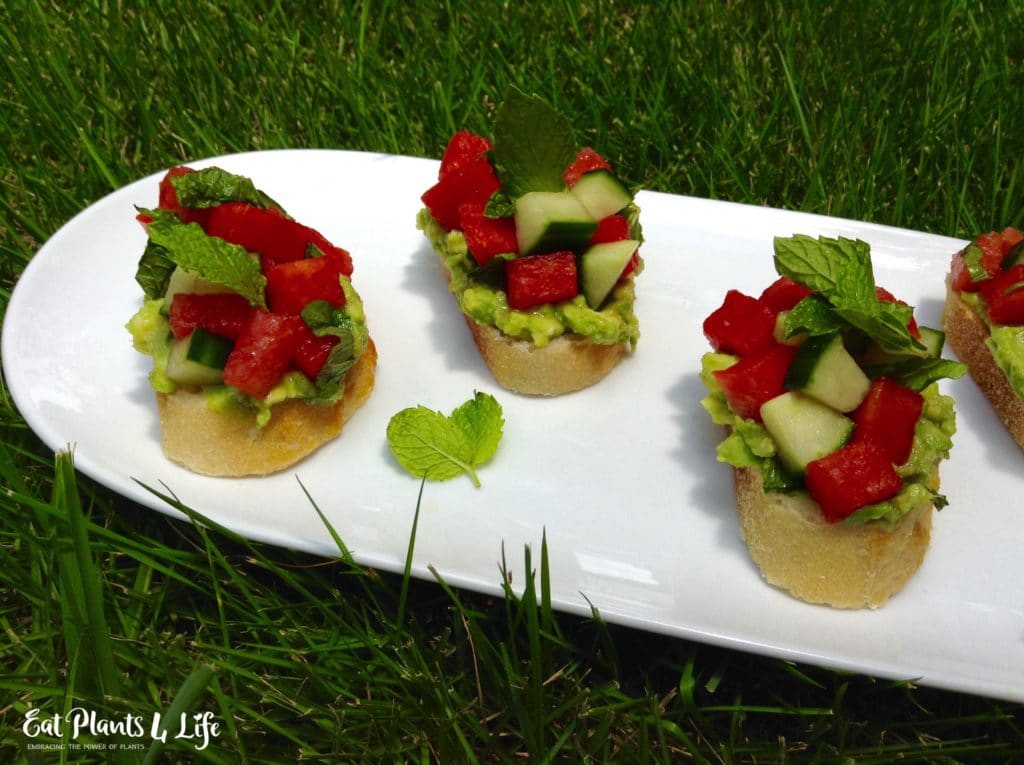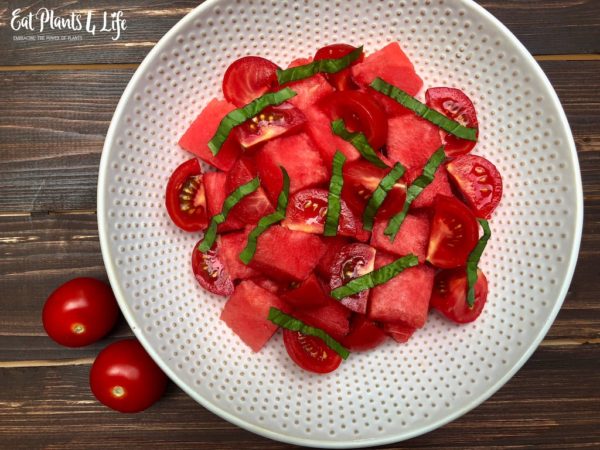 | | |
| --- | --- |
| | |
Place watermelon and tomatoes into a mixing bowl. Add remaining ingredients and toss gently until all ingredients are combined.

Separate into 2 salad bowls.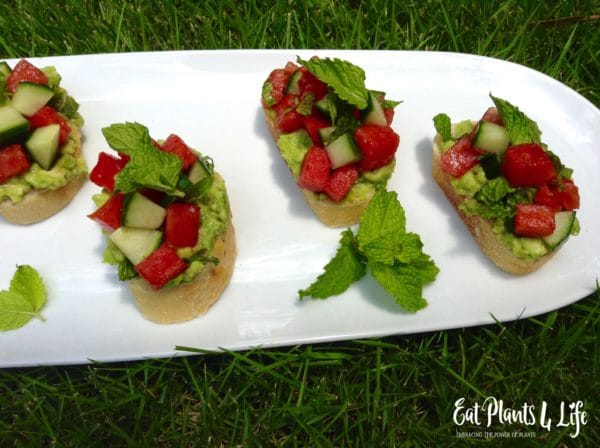 | | |
| --- | --- |
| | |
Place mashed avocado in a small bowl. Add the juice of the lime and salt. Mix, taste. Add additional salt if needed. Set aside.

Place watermelon and cucumbers in a bowl. Add a few splashes of white balsamic vinegar and a dash of sea salt.

Toast baguette slices in the oven or in a toaster oven until golden.

Spread mashed avocado onto baguette rounds. Top with watermelon/cucumber mixture. Top with optional mint leaf.