The November and December months are notoriously considered the busiest cooking months of the year. Some of us (like me) consider it to be:
45+ Days of Constant Kitchen Duty!
For me, it starts with Thanksgiving, forges on with holiday potluck gatherings, kids' holiday school party obligations, the annual holiday family party, Christmas Eve dinner, Christmas dinner, and then wraps up with a traditional New Years Day dinner.
Ugh! I'm exhausted just thinking about it.
Let's put an end to the madness this year by avoiding the hassle, cutting corners, and taking some much needed shortcuts in the kitchen so you can actually sit and socialize with – oh, I don't know – those people you actually invited over to your house.
Start here with my creamy, buttery, dairy-free Roasted Butternut Squash Soup. It's the perfect Fall or Winter recipe.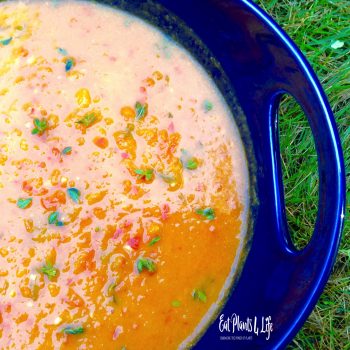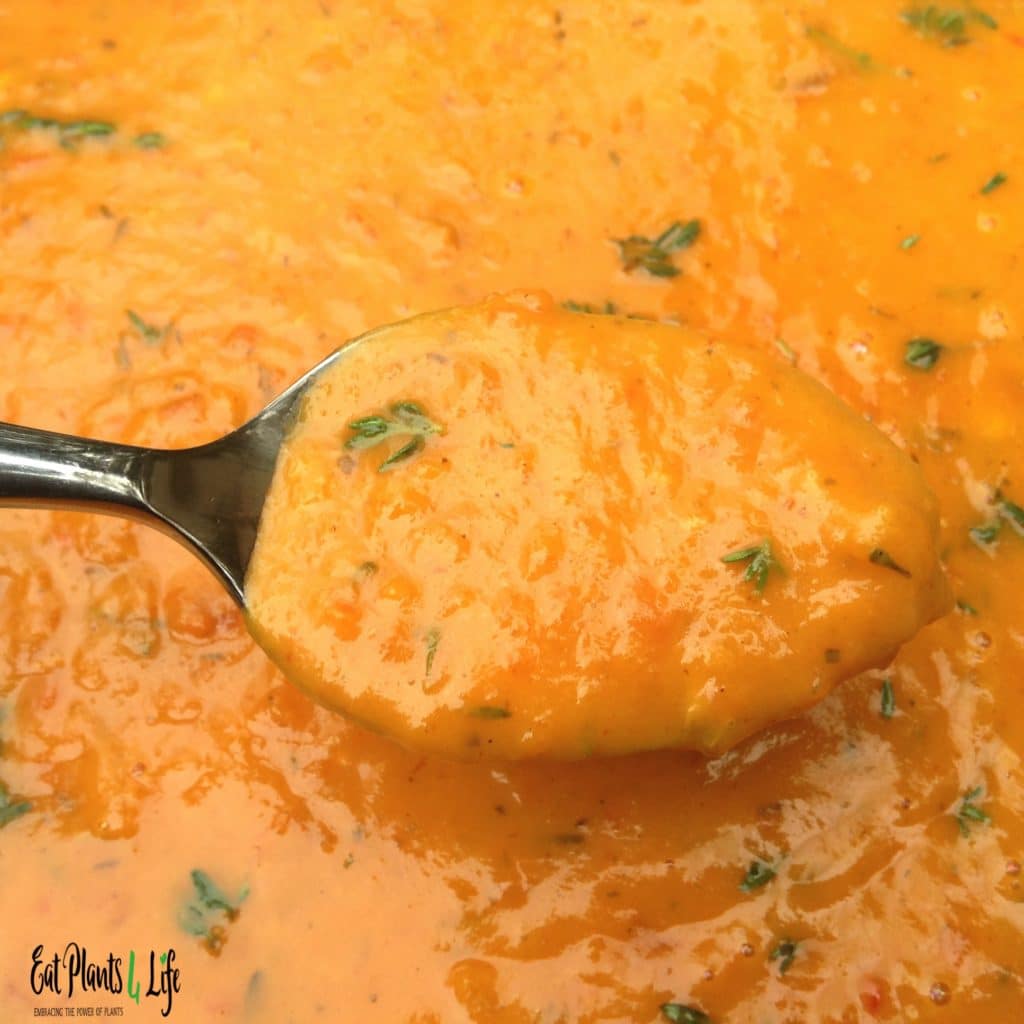 Cutting up a butternut squash is not only unnecessary, it's also a "knife accident" waiting to happen. Let's see – – me, a sharp knife, and a large, thick oddly-shaped vegetable are probably not the best scenario. But I want to create quick and easy Fall recipe and enjoy this seasonal winter squash without the 9-1-1 call. 
So, instead of buying this monstrosity…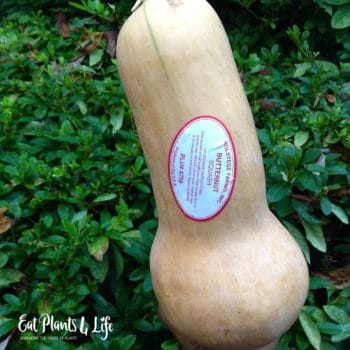 I'll just buy one of these…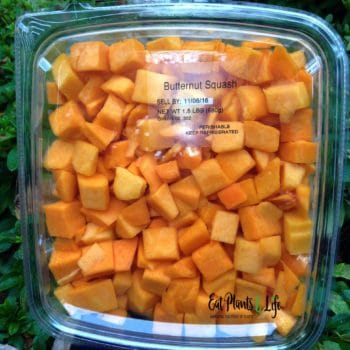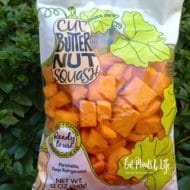 It saves time (and in my case – the need for stitches). 
Another shortcut? My beloved food processor. I'll be using it to save time on the constant battle of chopping and mincing vegetables – another time waster.  
I'm also nixing the fresh herbs in favor of the dried herbs – without worrying about altering the taste. These little shortcuts add up.
So, if you're like me — tired of living in the kitchen and/or are accident prone, skip the fuss, take some shortcuts, and escape the kitchen so you can focus on the fun in the family room. My Roasted Butternut Squash Soup is creamy but dairy-free!
| | |
| --- | --- |
| | |
Preheat oven to 400 degrees.

Place squash cubes in a mixing bowl. Drizzle with 2 tsp. oil, salt, and pepper and toss. Place cubes on a baking sheet that has been lightly sprayed with cooking spray. Place in preheated oven and roast until squash is tender (about 20-25 minutes). Remove from oven, set aside, and allow to cool slightly. Make veggie mixture while squash cools.

Veggie Mixture: Place quartered onion and pepper and garlic cloves in a food processor/blender. Blend until veggies are minced. *A food processor/blender is a time saver; however, if you do not own a food processor, mince the garlic and veggies by hand. You can also buy minced garlic in a jar to save time.

Heat 2 tsp. of oil in a large skillet on medium-high heat. Add minced veggie mixture, thyme, chili powder, salt and pepper and cook until veggies are tender (about 3 minutes).

If using a blender/food processor: In batches, place cooked squash in a food processor or blender and puree until smooth. Add puree to veggie mixture. Add broth and salsa. Bring to a slow boil. Reduce heat and simmer for 15 minutes, stirring occasionally. Skip Step 6.

If using a hand/immersion blender: Add cooked squash cubes to veggie mixture. Add broth and salsa. Use hand blender and puree mixture to desired soup consistency. Bring to a slow boil. Reduce heat and simmer for 15 minutes, stirring occasionally.

Shake or stir coconut milk while in can. Measure out ¾ cup and stir into soup. Simmer soup for an additional 15 minutes. Serve with crusty bread, croutons or favorite soup crackers.