I've heard people ask time and time again –
"Are there overweight fat Vegans?"
Vegans are known to pile on the pasta, bread, crackers, and dairy-free desserts to make-up for what they're missing out on. How many people can eat just fruit, nuts, and vegetables 24/7 anyway?
That was my thought process when I first went Vegan. I figured I could overindulge in anything I wanted because, hell, I had given up so much already in eliminating meat and cheese. I hadn't met a French fry I didn't like. I'd eat Oreo cookies, Kettle chips, bread, bread, and more bread. Did I mention French fries?
The ugly truth of the matter is – having that mindset can send your body into carb overload. Too many unhealthy, processed carbs aka "bad carbs" (white flour, white sugar, white bread, and fried potatoes) will eventually turn to sugar and eventually make you fat.
I had to teach myself tricks in order to avoid this. The first trick was to acknowledge that I wasn't 22 anymore. My stomach can't handle an endless plate of greasy French fries drowned in a sugar-laden, Texas-sized Margarita.
Fact is fact. I am 40+ and I just don't have time to workout 4 hours a day in order to make up for binge eating Oreos the night before.
Next, I learned something key to my diet and perhaps most important.
Over-consuming "bad carbs" inevitably makes me hungrier, which makes me want more drugs, I mean "bad carbs."
I've learned to make compromises. If I'm craving pancakes for breakfast – I eat them with maple syrup of course. For lunch, however I'll forgo another carb attack and choose the salad topped with healthier, protein-packed carbs like sliced almonds, walnuts, black beans, or a veggie burger patty. Or if I know I'm going to eat out for dinner (i.e. a black bean burger with bun and French fries), I'll eat fruit and 1 oz. of nuts for breakfast and a tofu veggie stir-fry for lunch.
Another trick and perhaps my best discovery yet is this little doohickey…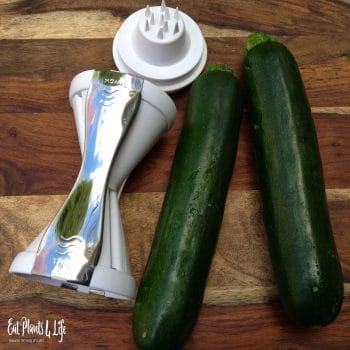 It's my "can't live without it" kitchen companion – the spiralizer or spiral vegetable slicer. For as little as $10, I can swap out 2 cups of pasta (86 grams of "bad carbs" and 440 calories) for 2 cups of spiralized zucchini (8 grams of "good carbs" and a measly 40 calories).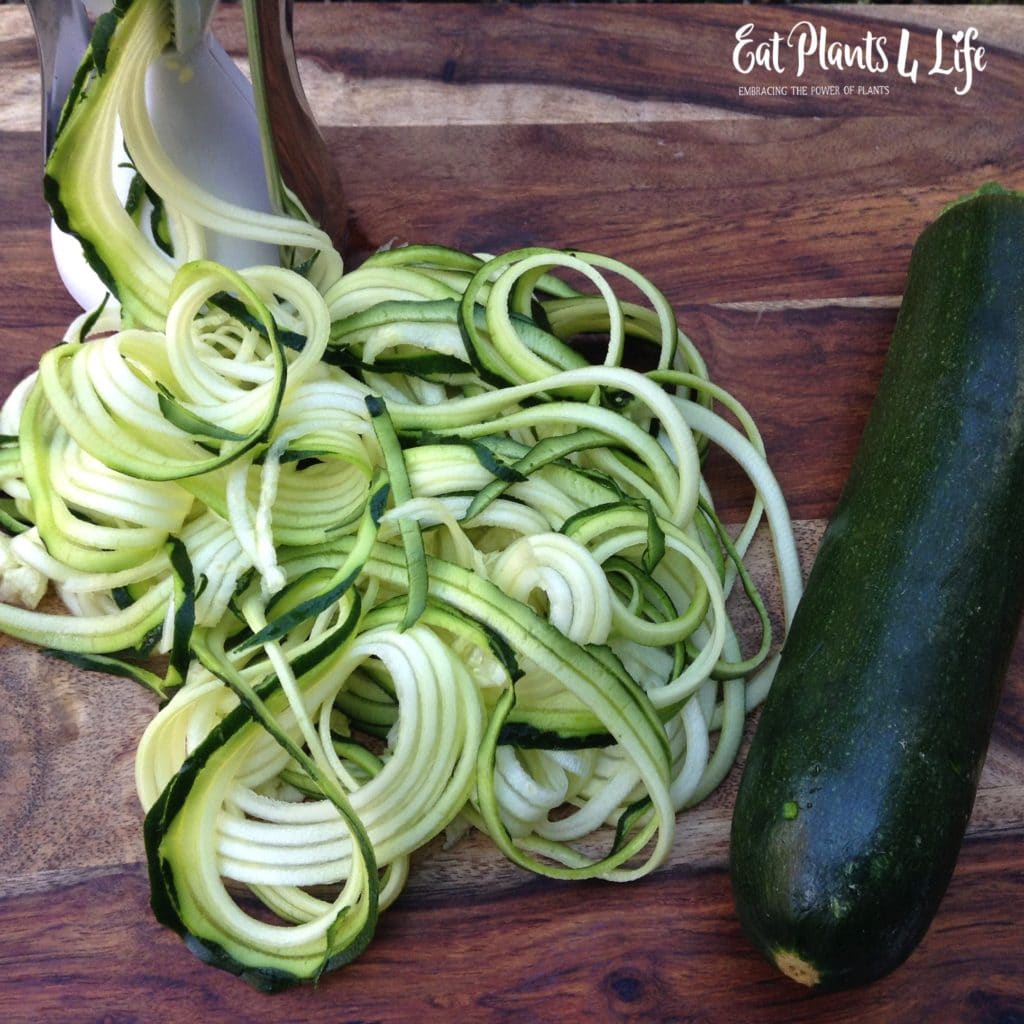 Now, don't get it twisted (hee hee, get it?), I will eat regular pasta on occasion, especially if I'm eating out, but sometimes, I have to negotiate with my hips by making smarter choices. You would be amazed at how satisfying spiralized veggies truly are, especially if you add plant-based protein to the marinara sauce. And it only takes 2 minutes to get a lovely ribbon of spiralized zucchini or Zoodles. You're not limited to spaghetti-shaped veggies. You can also create ribbon or spiral strands, depending on the blade you select.
I like mine spaghetti-shaped with a marinara sauce, mushrooms, and topped with chopped roasted cashews…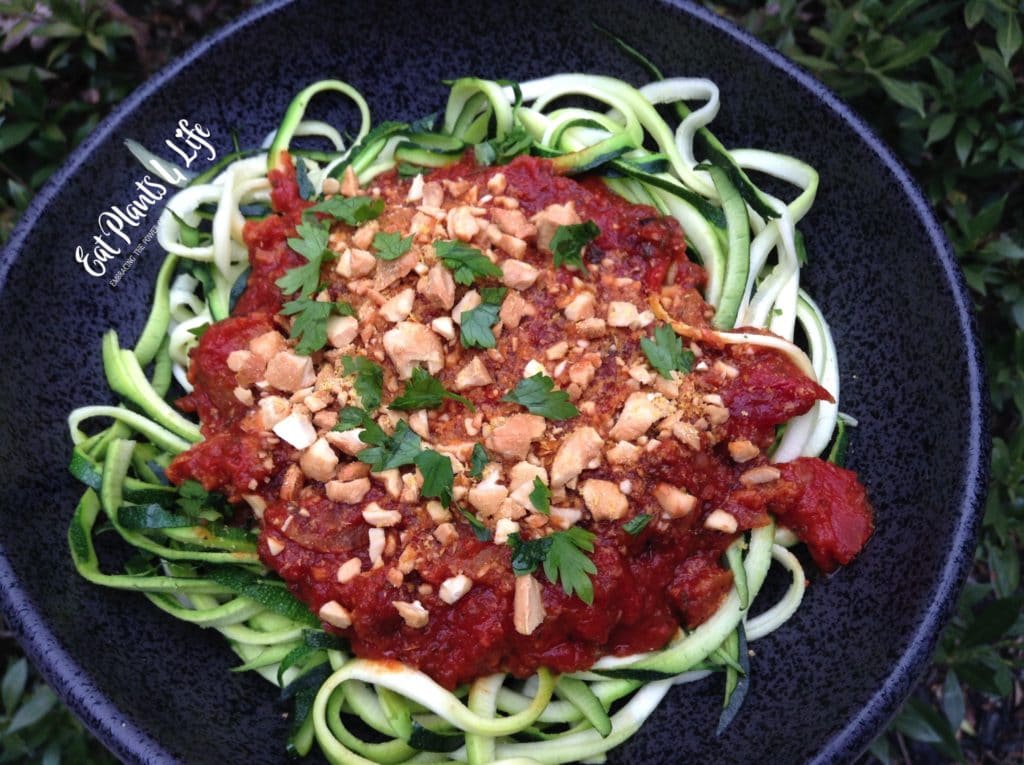 Besides feeling satiated, here's the bonus…
I don't feel hungry again 2 hours later! Why? Because I chose to swap out "bad carbs" for fiber and water-packed "good carbs."
You are not limited to just zucchini. You can use the spiralizer on other veggies like cucumbers, squash, potatoes, parsnips, beets, or carrots. Some stores carry veggies already spiralized, however, I'd avoid these, as it does not make economical sense when a spiralizer is already cheap. Don't be lazy. You can find them everywhere. I bought my spiralizer  at Bed Bath Beyond with a 20% coupon so it ended up being about $8.
I don't know how I ever managed without this ingenious doohickey.
The moral of the story is: a Vegan diet is not a license to go overboard. "Bad carbs" equal calories, extra sugar, and eventually extra pounds. Fat Vegans do exist. I've seen them.